lens
A Guardian of the Game
Alumna Simone Jelks is the second Black woman to be a full-time NBA referee
Photo: NBA Photos/Getty Images
Simone Jelks' trial run as an NBA referee began with a 2019 preseason game. A slow start? Hardly. The game was a televised matchup between storied rivals: the Los Angeles Lakers vs. the Golden State Warriors; LeBron James against Stephen Curry.
Jelks (GRS '11, public health) knew her work would be scrutinized by NBA officials, big-time players, coaches and, of course, fans, who might applaud—or question—a woman referee on the court. But she was ready to "work my tail off and let everyone know that this is where I was supposed to be."
Today, Jelks, a former Spanish teacher at an all-boys Cleveland public high school, is a full-time NBA referee—only the seventh woman and second Black woman to reach that position.
How she got there is a story of talent and a life lived on parallel tracks as she pursued two passions, basketball and helping others—each of which prepared her for the NBA.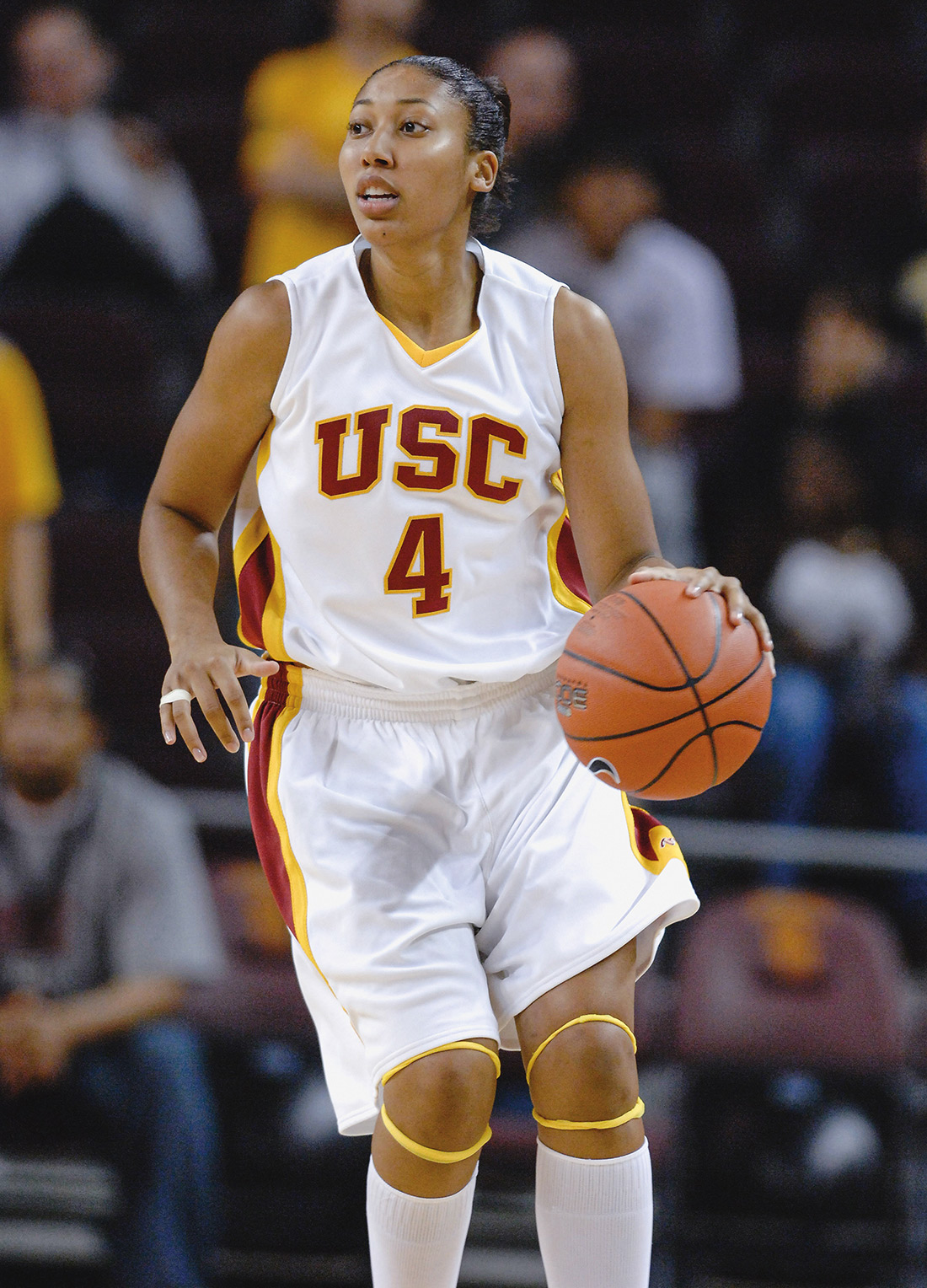 Photo: USC Athletics
The Cleveland native grew up on basketball courts, playing forward on her high school team, working as a teenage referee at elementary-school games—and loving the camaraderie and sense of identity the game provided. She was a basketball standout at University of Southern California, later played pro ball in Puerto Rico and Croatia, and spent several years moving up the collegiate ranks refereeing women's games.
Along the way, Jelks earned two master's degrees—one in public health from Case Western Reserve and another in urban secondary teaching from Cleveland State University. She was an urban educator for six years, spending nearly half that time at Cleveland's Ginn Academy, the all-boys school.
In 2017, the NBA minors, known as the G League, recruited her. Initially, Jelks officiated at both league and Division I collegiate women's games while still teaching full time. But it was a struggle to balance everything.
"I had to choose a direction," Jelks said. "Am I going to be a professional referee or am I going to be a professional teacher?" After about six months, she decided to leave the classroom. Refereeing was a viable career path and would keep her close to the game she loved.
She was at the G League nearly three seasons when Monty McCutchen—the NBA senior vice president of referee training and development—stopped Jelks after a game to ask how serious she was about pursuing a referee career at the highest levels. "Serious enough to [have] quit my teaching job," she said. His response, she recalled was, "'Good answer. I'm glad to hear that.' "
Jelks began working NBA games part time, and then, in November 2020, McCutchen offered her a spot on the full-time NBA referee roster. He had watched her make—and stand by—needed calls under immense pressure from towering NBA superstars and frustrated fans and coaches. "It doesn't matter how good of a ref you are," he said, "if you can't articulate your decision to people playing at a high level."
What gave her that ability was all that came before: her time as a player and referee; the years as an urban educator; and the public health degree at CWRU, which she said "helped me understand how to communicate, engage with and have a perspective with so many different types of people."
McCutchen put it this way: "I know enough of Simone to know that she has a strong road behind her that helps inform the road ahead of her."
These days, stepping out onto the court isn't quite as intense as it was in 2019. Being a woman in a male-dominated industry can be difficult, but Jelks said she knows she is where she's meant to be. "I love the challenging nature of refereeing in the NBA," she said, "the standard of excellence that the game requires of officials every day."
And she has the support of family, friends and former Ginn students who have proudly touted her success on social media. She was their teacher, Ms. Jelks, and now she's NBA official No. 81. She's still demonstrating the power of hard work, patience and determination—and loving that former students can "turn on the TV and see someone from their own community making it."