lens
Lingering Pain
Medical school alumnus helped spur a national movement against misused prescription opioids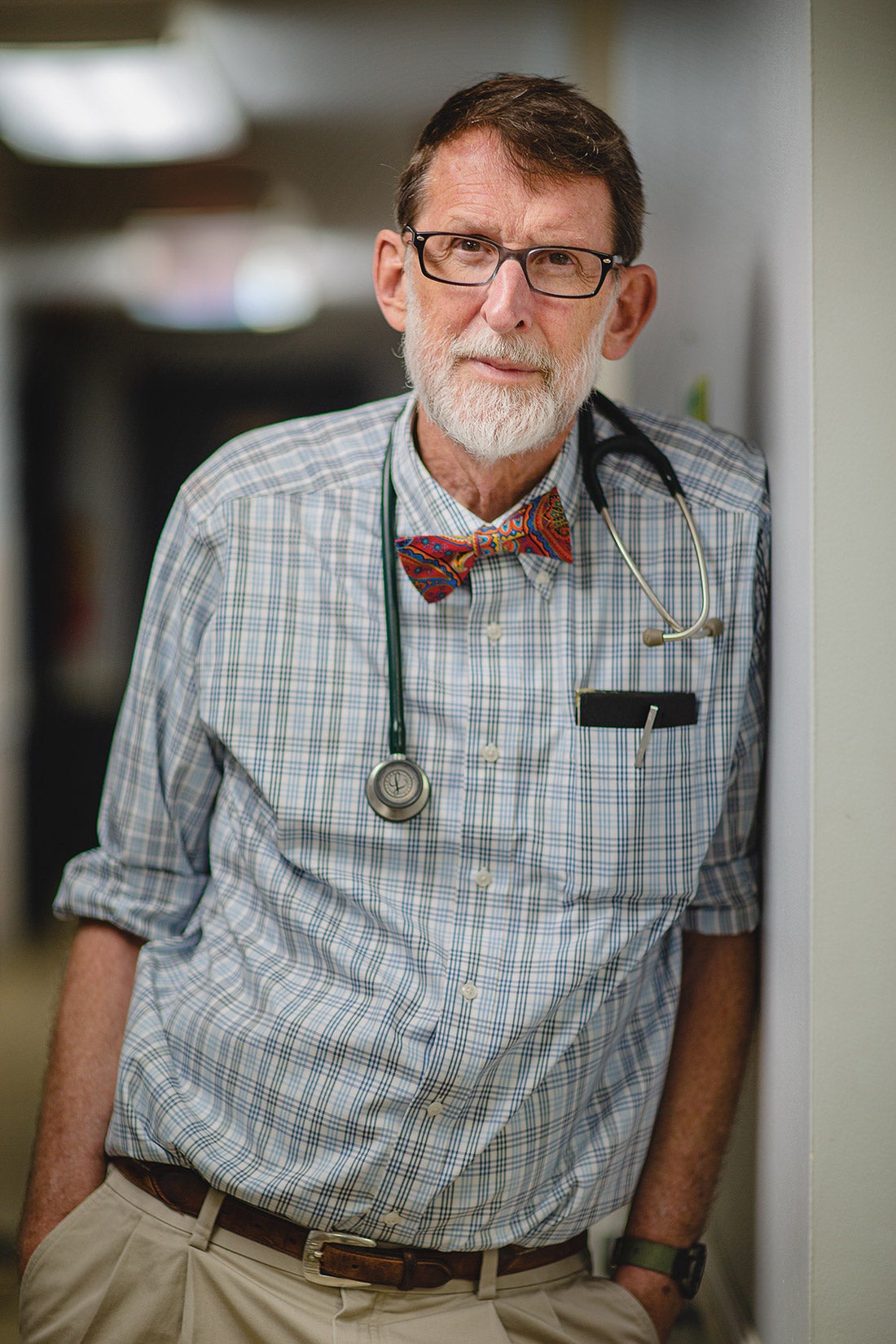 Photo: Josh Meltzer
In late 1999, physician Art Van Zee, MD (MED '73), began to see increasing numbers of young adult patients struggling with addiction to OxyContin, an opioid-based painkiller. He was working at a community health clinic in St. Charles, Virginia, a small Appalachian coal town where he'd moved in 1976 after an internal-medicine residency and had close ties to the community.
"They were good kids with bright, promising futures, and this was all being hijacked by their development of opioid-use disorder," said Van Zee, who saw a "tsunami of opioid addiction" overtake his region. "It's hard to overstate the tragedy this brought countless individuals and families and communities."
Van Zee became an activist, among the earliest in the battle to stop the deadly epidemic. He called attention to the addictive dangers of Purdue Pharma's OxyContin, beginning with a petition drive in 2001 asking the U.S. Food and Drug Administration (FDA) to take the drug off the market.
He also spoke at FDA meetings, testified before Congress and authored a widely cited 2009 paper in the American Journal of Public Health about the marketing and promotion of OxyContin.
Now, a reckoning is underway that he said is both long overdue and insufficient because it doesn't include prison terms. Purdue is in bankruptcy, and its Sackler family owners may pay as much as $6 billion in a legal settlement. They said they acted lawfully. Settlements with other companies also have been reached.
Van Zee's work has been highlighted in two books, one of which was turned into last year's fictionalized series Dopesick on Hulu.
He recently talked with Think. The conversation has been edited for length.
You sounded an early alarm. Were you surprised by the lack of response?
I thought when people couldn't just say, 'These are just 'hillbilly' kids dying of overdoses in Appalachia'—when kids started dying in Boston and White Plains and Shaker Heights—that things would be different. But they weren't. The [FDA] was so influenced by this narrative that the pharmaceutical manufacturers put out about how there was this epidemic of untreated pain—and that opioids were an effective tool for treatment.
"It's hard to overstate the tragedy this brought countless individuals and families and communities."
—

Art Van Zee
What did you do to help your own patients?
In 2003, I started using buprenorphine (Suboxone) in my practice to treat opioid-use disorder. I consider it one of the most effective and meaningful things I have done in more than 45 years as a physician.
How do you think Virginia should use its opioid settlement dollars?
They have to use evidence-based medicine to guide spending for prevention and treatment services. One of the things the state should really look at is the use of curriculums in the school system at the elementary and high school levels that have been shown to reduce substance use.
Does that settlement feel like justice?
There can never be sufficient justice. With all the lives lost and families fractured, there's nothing that can ever make up for that. I have felt it is important that if it's effectively shown what the leadership of Purdue knew and when they knew it and what they did [with that information], then there should be jail time. And that has not happened.
What do you hope we've learned from this experience?
My own take is that we should prohibit the pharmaceutical industry from being able to market controlled and abusable drugs. Because if the system isn't changed... and they're able to do this in the future, it's only going to be a matter of time before there's a similar issue with a controlled and abusable drug.