lens
Powering Research and Leadership
Vipin Chaudhary is bringing an advanced computing system to campus and wants to democratize artificial intelligence.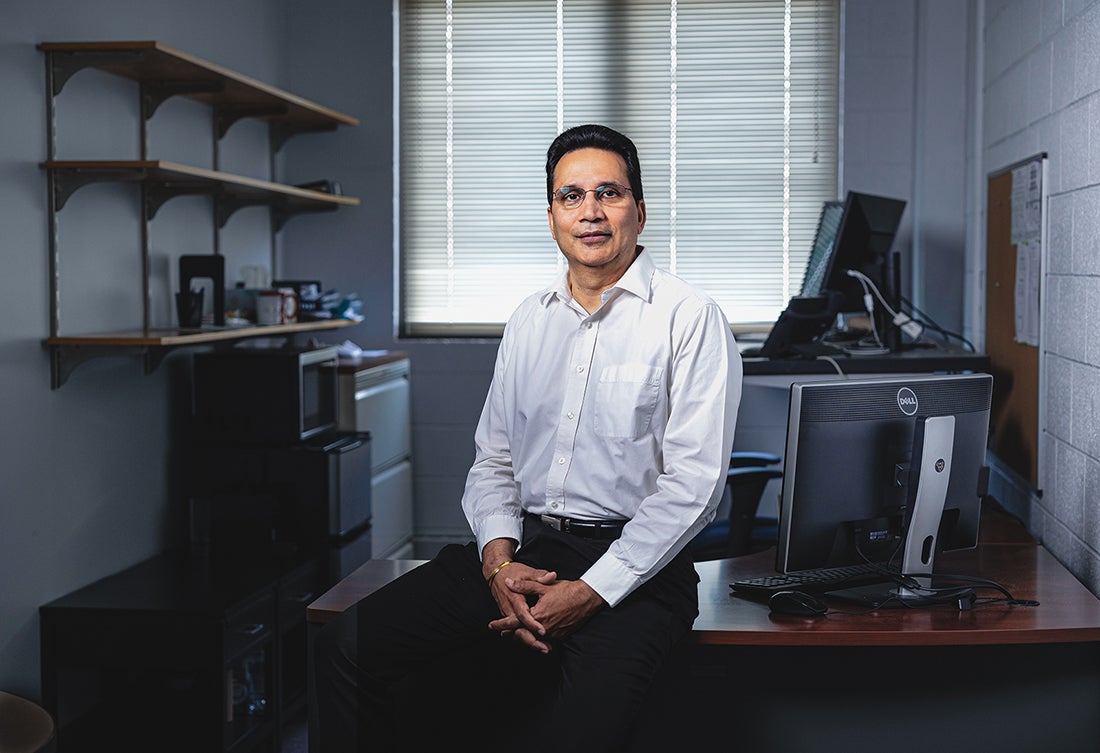 Photo: Matt Shiffler
Vipin Chaudhary, PhD, came to Case Western Reserve in 2020, tapped after a national search to lead the newly created Department of Computer and Data Sciences as its Kevin J. Kranzusch Professor. Now he's aiming to make the university a leader in artificial intelligence (AI). This summer, Chaudhary is bringing a supercomputing system to campus that he expects will allow AI tasks to be done at least 10 times faster and benefit more than 250 researchers. He's also playing a key role in a new $20 million multi-institution initiative to build AI for systems for more users.
Previously the program director for the National Science Foundation's Directorate for Computer and Information Science and Engineering, Chaudhary has been an entrepreneur and executive, and held prior faculty positions. He recently spoke with Think about expanding his department, which was established with a $5 million gift from Kevin Kranzusch (CWR '90), who last year committed another $5 million to accelerate its progress.*
What's at the top of your department to-do list?
Our first priority is to focus our growth in specific areas. We only have 14 faculty [members]. Our small size means we can't focus on all research areas—but we can excel in a few specialized areas of study and become the go-to place for that.
Which areas?
We're starting with AI and machine learning. Those are kind of buzzwords, but there are so many foundational computer science skills involved in them. There's huge demand for people who can work with AI. I want to make Case Western Reserve the first place people think of when they mention data science and AI research.
How has the department grown since you arrived?
Computer science is [one of] the largest majors in the university. Data science started only a couple of years ago, and the growth curve has just been tremendous. Our [undergraduate] enrollment has gone up nearly 30% in the last five years, and our research funding has also grown significantly.
Why was bringing an AI supercomputing system to campus a priority?
To do effective, meaningful, impactful research today, you need to have a major supercomputing infrastructure. The amount of data that researchers can generate today is staggering. To make sense of it, you need some way of sorting through it and finding patterns. That's where AI excels. But learning to find such patterns in massive data requires a huge amount of computing power.
Now that we will soon have that infrastructure in place, many disciplines across the university can benefit from it—physicists who are simulating the universe, genomics experts trying to understand complex diseases, social scientists combing through massive amounts of social media data; the list goes on.
You also are a leader in a new institute seeking to apply AI to areas including agriculture and forestry. How do those areas fit with your goals?
Those fields are actually just a starting point, not a destination. The real goal is to democratize AI. At the moment, AI is not easy to use unless you're an expert. But farmers that use drones to survey their fields shouldn't have to analyze raw sensor data; they should just be able to get answers to high-level questions that help them do their job: What should I be growing here? Do I need to fertilize this crop today? In that sense, the research we're collaboratively doing could be applied to almost any field. Getting CWRU involved at a very high level will help establish us as a leader in the AI space.
A Large and Growing Department
Computer and Data Sciences is one of the university's largest departments. This spring, it had more than 570 undergraduate majors and minors, about 100 master's students and 50 PhD candidates.
*This conversation was edited for length.