lens
Heart of the Matter
Cardiologist highlights environmental factors that increase risks for heart disease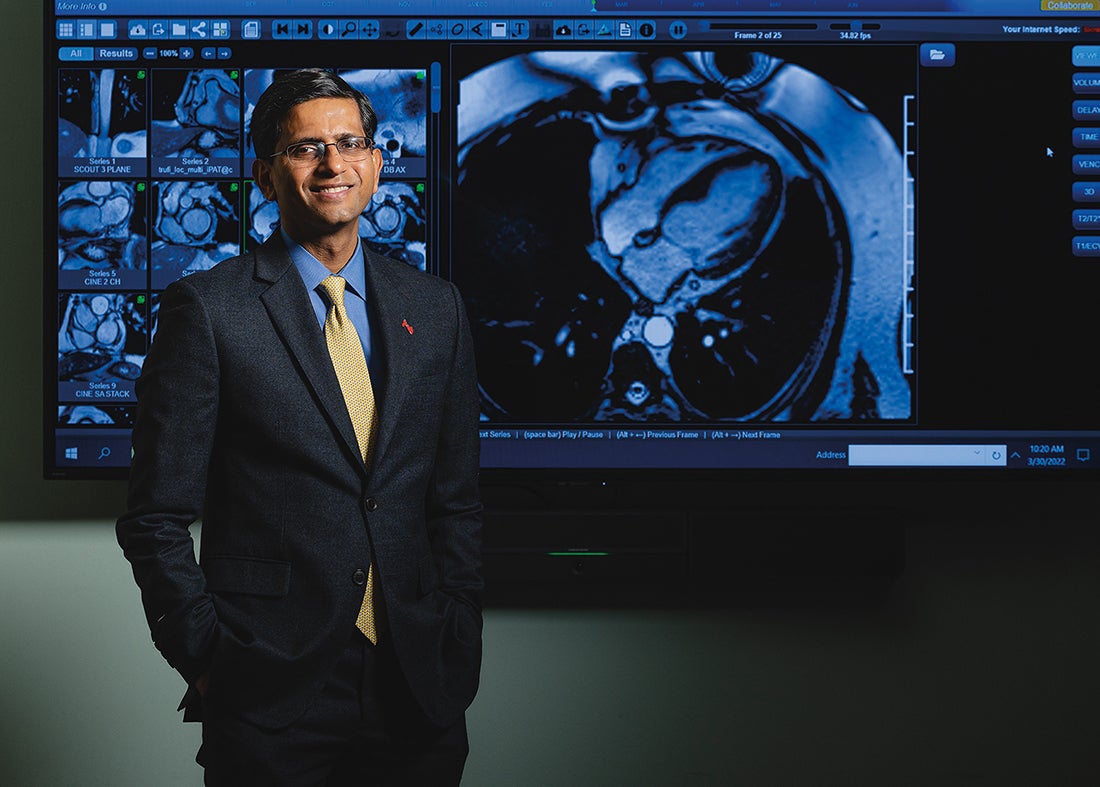 Photo: Matt Shiffler
In late 1999, Sanjay Rajagopalan, MD, was a young cardiologist studying some of the usual suspects of heart disease: poor diet and lack of exercise. Air pollution was not on his radar.
But when a friend suggested they take a road trip to run experiments on tailpipe emissions and cardiovascular health at a pollution testing facility in Toronto, Rajagopalan was intrigued.
He packed his lab equipment and set off from Ann Arbor, Michigan, for the border—a whim that would reroute the direction of his career.
During the next 20 years, Rajagopalan—now a professor of medicine at Case Western Reserve University School of Medicine and director of its Cardiovascular Research Institute—worked with researchers around the world to understand in detail how pollutants and other environmental stressors undermine human health at a simple, cellular level and at a complex "organismal" level. The work also advanced a new understanding of how individual health risks change based on where people live or work.
Rajagopalan, also chief of cardiovascular medicine at University Hospitals Harrington Heart & Vascular Institute, is training his gaze on the sizable health disparities among predominantly Black communities in Cleveland.
In partnership with Cuyahoga Metropolitan Housing Authority (CMHA), Rajagopalan is leading a five-year initiative that aims not only to prevent and reduce cardiovascular complications but also identify the local socioeconomic and environmental stressors that trigger heart disease.
The project was funded last year with a National Institutes of Health (NIH) grant of $18.2 million that is shared with Wayne State University for a similar effort in Detroit.
Pollution was responsible for an estimated 9 million deaths worldwide in 2019, of which 5.1 million were due to cardiovascular disease, according to the Global Burden of Disease study, produced by an international research collaboration.
Its goals are to understand the factors that intersect to harm cardiovascular health—from family history and food insecurity to living beside a busy highway—and demonstrate Rajagopalan's unusual holistic approach.
"He's always at the edge and thinking big," said Daniel I. Simon, MD, University Hospitals' president of academic and external affairs, a CWRU professor of medicine and a senior associate dean at the medical school. "There are a handful of people who really operate at that frontier where you want them to be, and he's one of them."
Residents of CMHA, one of the nation's largest subsidized housing programs, will have access to free on-site health services, including blood-pressure screening, nutrition counseling and lifestyle coaching from community health workers.
"Hopefully, we will be able to show that by coming up with low-cost solutions and better understanding of predictors of health, you can actually change the life trajectory," Rajagopalan said.
CMHA's Chief Executive Jeffrey K. Patterson praised the project's long-term focus on identifying community-specific challenges that could inspire transformative strategies.
"I'm hoping that the information the team is able to gather will inform some approaches as we move forward to rectify some of the disparities that have been prevalent in our community for decades," Patterson said.
Rajagopalan's work is fueled by a sense of urgency: an awareness that environmental risk factors disproportionately affect low income communities in the United States and around the world.
For example, his research involving inhaled fine-particulate matter—a kind of air pollution caused by traffic emissions and power plants—helped demonstrate its central role in the build-up of plaque in the arteries, which can lead to heart attacks and strokes. Exposure to fine particulate matter and other pollutants poses the greatest public health burden of any environmental factor in the world today, he said.
In recent years, he has designed experiments to reduce pollution exposure and argued in a paper last year in the New England Journal of Medicine that the estimated 9 million deaths caused by pollution in 2019 demanded a transformation from fossil fuels to renewable energy sources.
In 2020, with heart disease the leading cause of death among diabetic patients, Rajagopalan launched the Center for Integrated and Novel Approaches in Vascular-Metabolic Disease at UH to offer comprehensive interdisciplinary care.
In 2020, Sanjay Rajagopalan served as lead author of an American Heart Association statement about steps people can take to protect themselves from air pollution. Strategies include using a portable air cleaner or an effective air filtration system at home.
And last year, he received an eight-year, $7.5 million grant from the NIH to study how air pollution may disrupt circadian rhythms and contribute to Type 2 diabetes and cardiovascular disease.
"It's important to bring an integrated framework to science and understand the connectedness between everything," he said, "so that we can provide holistic and pragmatic solutions to people."
Rajagopalan recognizes that lasting reductions in pollution-related disease will require unprecedented shifts in energy policies globally.
But he feels compelled to act out of the belief that change starts with individuals calling for action and creating it in their own lives. "I will do anything I can to galvanize attention to this crisis," he said.