features
Righting Society's Wrongs
Alumna Bhavani Raveendran's passion for justice fuels her civil rights practice—and helped George Floyd's family secure a historic settlement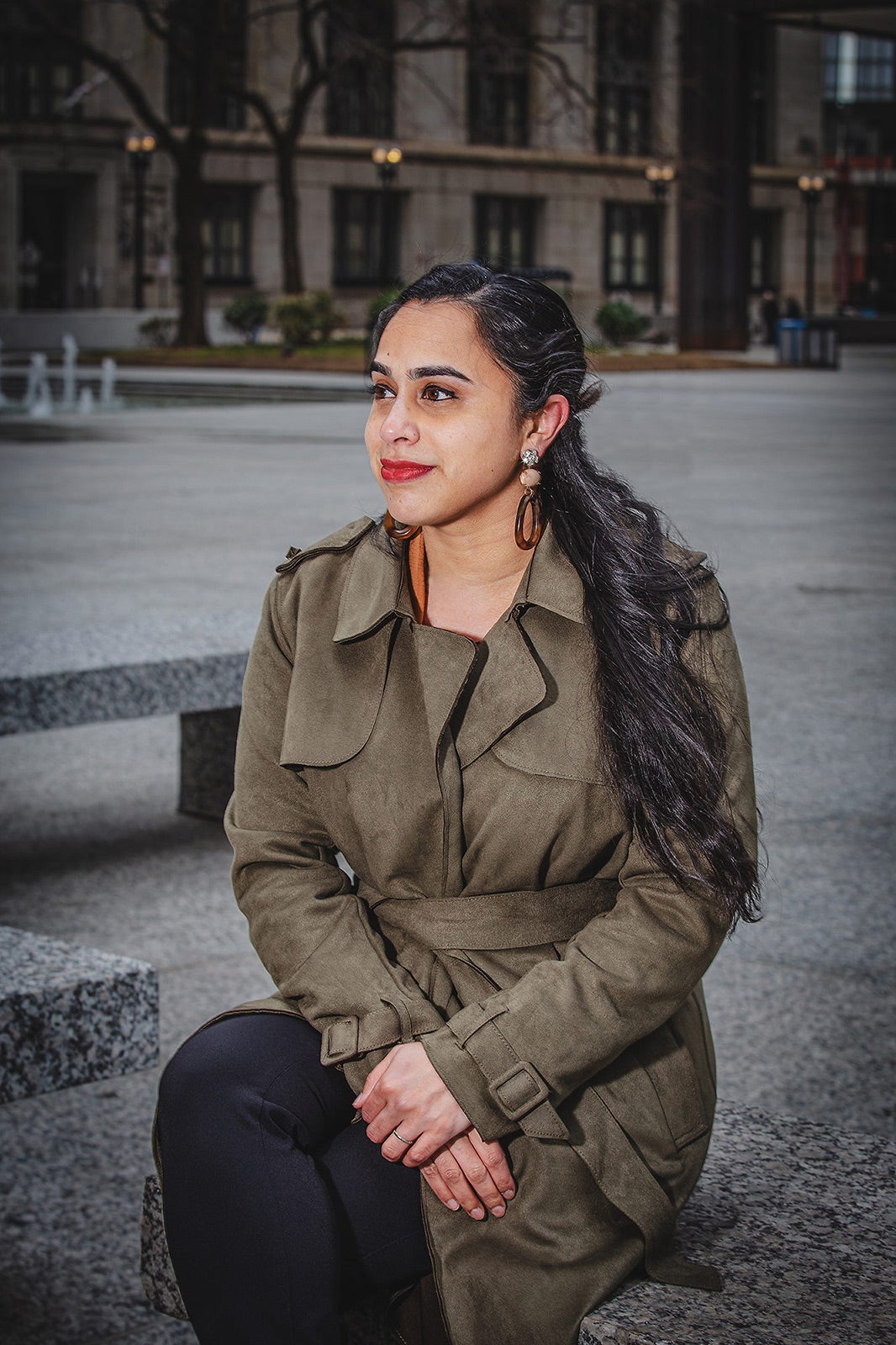 Photo: Bob Stefko
The video images that sparked protests around the world, showing the death of George Floyd under the knee of a Minneapolis police officer, are excruciating to watch. The distraught Black man pleading for air; the seemingly indifferent white officer keeping Floyd pinned to the ground for more than nine minutes
The injustice seemed so obvious.
But the law was not as clear.
A web of statutes and case law protecting police from liability made the Floyd family's lawsuit a challenge.
That's why Bhavani Raveendran, JD (CWR '09)—a key member of the family's legal team—spent more than 50 hours scrutinizing cellphone videos, as well as police body camera and surveillance footage, of the May 2020 killing.
The details were critical to building a case that officers used unreasonable force and were "on notice" that their actions violated Floyd's civil and constitutional rights.
Raveendran watched over and over, and from different angles, as officer Derek Chauvin kept his knee planted on Floyd's back and neck while Floyd and bystanders fruitlessly begged for his life.
"What do [the four officers on the scene] appear to be aware of?" Raveendran wanted to know. "What was George saying? What were they saying in response?" And the list went on.
The experience was grueling. But she persevered to achieve a measure of justice for a murdered man, a grieving family, and citizens across the nation demanding accountability and convulsed in a reckoning over structural racism and police violence.
"We tried to cover every research issue and every potential problem or legal precedent," said Raveendran, who leads the civil rights practice at the Chicago law firm of Romanucci & Blandin LLC. "We were prepared in a way that made it clear that we were not going away."
Led by renowned civil rights lawyer Ben Crump, JD, the legal team secured a $27 million settlement last year. Crump called it the nation's largest pretrial, civil rights wrongful-death settlement involving police. And he later praised Raveendran's legal insights and tireless dedication, describing her as "a trusted partner on some of the highest-profile civil rights cases in recent history."
Just a decade out of law school, Raveendran has become a go-to advocate when abuses of power result in deaths or injuries that shock the community conscience. She and her firm have represented many families affected by police violence; gymnasts in the sexual assault cases against former U.S. national team physician Larry Nassar; students in a school hazing case that produced a $1 million settlement; and the family of a woman killed during a high-speed police chase that resulted in a $21.3 million verdict.
Colleagues say she has an uncommon ability to gain traumatized clients' trust and an inexhaustible determination to do right by them. Inspired by her two grandfathers—lawyers in India who aided everyday people—Raveendran sees litigation as a force for positive change.
Today she and her law-firm colleagues have a "fight till we can't fight anymore" attitude that she said led to Crump's interest in partnering on cases.
"He knew that he could come to us because that's just kind of what we do for every case, big or small," she said. "That's just how we are."
A Family Commitment to Justice
Raveendran's lifelong commitment to helping people who endured injustices began with her family.
Her paternal grandfather, a family-law attorney who died before she was born, "would load up all his [law] books into a bull-ox cart" as he traveled rural India to see clients, her father told her. "He was a source of compassion and protection for a lot of people," she said.
On summer visits to India, Raveendran became close to her maternal grandfather, who died last year at 99. He was active in the student movement for Indian independence and later represented unions and served on boards of education. He used law "as a tool to make society better," she said, and had "a huge impact on me."
Raveendran was raised in the Chicago suburbs and regularly visited Cleveland to spend holidays with relatives, including cousins who attended Case Western Reserve and introduced her to the university.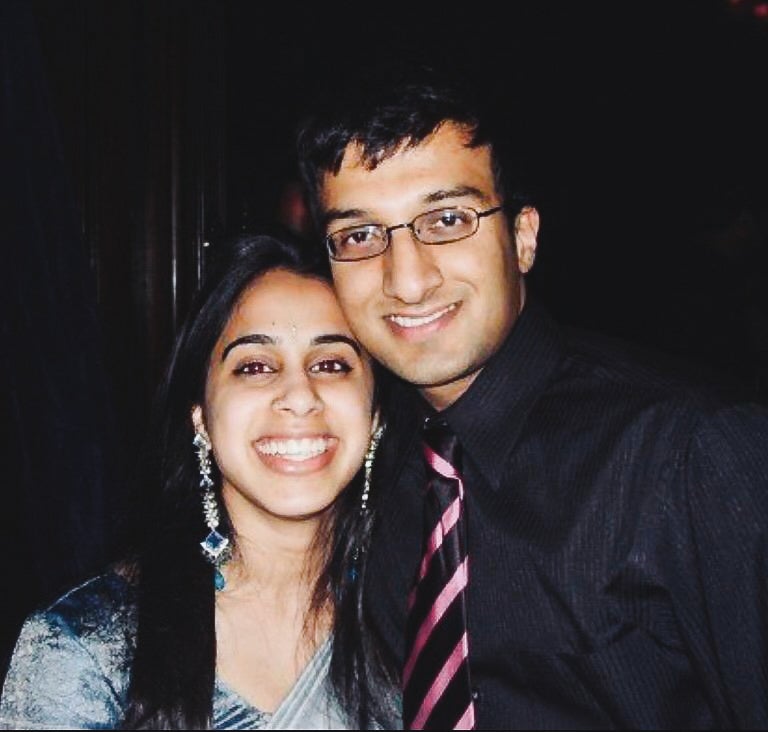 Courtesy of Bhavani Raveendran
Intent on a legal career, Raveendran majored in political science at CWRU and graduated in three years. Political science professor Kelly McMann, PhD, tapped Raveendran as a research assistant, in part because of her enthusiasm during class discussions. "Her regular questions and comments really energized her peers," McMann said.
Raveendran's exuberance also drew the interest of fellow student Manu Srivastava (CWR '09). They married in 2017.
From Intern to Leader
Raveendran developed her interests in civil rights and human rights law through practical experiences at American University's law school and several nonprofits. She successfully argued for asylum on behalf of a refugee from the Democratic Republic of Congo through her school's International Human Rights Clinic and "really enjoyed representing a person and fighting on their behalf instead of for an abstract idea," she said.
Raveendran also wrote a guide to help asylum seekers for the Torture Abolition and Survivors Support Coalition and battled anti-Muslim discrimination while at the Council on American-Islamic Relations.
In 2013, she returned to Chicago, eager to work in a practice focused on civil rights.
Antonio Romanucci, JD, the founding partner of Romanucci & Blandin, said he realized a few minutes into Raveendran's 2015 job interview that he wanted to hire her because of "her passion for wanting to help people.
"She's one of the most loyal and passionate people I've ever met—in her job, but also in friendship."
—

Mariam Khan, DDS (CWR '10; GRS '10, nutrition), who met Bhavani Raveendran at CWRU during first-year orientation and remains her best friend.
"She develops very close relationships with clients because of her personality," he said. "That's what makes her a favorite of colleagues, too. She's willing to throw herself into the mix."
He said those qualities explain why she was tapped at a young age for several leadership positions in the American Association for Justice, a national organization representing plaintiff-side lawyers. And last year she became a partner in the firm. "Not only does she gain trust," Romanucci said, "but she is trustworthy."
At the same time, colleagues say, Raveendran has been a pioneering presence in plaintiff-side civil litigation.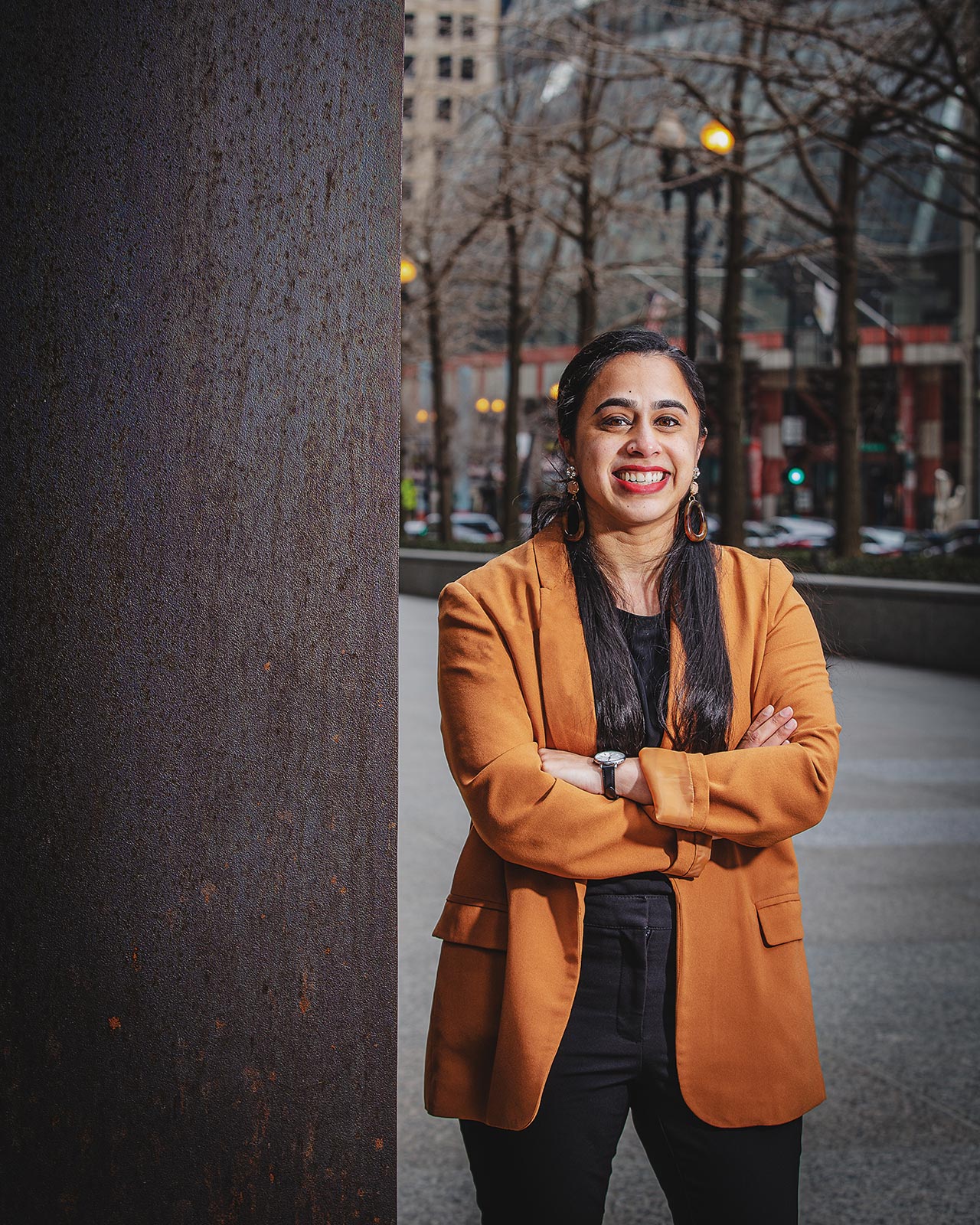 Photo: Bob Stefko
"Bhavani is navigating a space that is not easy to occupy as a woman, let alone as a woman of color, and she is not afraid to speak up and take charge," said Michelle Simpson Tuegel, JD, a Dallas-based litigator who represented more than 20 survivors of Nassar's abuse in cases that were part of a $380 million settlement with USA Gymnastics, U.S. Olympic & Paralympic Committee and their insurers. She and Raveendran worked together on Nassar cases and others.
"Bhavani has that ability to advocate, see the issues in the case and communicate with the client in a way that is effective and kind," Tuegel said. "She is one of those rare lawyers I work with whose work product and way of communicating with clients I trust as much as my own."
Fighting for Justice in Cases Large and Small
In 2016, Raveendran and her colleagues secured a settlement of $200,000 each for five former Illinois high school student-athletes who claimed they were physically and sexually assaulted as part of a hazing ritual.
Raveendran—who supervised the day-to-day legal work—brought her trademark diligence to the case, reading about 20,000 pages of documents while helping to develop a new way to hold school districts liable under Illinois law. Raveendran said they argued that even if coaches or other personnel didn't directly participate in hazing, they could be considered culpable if they knew about it and did nothing to stop it and protect students.
Three years later, Raveendran worked on trial preparation and helped cross-examine witnesses as part of the team that won the $21.3 million verdict against the city of Chicago and two police officers after a high-speed pursuit of another vehicle killed a 37-year-old mother and injured five relatives in her van.
The crash "had a horrific impact on this family," Raveendran said. "No number would make that go away, but at least they had some justice."
The case that initially inspired Crump's trust in Raveendran and her colleagues was smaller and less damaging. It involved a Black man allegedly harassed and arrested for no reason, the kind of case that other lawyers might decline. But her firm took it on.
"I remember talking to Ben about that, and talking to the practical issues in the case," said Raveendran, "and then saying: 'But you know what? The hell with it. We're going to fight until we can't fight anymore.' "
Only a day after George Floyd was killed in Minneapolis, Raveendran and her law firm colleagues joined Crump on the case. Floyd's death hadn't yet reverberated around the world. But what drew Raveendran and her firm was the egregious injustice and the possibility of using the law to press for changes in policing and secure some accountability for a family grieving its own loss and determined to stop police killings of Black people.
Photo: Ethan Miller/Getty Images News via Getty Image
Raveendran said working with the Floyd family was the honor of her life. "There truly is not a more kind or inspirational family," she said. "They relive their trauma over and over to support other families."
She worked long hours on the case, often falling asleep with a document and highlighter marker in hand.
What made the case challenging was a legal doctrine called "qualified immunity" that can shield police from civil suits for their actions unless plaintiffs' lawyers successfully demonstrate a violation of a person's rights and that those rights are clearly established under the law. In the wake of Floyd's killing, the U.S. House of Representatives passed the George Floyd Justice in Policing Act of 2021 to institute reforms and limit the use of qualified immunity, but it stalled in the U.S. Senate.
Less than six weeks after the Floyd family settled the civil lawsuit, a Minneapolis jury convicted Chauvin on murder charges, and, in February of this year, the other three former officers on the scene were convicted on federal civil rights violations in Floyd's death.
The horror of the incident inspired police reform and personnel changes in Minneapolis and other municipalities and, not least, the larger reckoning around racism that continues to roil American society and culture.
"I think our country has opened its eyes," Raveendran said. But, to her dismay, police-related wrongful death cases haven't disappeared, and her firm continues to partner with Crump to pursue them.
"We have a new case every day," Raveendran said. "I wish [the police] would just put us out of business in this area."
Making a Difference Beyond the Courthouse
In recent years, Bhavani Raveendran has held several leadership positions in state and national lawyer organizations. They include:

American Association for Justice:
Chair, Police Misconduct Litigation Group
Representative for the Minority Caucus of the Board of Governors
Executive Committee Member of the Civil Rights Section
Illinois Trial Lawyers Association:
Member of the Board of Managers
Co-Chair and founding member, of the Diversity and Inclusion Committee
Illinois State Bar Association:
Vice-Chair of the Human Rights Section (current)