lens
CLEANeR Water
Startup develops washing-machine filter to extract microplastics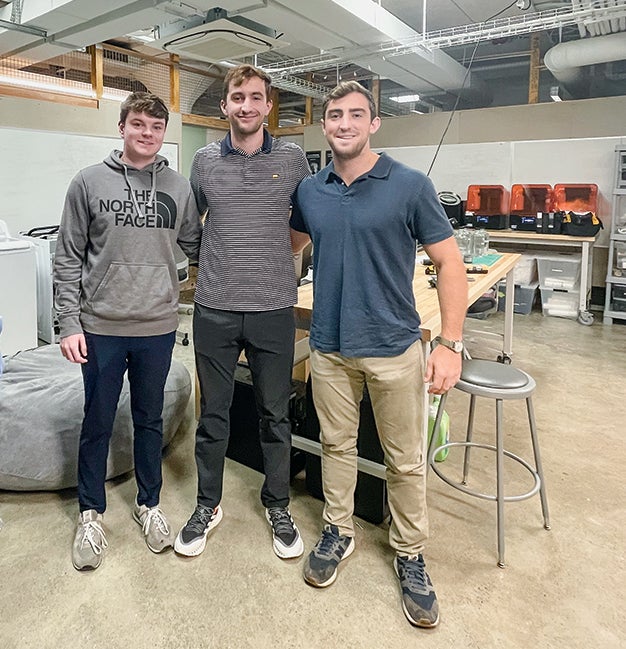 PHOTO: SOPHIA CIANCONE
As a student at Case Western Reserve University, Max Pennington (CWR '22) learned that millions of pounds of microplastics pollute the environment annually, extracted from clothing during washing-machine cycles and sent into water systems.
Pennington felt compelled to act. So did his friends David Dillman and Chip Miller. The three students—all CWRU engineering majors at the time—headed to the Larry Sears and Sally Zlotnick Sears think[box] innovation center on campus to develop a washing-machine filter to extract microplastics.
Within a year, they turned what began as a tinkering project into a startup company called CLEANR, which now has patent-pending technology. Pennington, along with Dillman and Miller—CWRU students working full-time at the company through a university co-op work-experience program—are the founders and chief officers.
"We now have a filter solution, and we've identified a manufacturer of our product," Pennington said. "We're working on going to market to help washing-machine manufacturers meet pending legislation in Europe that requires microplastic filters on all newly produced washing machines by 2025."
The company plans to offer both an external filter that attaches to a hose and internal filters to be built into washing machines during manufacturing.
The founders credit a large part of their early success to the entrepreneurial resources available on campus.
For example, in one course they learned to fall in love with the problem they were tackling—not a particular solution.
"And that's really what we've taken to here at CLEANR," Miller said in a taped interview with the university's Veale Institute for Entrepreneurship. "We've fallen in love with solving this microplastic problem."
At Sears think[box], they found a home for their startup and used 3D printers to create and refine early prototypes.
Michael Goldberg, the Veale Institute's executive director can see CLEANR's office from his office at Sears think[box]. He said Pennington, Dillman and Miller bring intangible qualities to their endeavor.
"They've got a hard work ethic, and they're very good communicators," said Goldberg, also an associate professor at the universi-ty's Weatherhead School of Management. "They're savvy and people want to help them."
With funding from a small group of friends and family, CLEANR continues to progress. It has more than 10 engineers on contract and is working with consultants, partners and advisors who serve as sounding boards.
"We're really excited with how everything's moving forward," Pennington said. "We're constantly innovating and developing the next iteration of our prototype."