features
Pursuing CWRU's North Star
Seeking faculty and graduate students to help create a more inclusive campus
In spring 2022, John Bickers defended his dissertation on the political history of the Miami Tribe of Oklahoma. A few days later, he flew to Boston to present research at a conference—a trip that would launch his academic career.
There, Bickers met a Case Western Reserve historian who later told colleagues he'd be a strong candidate for a new campus initiative. Soon others from the university reached out.
CWRU was seeking faculty to diversify the campus and expand and deepen academic focus areas. Did Bickers want to apply?
He did—and this spring completed his first semester at CWRU, teaching courses on early and modern Native American history.
"CWRU is making a unique investment in supporting BIPOC [Black, Indigenous and people of color] scholars that I haven't seen at other institutions," said Bickers, PhD, an assistant professor of history and a citizen of the Miami Tribe.
That investment reflects an aim, articulated in the university's 2019 strategic plan, to build a more diverse and inclusive campus.
The North Star Faculty Opportunity Hires Initiative that drew Bickers is part of that effort. So, too, is the North Star Award for Graduate Students, a tuition-discount program for students from partner Minority Serving Institutions and Historically Black Colleges and Universities.
"Programs like these make a difference not only on our campus, but in a world that could benefit from a more diverse academic landscape—and the advances in the humanities, science and technology that would result," said Provost Ben Vinson III, PhD.
In 2020, American Indian/ Alaska Native individuals constituted 1% or less of full-time faculty at colleges and universities; Black and Hispanic academics, 4% or less, according to the U.S. Department of Education.
CWRU has appointed five North Star faculty now on campus, with two more slated to arrive this summer—all of whom are committed to diversifying their fields and departments. And 11 North Star graduate students are pursuing degrees here.
Together, these scholars represent a small portion of the diverse and accomplished individuals arriving every year. But Vinson expects the impact of these programs to grow exponentially. "I can't wait to see where we go next," he said.
John Bickers, PhD
Assistant professor, history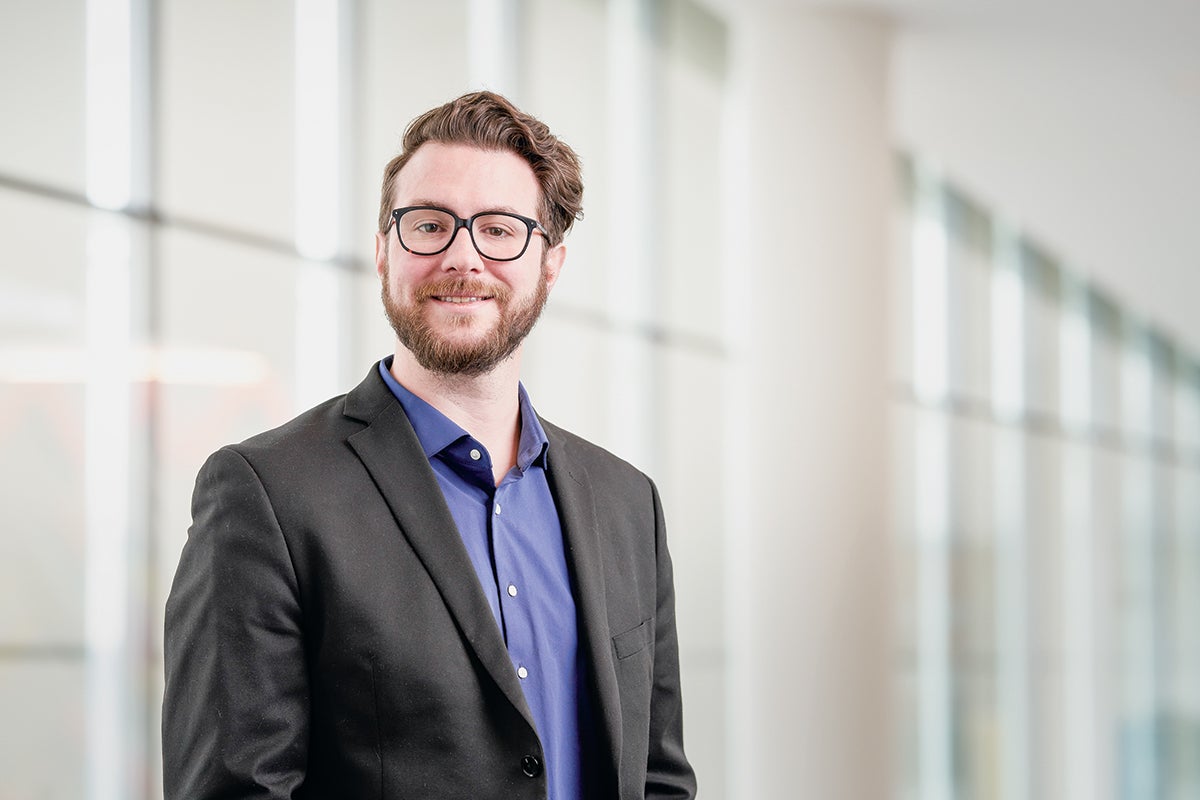 Bickers researches early American history and is a citizen of the Miami Tribe of Oklahoma. He's working on revisions for his first book, The Miami Nation: A Middle Path for Indigenous Nationhood, an exploration of the political history of the Miami Tribe through the 19th and early 20th centuries.
Research passion: "As an Indigenous person, I often didn't see Native peoples portrayed in American history, and when we were, it was from an American perspective and didn't reflect my understanding of myself or my community. I saw a need to discuss Native American history from an Indigenous perspective and one that de-centers the United States in the telling of Native American history. My research centers on my own community, the Miami Tribe of Oklahoma, and seeks to reclaim a Myaamia (Miami) perspective on our history as a people."
Early CWRU takeaway: "CWRU students are incredibly bright and have a real passion for learning that's inspiring."
Angela Dixon, PhD
Assistant professor, biology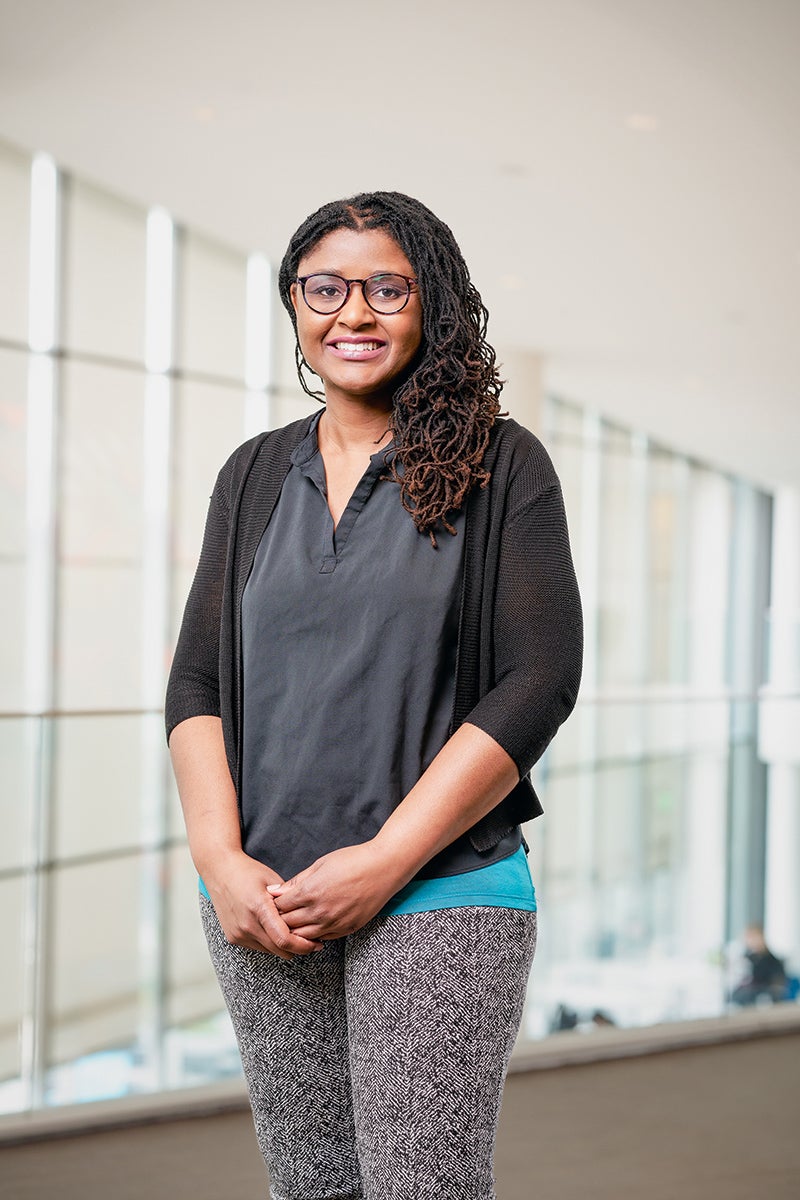 Educated in biomedical engineering, Dixon leads a multidisciplinary research team that studies neurological diseases and the architecture and function of the human nervous system—and then develops sensor and robotic systems that replicate physiological features.
Academic passions: She is fascinated by the inner workings of the human body and the art of mimicking its actions to develop advanced cell models, robots and biohybrid sensors (made of cells, tissues or organs from organisms and electronics). By understanding how neurons inside the olfactory system help us instantly smell an odor, for example, she aims to develop sensors to test for airborne toxins.
In the classroom, she helps students make connections between contemporary issues and course subjects—such as the interplay of social justice and health, specifically how societal factors can worsen or enhance brain development.
The attraction of CWRU: "The ample opportunities for collaborations across departments and schools that help fuel new approaches to research."
Atiba Ellis, JD
Professor of law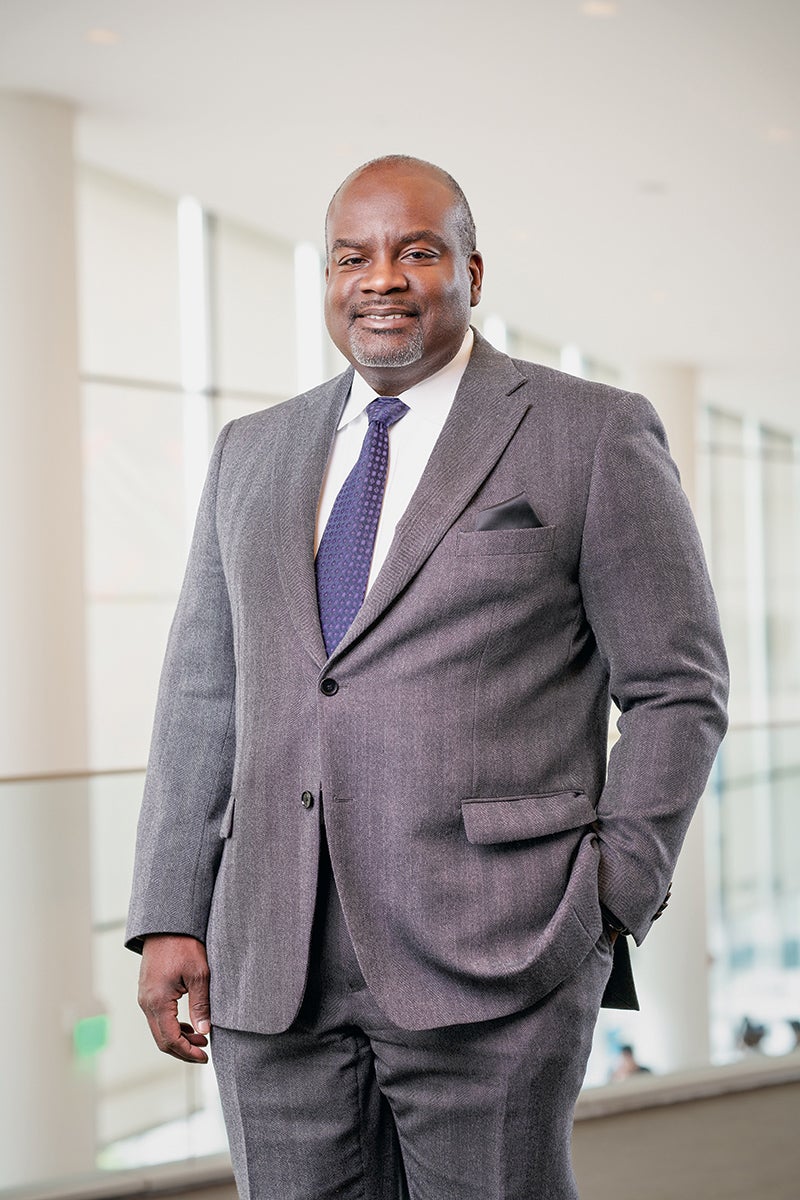 Ellis is a nationally known scholar on issues involving race, voting rights and election law. He said CWRU's prominence as a leading research university, the School of Law's widely respected faculty and the opportunity to speak on issues related to democracy and equality drew him to campus.
Research passion: "How can the United States build a political community that is functional, holds integrity and is inclusive of everyone despite the ideological forces that imperil democracy's promise? This question of equality has been fundamental, yet contested, in our constitutional law, for the various civil and political rights movements in the U.S., and shapes how we think about our nation today. My research allows me to explore these issues, and my teaching allows me to introduce these issues to my students."
Early CWRU takeaways: "The students and faculty I've worked with so far share a dedication to crafting knowledge in the hope of helping to change the world."
Christopher Pulliam
(CWR '06; GRS '10, '13, biomedical engineering)
Assistant professor, biomedical engineering
Pulliam investigates strategies for improving function in people with a neurological disease or injury. He hopes to develop new interventions and tools to help determine the right treatment for each individual.
Research passion: "One of my 'superpowers' is concept integration, that is recognizing patterns in existing research and technology in disparate spaces and identifying where we can apply them in new ways to solve new problems. I feel fortunate to have stumbled on neural engineering and rehabilitation, an area that provides many opportunities to tackle meaningful healthcare challenges."
Alumnus turned faculty member: "Although I initially worked in the medical device industry, I dreamed of being a faculty member. Being able to make this transition at [CWRU] with trusted colleagues and in an environment that values the translational research that I am most passionate about, gave me the confidence to make the leap."
Brian Taylor
(CWR '05; GRS '09, '12, mechanical engineering)
Assistant professor, mechanical and aerospace engineering
Taylor works at the intersection of engineering and biology to study how animals use Earth's magnetic field and their own senses to navigate. He then explores how those systems might guide development of autonomous navigation systems that don't depend on GPS or other satellite systems.
His love of teaching: "I enjoy helping people understand the material and emphasizing the fact that this is hard stuff. The times I've been the most gratified are when people who thought they might not be able to do the work end up knocking it out of the park—and having fun doing so."
The benefits of returning to campus: "College was a place where I could have a balance of music and engineering. Now, I can have a balance of engineering and biology for my research. CWRU seems to feed all the parts of my soul."
"To be most successful in research, scholarship and creative endeavors, it is critical that we have a diverse group of faculty who offer a range of perspectives. The North Star program provides resources ... that have been crucial for bringing underrepresented minority faculty to the college who represent the highest levels of excellence and accomplishment in their respective fields and through interdisciplinary engagement."
—Joy K. Ward, PhD, dean of the College of Arts and Sciences
These Graduate Students See Positive Impact as a North Star
Sierra J. Norvell
Degree program: Doctor of Dental Medicine Class of 2025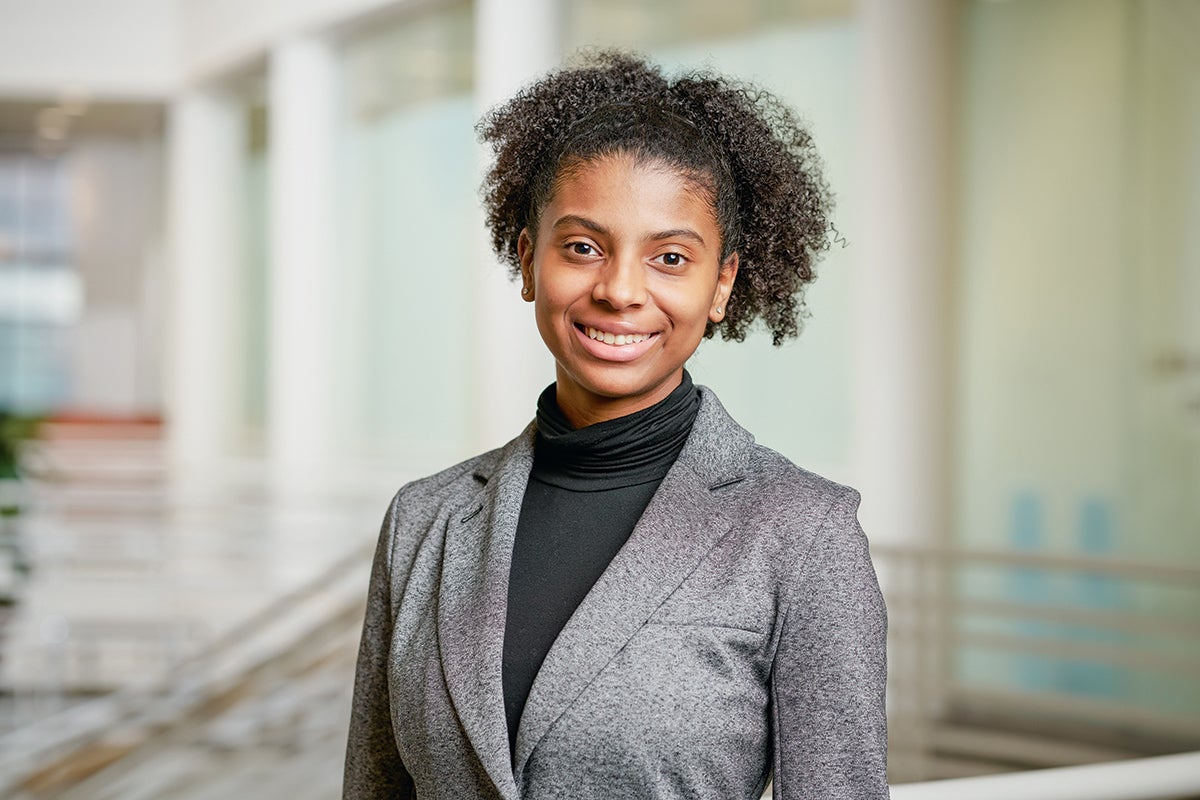 Norvell, a graduate of Howard University, wanted to attend a dental school close to her family in Dayton, Ohio. She aims to have a private practice and perhaps even a dental spa offering massages and facials and a relaxing environment.
Her goal: "I want to help people become the best versions of themselves. If I can do that by improving their smile or overall health—good health starts in the mouth—then I can be one stop on their journey to their version of greatness."
Caitlyn A. Gillespie
Degree program: Master of Public Health (MPH) Class of 2023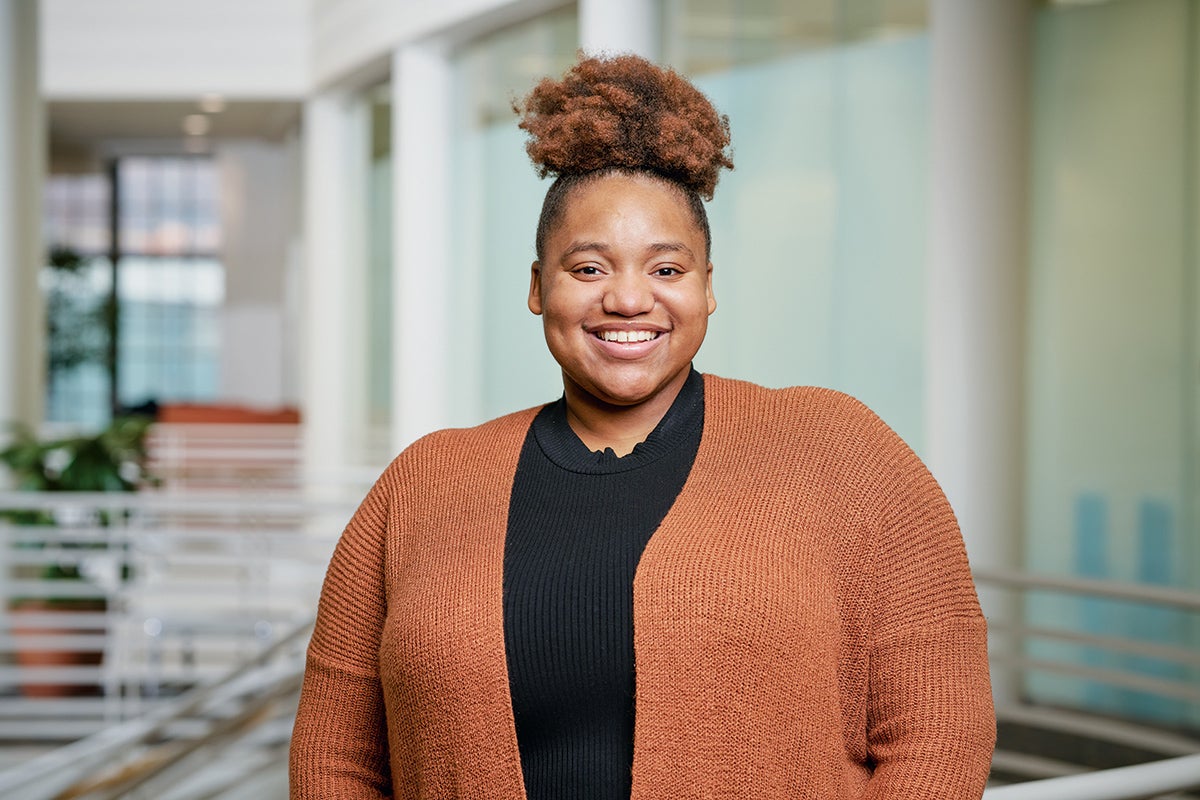 Gillespie fell in love with CWRU's scientific culture during three summers as a visiting undergraduate doing research on campus. It was part of a regional program to help prepare underrepresented minority students to pursue advanced degrees in sciences and other fields. "It gave me the opportunity to grow as a young researcher," said Gillespie, a graduate of Fisk University.
Her goal: To be an obstetrics and gynecology physician's assistant (PA) in underserved communities. Before seeking a PA degree, she wanted to earn an MPH to better understand social determinants of health. "Having this degree will help me be an advocate for patients," she said.
Crystal T. Bell
Degree program: Master of Arts in Speech-Language Pathology Class of 2024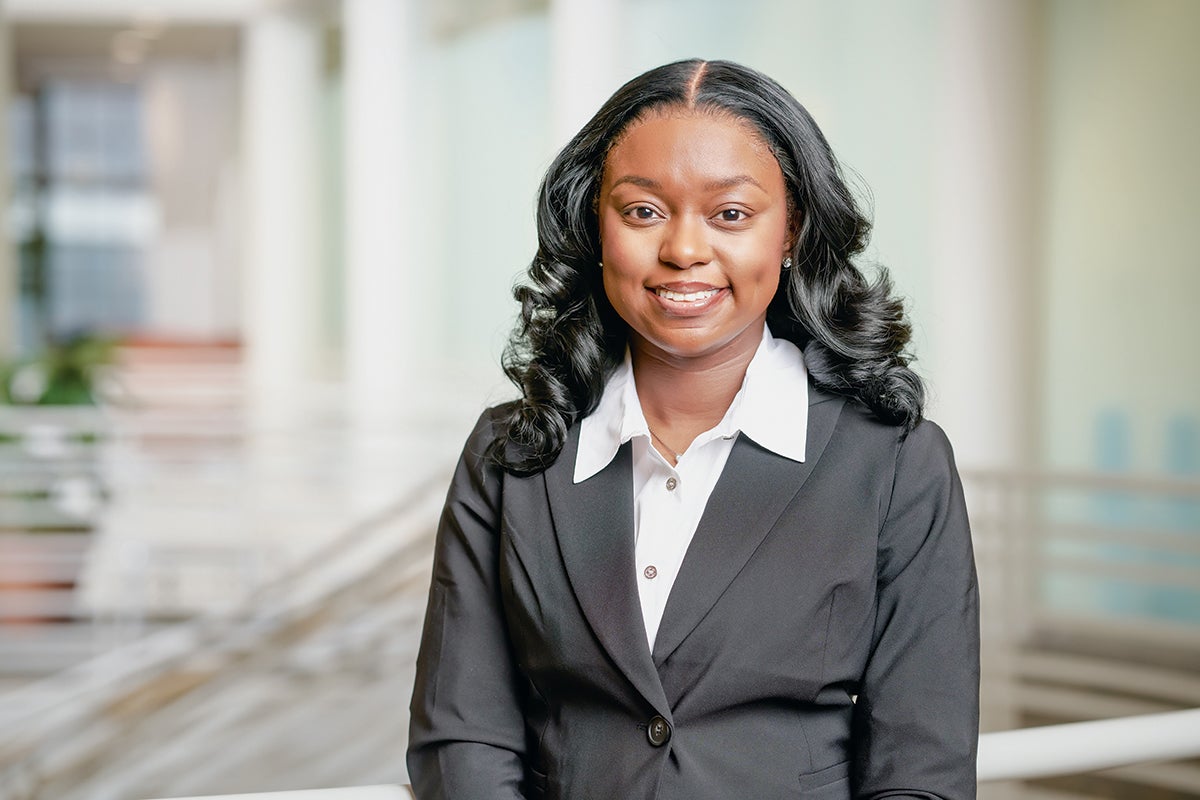 Bell said she was drawn to CWRU's academic program because it emphasizes medical training. A graduate of Hampton University, Bell wanted to be in a city where she could treat a diverse patient population as an African American woman.
Her goal: To work with adults who have dysphagia, or trouble swallowing. She's fascinated by the anatomy of the larynx and wants to help "medically fragile patients while also continuing to learn from other professionals."
Chloé LaFaille
Degree program: Juris Doctor (JD) Class of 2025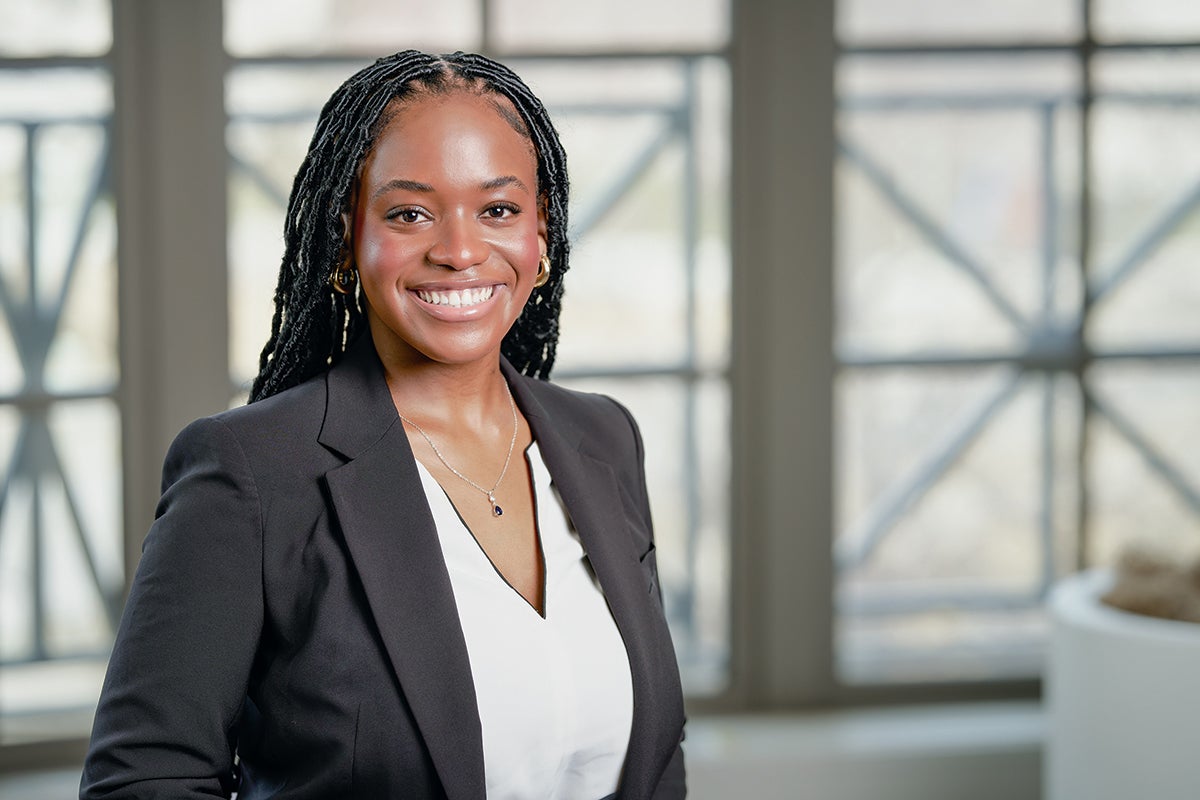 LaFaille was excited to become a lawyer, but also nervous about transitioning from Florida Agricultural and Mechanical University to the CWRU School of Law. She was leaving a historically Black university for a predominantly white institution and knew law schools are presumed to have intimidating cultural and social climates. Instead, the deans and professors are warm and supportive, and students in the Black Law Student Association are always there for her.
Her goal: "To contribute to increasing the 5% of Black lawyers in America. I want to use my degree to promote justice and positive change in our communities."
Kendrick Sandifer Jr.
Degree program: Juris Doctor (JD) Class of 2025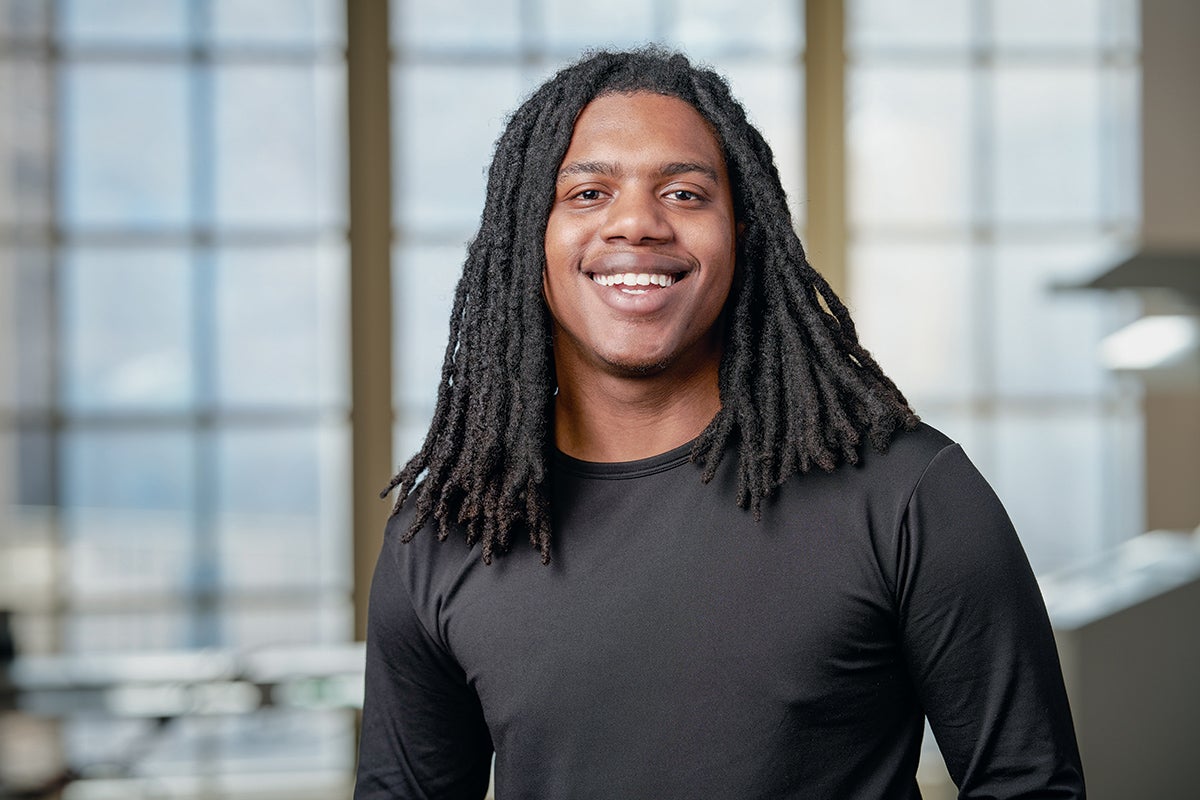 Sandifer applied to the School of Law because a professor he had as an undergraduate at Tuskegee University thought it would bring out the best in him. She also recommended a call to Bryan Adamson, JD (LAW '90), the school's associate dean of diversity and the David L. Brennan Chaired Professor of Law. "He sold me on the community."
His goal: To help people who are impoverished like those he saw in his hometown of New Orleans. "I really want to represent people and get them out of certain circumstances that made them products of their environment."
Tamarea Townes
Degree program: Master of Science in Nursing Class of 2024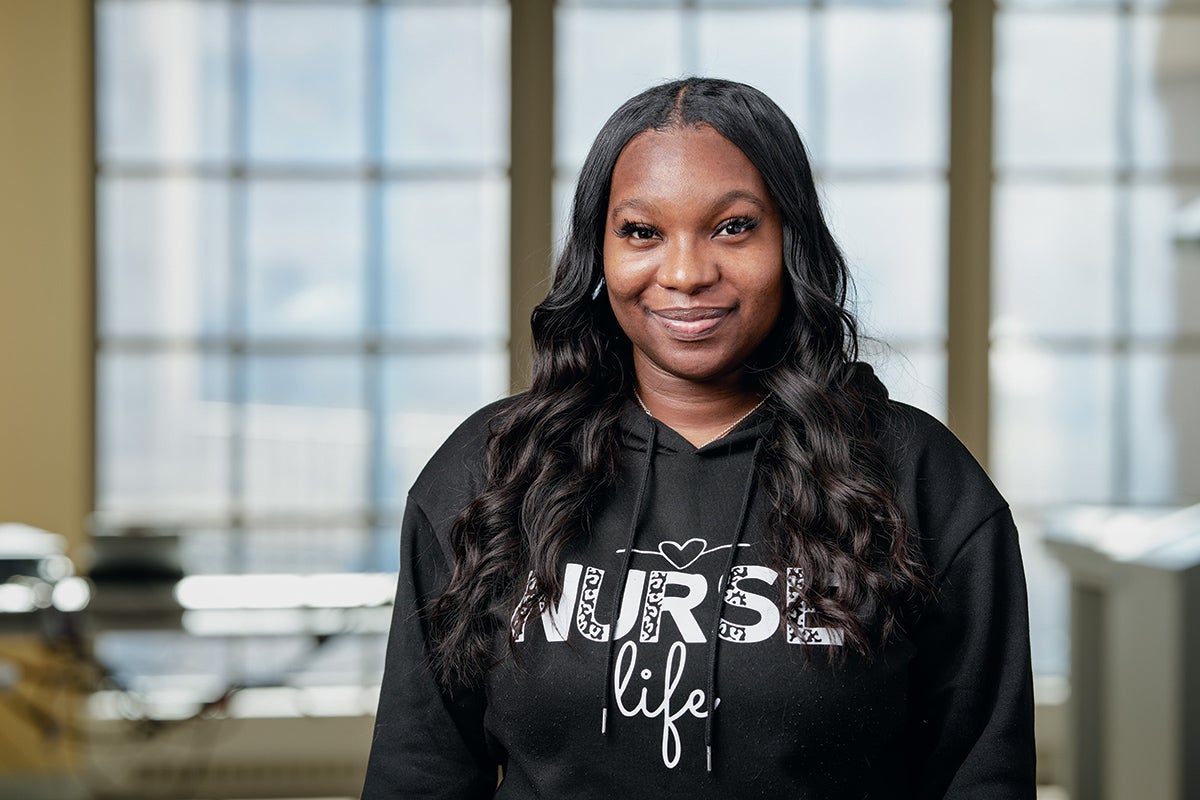 Townes, a graduate of Howard University, knew about CWRU's opportunities long before she arrived as a student. Her sister, Siobhan Aaron, PhD, RN (GRS '21, nursing) is an assistant professor at the Frances Payne Bolton School of Nursing, and her mother, Josephine Shelton-Townes (SAS '88), earned a social work degree at CWRU.
Her goal: To become a nurse midwife and advocate for women of color and others from minority communities. She also wants to help address disparities in African American infant mortality. "It's very important for me to go into a practice where I can be an advocate for people of color that face disparities within the healthcare system."