LENS
Potential New Treatments for HIV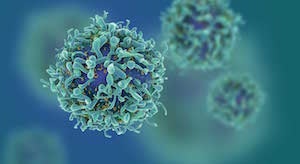 IMAGE: ISTOCK
Resetting the immune system
Case Western Reserve researchers are developing a new technique that might render immune cells resistant to HIV, the virus that causes AIDS.
With a grant of up to $11 million from the National Institutes of Health (NIH), they've partnered with a California-based company to combat the virus in a different way: Instead of attacking it directly, they're resetting the immune cells that harbor it.
One of the longtime challenges of HIV is that it can hide for years, lying dormant in T cells, which are a critical component of the body's immune system. During that stealth period, the virus is virtually impossible to detect and attack.
"What we're doing is modifying cells that are targeted by the virus, but which are also the orchestrators of the immune response, so they can't be infected anymore," said Rafick-Pierre Sékaly, PhD, the Richard J. Fasenmyer Professor of Immunopathogenesis at Case Western Reserve's School of Medicine and the grant's principal investigator.
The new treatment involves removing a small percentage of a person's T cells, genetically altering them in the lab to resist the virus, then injecting them back into the bloodstream.
Those T cells can boost the immune system and specific cells within it, which would kill the infected cells. "We effectively 'reboot' the immune system, so it can control the virus on its own," said Sékaly, who also co-directs the university's Center for AIDS Research Proteomics and Systems Biology Core.
Most of the four-year NIH grant is for planned clinical studies—pending U.S. Federal Drug Administration approval— at University Hospitals Cleveland Medical Center and hospitals in Cincinnati and San Francisco. It also will fund continued monitoring of the 30 study participants. Benigno Rodriguez, MD, an associate professor of medicine, is leading the clinical trial. Sangamo Therapeutics Inc., of Richmond, California, is providing materials and equipment.
"We really believe this may help efforts to reach a cure for HIV," Sékaly said. "Our goal is total eradication of the virus."
Combining immune therapies to treat the infection
At best, existing HIV drug therapies keep the virus in check, making it a chronic but manageable infection.
Case Western Reserve researchers Michael Lederman, MD, the Scott R. Inkley Professor of Medicine, and Benigno Rodriguez, MD, an associate professor of medicine, think one way to treat the persistence of infection may be to combine therapies that focus on the immune system. Their team, which includes Rafick-Pierre Sékaly, is targeting HIV with two existing substances: interleukin-2 (IL-2), a protein the body produces naturally in small amounts to stimulate its immune system, and an antibody that recognizes HIV on the surface of infected cells. The work is largely funded by a $2.5 million grant from the pharmaceutical firm Gilead Sciences Inc. (It does not produce either substance being tested.)
The aim is to trigger a three-pronged attack on HIV. First, IL-2 will help activate and flush the virus out from its hiding place in cells, Lederman said. It also makes immune cells better killers of virus-infected cells. Finally, the antibody attaches to the surface of infected cells, acting like a homing device for the immune system's killer cells.
The researchers are testing the combined therapies in a clinical trial at University Hospitals Cleveland Medical Center slated to start this year.
"Although modern antiviral drugs have changed the landscape of HIV infection and AIDS, antiviral drugs alone will not cure HIV infection," Lederman said. "And while curing HIV is an enormous challenge, clinical trials like these will give us a much better idea of how HIV persists and how we can attack it."