LENS
Putting Research into Practice
Developing leaders for hospitals around the globe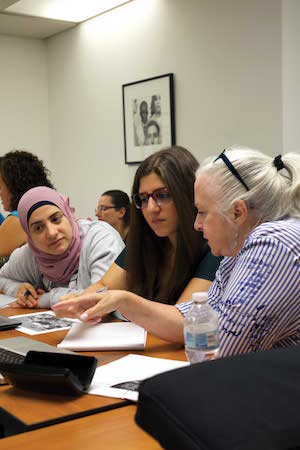 PHOTO: Mike Scott
Case Western Reserve is expanding the reach of its doctorate program for current and budding nurse leaders. Mary Terhaar, PhD, RN—the Arline H. and Curtis F. Garvin Professor of Nursing and associate dean for academic affairs at Frances Payne Bolton School of Nursing—leads efforts to take the program to other locales, from New York City to Abu Dhabi. The aim: to prepare nurses to be impactful clinical leaders, whether in rural settings with limited resources or in complex urban health care systems. Terhaar said the school's Doctor of Nursing Practice (DNP) program—which now is offered in 20 other U.S. locations outside Cleveland—is unusual because it routinely partners with clinics, hospitals and colleges to educate their workforce onsite, online and on the CWRU campus. She recently spoke to Think about the program.*
Case Western Reserve was among the first universities to offer a DNP program. Why is it necessary or even useful for experienced nurses?
It is easy to understate the scope and impact of the explosion of new information that health care workers face today. It's more important than ever to produce nurse leaders who are knowledgeable in their practice, but also able to collect and analyze new scientific research, vet it and use it to improve outcomes for the populations they serve. Those populations are often distinct in age, genetics, socioeconomics—so it's not an easy task. The DNP is all about translating evidence into effective practice for any population, which requires a particular skill set and expertise you can't get through clinical experience alone.
Why bring the program to Abu Dhabi?
The [United Arab] Emirates are fascinating since there has been so much growth there in just a generation. They're starting to build world-class institutions from the ground up. A branch of Cleveland Clinic [is] there with a state-of-the-art facility, but it doesn't yet have a native workforce of the scale needed. That's not surprising. Our program is helping to educate leaders for the Emiratis workforce, so there will be more Emiratis working at the highest levels at Cleveland Clinic Abu Dhabi and across the entire health care system.
What sorts of students are in the Abu Dhabi program now?
There's incredible diversity in that cohort—not just ethnic diversity, but also a diversity of experience. They come from Lebanon, Ireland, Canada, Georgia, London and the Emirates, among other places. One of them was a former shepherd before he became a nurse. So, although we teach them what we know about leadership in health care, there's much that we learn from them about culture and about how to make a team that is cohesive, even when its members have such different life experiences.
How do you teach people with different cultural norms— even differing expectations of gender roles, for instance?
You might think that'd be a challenge, but it's really quite the opposite. The nurses that come through our [Abu Dhabi] program have an appetite for diversity and share the same passion for improving patient care. That they come from different backgrounds has actually helped them listen and learn from each other, and be respectful of others' cultural needs. There's not a one-size-fits-all approach; you just have to listen and approach patients with a basic level of cultural humility. The same is true in the classroom. In teaching, we approach students as individuals and with cultural humility.
*This conversation was edited for length.