launch
Food for the Soul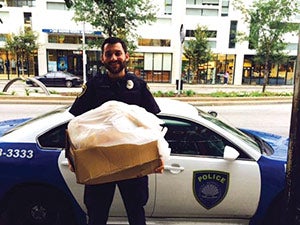 Courtesy of CWRU Food Recovery Network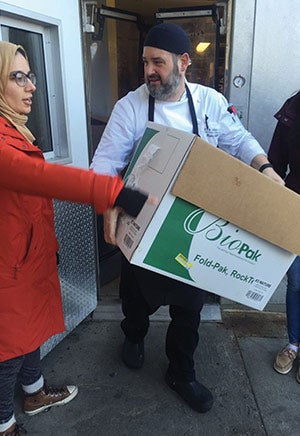 Courtesy of CWRU Food Recovery Network
Courtesy of CWRU Food Recovery Network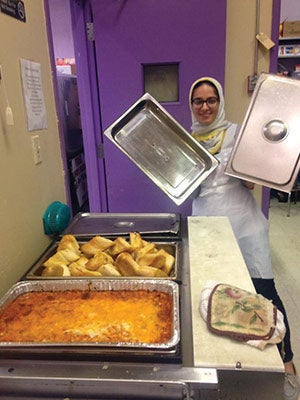 Courtesy of CWRU Food Recovery Network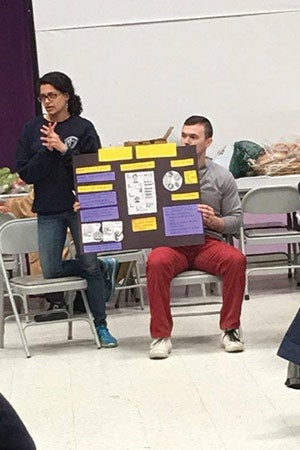 Courtesy of CWRU Food Recovery Network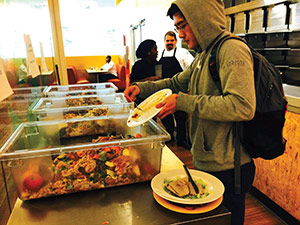 Courtesy of CWRU Food Recovery Network
When Sara Ahmed was a Case Western Reserve sophomore, she wanted to get involved in a service project that would help the Muslim Student Association—and other students across campus—further connect with the Cleveland community.

So when she heard about the Food Recovery Network, a national effort by college students to recover uneaten campus food and divert it to organizations that feed people in need, Ahmed immediately wanted to start a local chapter. "It lives out what we believe," said Ahmed, a member of the association and now a senior majoring in cognitive science.

"Literally 3 miles from campus, one in six people go to bed hungry, and one in five children live in a food-insecure household," she said, citing statistics from the Hunger Network of Greater Cleveland. "If we can help alleviate a fundamental need in people's lives, why wouldn't we?"

The national Food Recovery Network—launched at the University of Maryland in 2011—has more than 185 campus chapters across the country. Collectively, they have diverted more than 1 million pounds of food from the trash to people in need.

Ahmed and fellow student organizers Faraaz Hussain and Shadi Ahmadmehrabi spent a year doggedly completing all the work necessary to launch the local chapter in fall 2014. Their challenges started with where to acquire the food and ended with where to donate the food. In between were myriad other issues: transportation, arranging for proper storage, recruiting volunteers and obtaining gloves, carrying containers and other supplies.

They also joined forces with Bon Appétit Management Co., which runs 20 food-service sites on campus and has made reduction of food waste a priority at its operations across the country. It eliminated trays from the university's resident dining halls six years ago.

"If you have a tray, you are probably going to pile on more food than you will eat, and it will end up in the trash," explained Beth Kretschmar, Bon Appétit's on-campus marketing manager.

The rescued food includes bagels and pre-wrapped salads and sandwiches. Two primary recipients are the soup kitchens near campus at St. Matthew United Methodist Church and Dunham Avenue Christian Church. But the student members—now about 150 strong—don't only deliver food; they help prepare and serve it as well, said Ahmed.

"That way it comes around full circle," she said. "Students on campus get the full experience of seeing the impact we are actually making in our own community. It humbles you so much and reminds you why we are here and what our purpose is."

---
To learn more about the local chapter of the Food Recovery Network visit frn.case.edu.

Another on-campus organization, Kids Against Hunger Cleveland, also volunteers at St. Matthew and holds food drives every year. To learn more, visit kahcleveland.weebly.com.