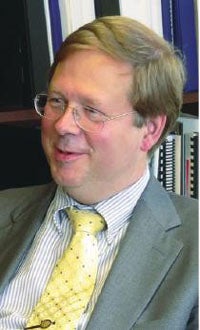 Cyrus C. Taylor, the Albert A. Michelson Professor in Physics, recently completed his first year as Dean of the College of Arts and Sciences. For almost two decades before assuming this post, he had served Case Western Reserve University as a researcher and teacher, a member (and often the chair) of multiple committees, an administrator, and a founder of innovative programs.
Dean Taylor earned his Ph.D. from the Massachusetts Institute of Technology. A former Truman Scholar, Lilly Foundation Teaching Fellow, and John Simon Guggenheim Fellow, he was named a fellow of the American Physical Society in 2003 in recognition of his leadership of the Physics Entrepreneurship Program (PEP), which integrates a graduate education in physics with a business curriculum.
In a recent interview, Dean Taylor discussed the College's educational mission, its relationship with the alumni, and its future.
You joined the faculty as an assistant professor of physics in 1988. What first attracted you to the university?
Actually, one of the main attractions was the stellar quality of the students. This was something I recognized when I came here for my job talk in the spring of 1988.
At that time, string theorists were busy developing models of the early universe. And I knew of a paper done at this university, with careful numerical simulations, casting doubt on one of their suggestions.
After I had given my talk and met the faculty, I was walking down a hallway with Bob Brown, and I noticed a copy of this paper hanging on the wall in the physics department. So I turned to Bob and said, "Where are you hiding your postdocs?" You see, this was the kind of work typically done by postdoctoral students—but I hadn't met any of them at my talk. Then Bob pointed to the list of authors and said, "Those are undergraduates." It turned out that the paper had been written entirely by undergraduates, doing state-of-the-art research in one of the sexiest fields there is.
These were great students, and this was a great culture for fostering the students. I'd always resented how undergraduates were treated at the other institutions I was associated with, so this was just incredibly refreshing.
Since then, you have worked with these "great students" as a classroom teacher and as a lead researcher. How have your ideas about teaching evolved?
Let me tell you a story. I started out teaching a course in numerical methods and data analysis, and after a couple of years, I published a paper about integrating computer technology into the course. (Back then, this was still a novelty; the physics building was the only building on campus connected to what would later be called the Internet.) Unfortunately, there was one lecture each year where I would lose 20 percent of the students. They would just decouple from the class—their eyes would roll, and they would either drop the class or fail.
Then I became a Lilly Teaching Fellow, and we brought Karl Smith, an expert in cooperative learning, to visit campus. Frankly, the whole idea of "cooperative learning" sounded namby-pamby to me, but I'd heard someone at a teaching conference say that it had changed her life. So, at one of our sessions, I told Karl my dilemma and asked how he would solve it. Karl told me what he would do: Stop lecturing, describe the problem, divide the class into groups, and turn them loose. (That's a bit of an abbreviated description.)
I went into class figuring, first, what have I got to lose, and second, if it fails the way I expect it to fail, I don't have to worry about this cooperative learning stuff anymore. So I could hear myself setting it up for failure as I was describing the process. But when I circulated during the next class, I was dumbfounded. The amount of work the students had done was an order of magnitude greater than anything I had asked them to do before or been able to get them to do. When I gave the test I'd given in the preceding two years, the tail of the distribution disappeared. And the bonds forged in this class carried across into other classes these students were taking in the physics department.
The other faculty noticed. They had been noticing the chaos in my classroom and raising their eyebrows—but now they noticed the impact. So we invited Karl back for a physics colloquium, and brought cooperative learning into several of our classes as a supporting strategy. And I think it was part of a real revolution in the approach to teaching at the university—a revolution that has continued with the College's leadership of the SAGES program.
Today, students from your data analysis class are among the College's 34,000 alumni. In your first year as dean, what have you learned from the alumni, and what have you tried to communicate to them?
One of the pleasures of being dean has been the opportunity to travel and meet many of our alumni around the country, in a variety of professions and walks of life. It's not just that we have stellar students now; we've had stellar students throughout our history. I was impressed before, and I have become more impressed with every trip.
The real manifestation of the university in the world is the alumni. And Case Western Reserve should not just be a place where the alumni were at an earlier stage in their lives. It should be an ongoing resource for them. There should be an organizational network that meets their needs—and that enables them to weigh in on how we can meet the needs of our current and future students.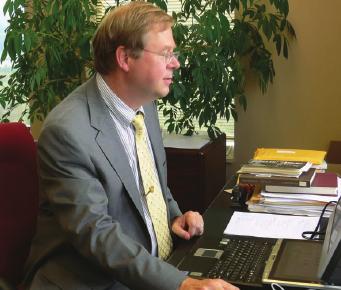 In that context, what are your priorities as dean?
We are now embarking on a process to develop a strategic plan for the College. Though many of our departments have done effective planning on their own, there has never been a self-study or strategic plan for the College as a whole. Let me mention a few areas that such a plan is certain to address.
First of all, facilities. We have programs with passionate faculty and passionate students, but the facilities we provide for them are a long way from where they should be. Consider performing arts. Eldred Theater is a fine building, but our theater program doesn't have the performance space that a program of its excellence should have. Similarly, the facilities supporting musical activities are woefully inadequate. The faculty involved have done an incredible job of making do, but I think our students deserve better. So this is going to be a challenge.
Second, there are areas where we can improve delivery to our students. One of the questions that we'll be asking all of the departments is, "Are our curricular offerings the right ones for the first quarter of the twenty-first century?" In many universities, curricula have become ossified. The physics curriculum hasn't changed a great deal in fifty years. As a college, we have already begun to address this issue through SAGES. But SAGES is just the first step in what needs to be a continuing process of reevaluating everything we do.
Finally, with respect to research, we have areas that are already very strong, and other areas, such as cognitive science, where we are developing world-class programs. Out of the strategic planning process, I expect a renewed resolution to invest in areas of strength as well as in new initiatives offering great promise. We have extraordinary opportunities for partnerships, both within University Circle and with programs internationally. I've been meeting with heads of University Circle institutions to talk about coordinating our efforts, and I'm challenging people to think across boundaries and institutions as we look for ways to be truly distinctive. We're at the point now where I expect a lot of ideas to be coming forth.