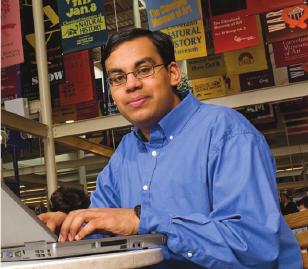 Shaan C. Gandhi, a chemistry and biochemistry major who became an active cancer researcher well before he graduated in May, was named a Rhodes Scholar for 2007 and has now begun advanced studies in immunology at the University of Oxford.
A Goldwater Scholar during his senior year, Gandhi studied mechanisms of cancer cell development in the laboratory of Michael A. Weiss, M.D., Ph.D., chair of the Department of Biochemistry in the School of Medicine. Earlier, he was awarded internships and research grants by the National Institute of Health, Memorial Sloan-Kettering Cancer Center, and the Mayo Clinic.
The Rhodes Scholarships are the world's oldest and best-known international fellowships. Approximately 85 Rhodes Scholars are selected each year and invited to pursue advanced degrees at Oxford. Gandhi was one of 32 Americans chosen in 2007; the other winners included recent graduates of Yale, Harvard, Duke, Stanford, Princeton, and the U.S. Naval Academy.
While an undergraduate, Gandhi was president of the Model United Nations Society and active in the Global Medical Initiative, which sends medical supplies to developing countries, raises money for disaster relief efforts, and fosters awareness of global public health issues. He has been a medical volunteer in India, in Guyana, and at the Veterans Affairs Medical Center in his hometown of Battle Creek, Michigan.
Gandhi was featured in the latest issue of The Value of Research, an annual publication celebrating groundbreaking work across the university. "I cannot think of a better place than Case Western Reserve University for a student to participate in research," Gandhi said. "As an undergraduate, I have been able to pursue my research interests with every advantage that a major research university has to offer, including the support of Case's scientists and scholars, all eager to work with students."