launch
Mining Data to Tackle Community Issues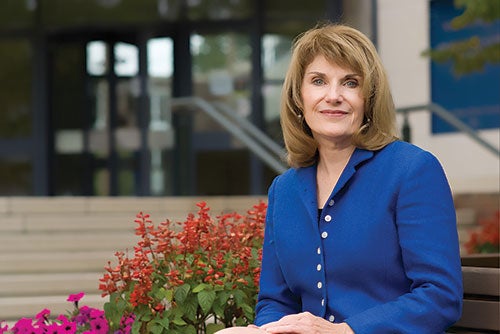 photo: Steve Zorc
Back in the early 1990s—years before massive amounts of statistics were publicly available online to be sliced, diced and interpreted—Claudia Coulton had a "big data" idea.
The Case Western Reserve professor of urban research wanted to create a user-friendly public system loaded with details about city of Cleveland neighborhoods. Researchers, community and economic development officials and anyone else could mine the resource to explore trends or address issues related to poverty, employment, children, housing and crime.
Coulton—now a Distinguished University Professor and the Lillian F. Harris Professor of Urban Research & Social Change at the Jack, Joseph and Morton Mandel School of Applied Social Sciences—worked with a team of researchers and graduate assistants, as well as public and private keepers of data, to develop that system and take it public in 1992.
"We were ahead of our time in trying to launch an online open data system," said Coulton, PhD, who also is the founder and co-director of the Center on Urban Poverty and Community Development at the Mandel School.
Today, Northeast Ohio Community and Neighborhood Data for Organizing (known as NEO CANDO) includes information from 17 area counties, is updated regularly with new federal, state and local data, and is a national model for communities seeking to combine, synthesize and analyze the kind of in-depth quantitative information needed for strategic solutions.
This year alone, NEO CANDO provided data critical for a $2.3 million university grant from the Eunice Kennedy Shriver National Institute of Child Health and Human Development to study child maltreatment in Cleveland neighborhoods. It also is being used on a $300,000 John D. and Catherine T. MacArthur Foundation grant examining how housing and neighborhoods affect kindergarten readiness. Two research reports issued this year relied on NEO CANDO to examine changes in housing values and the quality of housing stock in neighborhoods hard hit by the foreclosure crisis. And the data system also was highlighted in a report on the Cleveland region's efforts to reclaim vacant properties issued in May by the Vacant Property Research Network, hosted by the Metropolitan Institute of Virginia Tech.
"NEO CANDO was one of the first community-driven property information systems in existence and provides a level of sophistication that few cities have," said Joseph Schilling, JD, interim director of the Metropolitan Institute and a founder of the Vacant Property Research Network.
NEO CANDO already was the "go-to" site when the foreclosure crisis clobbered Cleveland. But as the city's housing stock was ravaged, the data system became even more essential. Public officials and local community development leaders relied on NEO CANDO's capacity to make data-driven decisions on how to target revitalization initiatives and ferret out who was committing mortgage fraud or flipping distressed properties on a block-by-block basis. The system is now "the gold standard when it comes to vacant property information systems," said Schilling.
—JENNI LAIDMAN