features
Introducing Engineering Students to the World...and Bringing the World to CWRU
by Christine H. O'Toole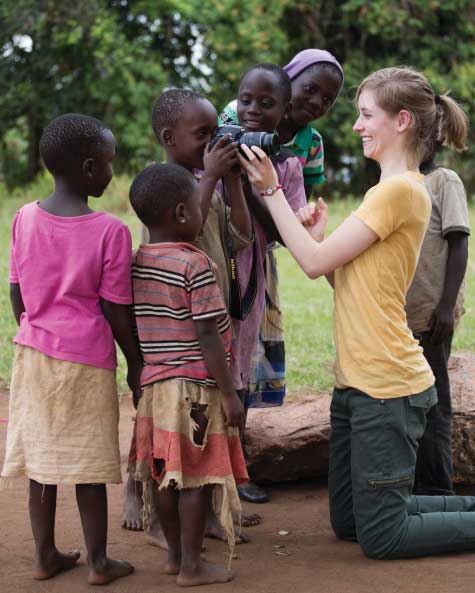 Photo: Sukwoo Xavier Yoon
At first glance, it doesn't look much like an international nerve center.
Room 133 in Case Western Reserve's A.W. Smith Building is a minimalist version of a standard professorial office. The only item that might qualify as an attempt at decoration is the plastic bin parked in a corner, overflowing with tennis racquets and about 100 lime-green tennis balls.
The bin is a clue to the unique brand of diplomacy practiced by the office tenant, who manages to juggle several international projects simultaneously. Daniel Lacks, PhD, C. Benson Branch Professor of Chemical Engineering at the Case School of Engineering, is challenging his students to apply their talents to meet basic human needs in developing countries across the world. Since 2011, Lacks has created opportunities for university students to visit Senegal, Mali, Uganda and Botswana, bringing them face to face with the problems their generation will confront. An avid tennis player, he also brings donated sports gear on his international trips to give to local schools. Hence, the locker room décor.
"All over Africa, there are important needs: electricity, water, transportation and communication," Lacks explained. "It's a mistake to use engineering tools just to solve the high-tech types of problems relevant to the United States."
Lacks' first visit to Botswana in 2010 sparked his interest in creating student projects in African nations. "We went there to discuss a possible research collaboration, but I thought it would be a really great experience for our students to get to see what Africa is like," he said. "Everything else just followed when opportunities arose."
In 2012, seniors flew with Lacks to Senegal and discovered the barriers that vast distances and poverty pose for building new infrastructure.
Last December, Lacks traveled with students to Myanmar, a nation returning to life after a half-century of political repression. Lacks parlayed his experience in a Fulbright Specialist Program in the capital of Yangon into an experience that the U.S. Department of State hailed as the first U.S. college course to be offered in that Southeast Asian country since it reopened. For two weeks, 12 students in the master of engineering management program and one from John Carroll University studied together with colleagues in an international engineering entrepreneurship course at Yangon Technological University.
This kind of initiative represents the other half of Lacks' mission: introducing overseas faculty to new technologies and teaching methods. In recent years, he's brought university delegations from other nations, including Myanmar, Iraq, Libya and Lesotho, to campus. "Visiting professors become very excited about the learning techniques we use to engage students," said Lacks. "They're eager to bring them back to their home universities."
Meanwhile, students on campus have benefited from Lacks' knack for quickly establishing partnerships in remote areas. During the past three years, for example, Lacks and R. Mohan Sankaran, PhD, also a professor of chemical engineering, have used a $150,000 federal grant for undergraduate research with the University of Botswana on sustainable energy solutions for sub-Saharan Africa.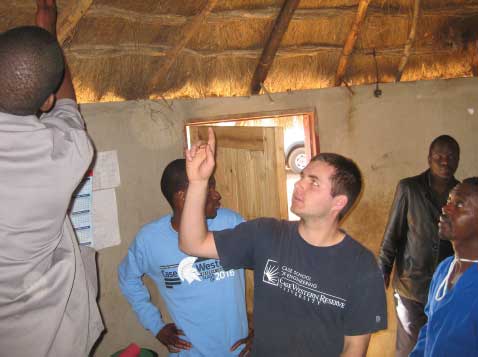 Photo: Lauren Weston
For Joe Toth, now a senior majoring in chemical engineering, his May trip to the arid, landlocked country was a light-bulb moment. It was equally illuminating for Tlhabologang Mosadi Kebopetswe, a widowed mother of three children living on the edge of the Kalahari desert.
Toth, who is from Champion, Ohio, had never traveled abroad. During the four-week program, his team worked alongside University of Botswana students to design, assemble and install a solar array on the roof of Kebopetswe's hut that gave her family electricity for the first time. Generating only .8-kilowatt hours a day—3 percent of the daily consumption of an average American home—the panels power a few lights, a radio and a cell-phone charger. That's life changing for Kebopetswe, whose children will now be able to do schoolwork after dark.
In the design phase of the project, Toth calculated the solar energy needs, the battery capacity required to store nighttime energy, the wiring and other issues. But shortly before the group's members arrived in the village of Mmanoko, they learned they would be installing the panels on a thatched roof.
"The panels can get very hot, and we needed to reduce the risk of fire," Toth said. Improvising a solution by elevating the panels, the group completed the installation in a day.
"I don't think that I would make a career out of it," Toth said, "but even just going back when possible to help provide sustainable energy would be great."
Biomedical engineering student Nicole Mammoser (CWR '14) was so compelled to complete her senior project in a low-resource country that she and other students crowd-sourced funding for the trip to rural Uganda last March, raising $4,600 online. Over spring break, seven of the students flew to Kampala, the Ugandan capital. With Lacks and Andrew Rollins, PhD, a biomedical engineering professor, they visited hospitals, clinics and rural communities struggling with high rates of tuberculosis.
Though many people walk or take long bus trips to get diagnosed, clinics can only analyze several sputum samples in a day. Others must return later to get their diagnosis.
"If the clinics let patients leave, the chances of them returning drop off the cliff," said Mammoser. "Even if they have the time, the road might be gone after a flood."
To improve record-keeping, Mammoser's group integrated a bar-code scanner into a U.S.-made diagnostic device.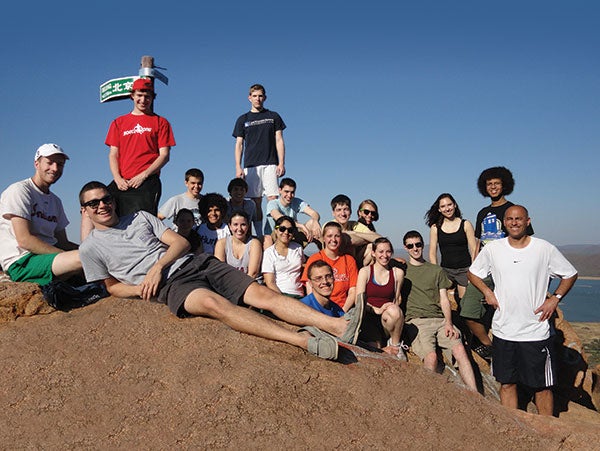 Photo: Courtesy of Daniel Lacks
On their first day in Kampala, the U.S. students met their counterparts, the first bioengineering majors at Makerere University. They found the local students skeptical about how technology from developed countries could transfer to rural communities, particularly in light of cost. That sobering discussion was one of a series of unforgettable moments that became part of the mosaic of the trip.
For both Toth and Mammoser, Africa also offered exotic new tastes (impala meat for him; spiky jackfruit for her) and a vivid lesson of how altruism and engineering can make real change. They both also appreciated even a brief opportunity to experience and serve another culture.
"I didn't really know what to expect. Clothes are easy to pack, but a heart can be a hard thing to prepare," said Mammoser, who has added overseas posts to her list of career possibilities. "There's so much more that I can be doing to help."
The top 10 countries where CWRU students studied abroad in 2013-2014
Netherlands (85 students)
United Kingdom (47)
China (46)
Germany (41)
Guatemala (32)
Costa Rica (30)
France (28)
Botswana (26)
Ecuador (22)
Peru (21)
The growing number of undergraduate Students studying abroad
(This includes all programs, both credit and non-credit.)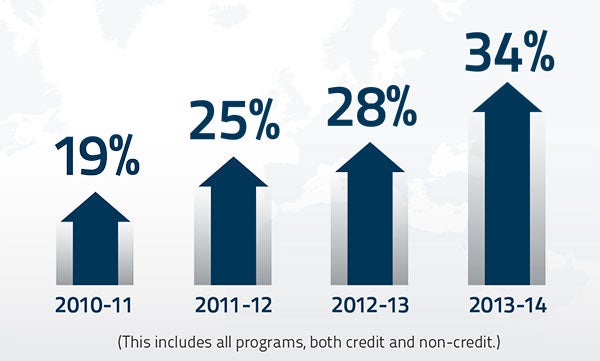 To learn more, visit engineering.case.edu.