dialogue
A LEGAL LEGEND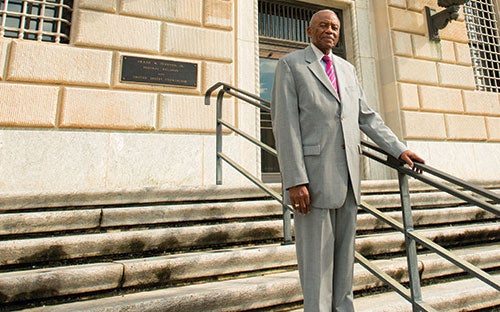 Photo: Elmore DeMott Photography, LLC
Fred Gray (LAW '54, HON '92) couldn't remain in his home state of Alabama for law school because of segregation.
Instead, he came to Cleveland for the legal credentials he needed to fight inequality. Then he returned to Montgomery where he played a pivotal role in some of the civil rights movement's most seminal triumphs: He worked alongside Martin Luther King Jr. on voting rights and school integration; defended Rosa Parks after her refusal to give up a seat on a Montgomery city bus; sued the federal government on behalf of the men exploited by the Tuskegee, Ala., syphilis experiment; and became the first black president of the Alabama Bar Association. An honorary and emeriti trustee of Case Western Reserve, Gray, 83, lives in Tuskegee. The recent re-publication of his autobiography, Bus Ride to Justice (NewSouth Books), celebrates 60 years of his continuing law practice.
QHow did you hear about Case Western Reserve University (then Western Reserve)?

A I knew I wasn't smart enough to get an academic scholarship at any major universities, and my mother didn't have money to send me. So I had to attend someplace where I could also get employment. A lot of people from Alabama had migrated to the Cleveland area for work, and I had a cousin who lived on the East Side. Western Reserve's classes were in the morning, from 8:30 until 12:30. It was a small, good law school, and with the schedule that way in a city where I had been informed there were some jobs, all things pointed to Western Reserve and Cleveland.
QHow difficult was it to work while in law school?

A It wasn't that difficult. I was able to get two or three little jobs at one time. I worked at a button factory and as a waiter. One summer, I worked from 11 at night until 7 in the morning at Republic Steel, basically sweeping. Then I got a job picking up and delivering dry cleaning, and later set up a dry cleaning and laundry concessions business in the dorm. (He lived in Hudson House, for male graduate students, the first year, and Claud Foster Hall, a men's dorm for the former Adelbert College, the next two.)
QWhat lessons or experiences at the law school had an impact on your life or career?

A Professor (Samuel) Sonnenfeld, who was my faculty adviser, told me, "Don't be afraid to seek assistance from more experienced lawyers and share the fee with them." If you notice, in all of my early civil rights cases, I always found some lawyer who had more experience than I had to be associated with on the case. It's one of the guiding principles of my law practice.
QHow did you come to represent Rosa Parks?

A (As a 24-year-old lawyer, Gray met Parks through their mutual involvement in NAACP's Montgomery branch.) She worked at a department store a block-and-a-half from where my office was located, so we shared our lunches every day and talked about the conditions on the buses. We talked about what one should do if asked to get up and give up her seat (to a white passenger), and I knew Mrs. Parks was certainly ready to do whatever she could do to end these problems. And, of course, it developed that the opportunity presented itself and she refused to get up and give her seat and was arrested. She wanted me to come over and talk about what had happened to her. This was on a Thursday; the trial was on Monday. She wanted me to represent her. I told her I would, and for her not to worry about it. From there, I went to (local NAACP President) E.D. Nixon's house to be sure that he was on board. He was. I later went to Jo Ann Robinson's house. She was a professor at what is now Alabama State University (formerly Alabama State College), and had been humiliated when a city bus driver demanded she move to the back of the bus—or get off. She got off. Together we made the plans for the Montgomery Bus Boycott. We were all going to get behind Mrs. Parks' case and do whatever it took to get this problem solved.
QWhat did you learn from Martin Luther King Jr. and what do you think he learned from you?

A (Gray met King before Mrs. Parks' arrest and renewed their acquaintance during planning of the Montgomery Bus Boycott in 1955.) It wasn't a matter of people learning things from anybody. I think all of us realized we had a problem, and each one of us was willing to use our talent to help solve the problem. One of the talents that Dr. King had was his speaking ability. I was going to use my legal talent to be sure that I kept all the legal things straight. And I had enough sense to realize I needed some help, so I got on the phone and called Thurgood Marshall (who was then chief legal counsel for the NAACP nationally and later a U.S. Supreme Court justice) and arranged to go up to New York and meet him and his staff to get them to help me with the legal work.
QWhat do you think is your place in history?

A I usually like to let other people determine my place in history. But I think if a person looks at the various cases, and if they read Bus Ride to Justice and other (accounts), they'll find out I probably filed as many, if not more, civil rights cases and have had more precedent-setting civil rights cases than any other living civil rights lawyer.
QDo you stay in touch with anyone at Case Western Reserve School of Law?

A Jonathan Entin is the person I'm closest to on campus. Somehow, on one of my returns to the campus, I met him and we've become very good friends. (Entin, JD, is the law school's associate dean for academic affairs, the David L. Brennan Professor of Law and a professor of political science.)
QWhat do you think of the choice of Oscar-winner Cuba Gooding Jr. to play you in Selma, the upcoming movie about the civil rights movement? Any advice on how to play you?

A I certainly would like the opportunity to talk with him and explain to him a lot of the details . . . and the conversations between Dr. King and me that no scriptwriter of a screenplay would know. I think he's an excellent actor, and I'm sure he'll do a very good job.
—BILL LUBINGER