features
Building Our Future
The Aug. 24 dedication of the Tinkham Veale University Center signaled the completion of a primary campaign priority. But Case Western Reserve's generous supporters have helped launch several other significant campus projects covering a broad range of academic disciplines. When the construction and renovation is complete, students will have new spaces in which to tinker their way toward entrepreneurial invention…apply creativity to the performing arts…and deepen their knowledge and understanding of the healing arts. They'll also have dynamic new athletic and wellness facilities and, thanks to student room fees, a state-of-the-art space to study and lay down their heads. Learn more about what we are building at Case Western Reserve.
Wyant Wellness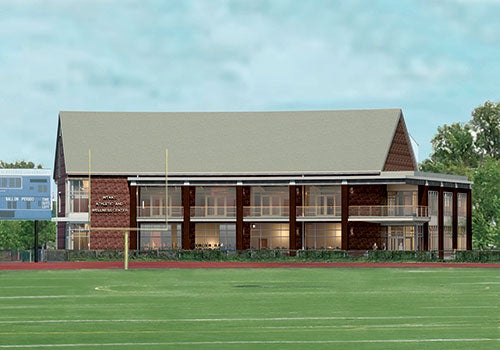 University Trustee James C. Wyant (CIT '65) had no plans to participate in athletics when he first arrived on campus as an undergraduate. But cross country and track coach Bill Sudeck was so persistent in insisting Wyant come out to practice that he eventually attended a session—and was hooked. Athletics proved such an important part of his college experience that Wyant hoped to someday be able to contribute to facilities that supported today's athletes. Along with the track named after the legendary Sudeck, the 24,000-square-foot Wyant Athletic and Wellness Center gives students and varsity athletes impressive options for weightlifting and cardiovascular exercise on the north end of campus. The two-story building also has meeting space and areas specifically for varsity athletes. Dedicated earlier this month, the building will be fully open to students within a few weeks.
Center Stage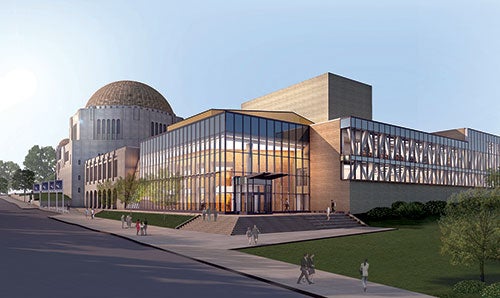 This spring, Case Western Reserve began construction for The Milton and Tamar Maltz Performing Arts Center at The Temple – Tifereth Israel. The 145,000-square-foot construction and renovation project will feature a state-of-the-art proscenium theater, the Fowler-Green Studio Theater, and a dramatically updated sanctuary space for lectures and concerts. The project preserves a historical structure for the city; gives theater, music and dance departments their first-ever shared space; and also enables the congregation to use the sanctuary during high holidays. In addition, it provides the University Circle area with a truly dynamic new setting for the performing arts.
Upperclass Accommodations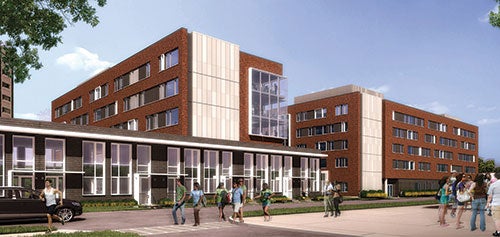 In response to rapidly increasing undergraduate enrollments, the university started construction this spring on a new residence hall for upperclass students, located on the northeast corner of campus.
The five-story, 290-bed structure aims to help alleviate the housing crunch created by a nearly 40 percent increase in the student body over the past decade. Scheduled to open in the fall of 2015, the 122,643-square-foot building features an "S-shaped" design that creates contained outdoor gathering areas that complement the interior lounges and study rooms. The structure's layout includes 16 double-occupancy townhouses as well as double, triple and quadruple suites. The project is expected to cost about $40 million, an expense the university will recoup through housing fees over time.
Out of the Box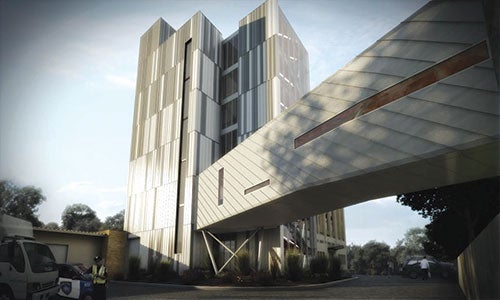 For the past two years, think[box] 1.0 has occupied a small basement space designed to prove the concept behind a proposal to create a 50,000-square-foot, seven-story hands-on innovation hub. In that time, the 4,500-square-foot pilot version of the hub has drawn 3,000 visits per month during the academic year, become an immense draw for potential undergraduates, and helped student entrepreneurs develop products that formed the basis of award-winning startup companies. This month, the university launches development of the first phase of the fully realized version of think[box], a $30 million renovation for which the university has raised more than $20 million to date. The larger facility will include extensive equipment to allow development and prototyping of potential products, as well as meeting space and offices for entrepreneurial advisers. Construction of this part of the project is expected to take between 12 and 16 months.
Health Care's Future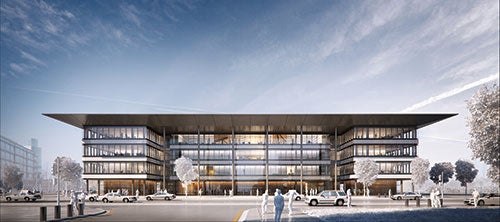 Case Western Reserve's partnership with Cleveland Clinic to create a new health education campus has inspired innovative ideas not only for the building's design, but also for what will happen within its walls. From the start, the project's goal has been to develop an approach to education that uniquely prepares health-care leaders for their field's rapidly changing environment. Among the elements of the effort are approaches to technology that give students much broader opportunities to explore anatomy and other subjects from multiple virtual perspectives. Another involves dramatic expansion of existing inter-professional programs involving dental medicine and nursing students in particular. As Clinic CEO and President Toby Cosgrove, MD, often observes, "Health care today is a team sport." Graduates here will be prepared to lead in this more interdisciplinary setting and contribute new ideas to advance collaboration.