discover
A Nurse Entrepreneur in the Making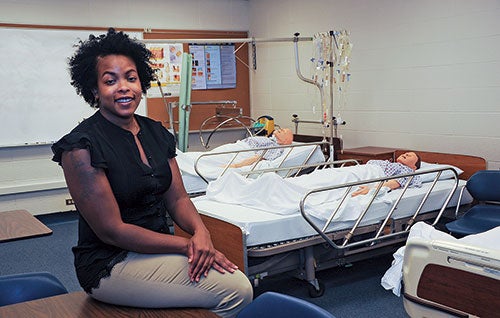 Photo: Roadell Hickman
As a nursing student in Greater Cleveland several years ago, Shanina Knighton saw and heard constant reminders for hospital nurses to wash their hands. But she rarely observed anyone encouraging patients to keep their hands clean.
Inspired to help improve patient hand hygiene, Knighton now is developing a hand-cleaning device specifically for hospital bedsides.
Knighton—a full-time registered nurse at the Louis Stokes Cleveland VA Medical Center and a doctoral student in the Frances Payne Bolton School of Nursing—is doing what nurses long have done: modifying an environment to help patients. But she also is part of an emerging trend of nurses who seek to turn their ideas into entrepreneurial ventures.
"She identified a problem and then a potential solution," said Elizabeth Madigan, PhD, associate dean for academic affairs at the nursing school. "This exemplifies the kind of students we attract and we are delighted to support their creative ideas."
Knighton's desire to obtain a graduate degree—and the research know-how that comes with it—was sparked when a potential investor dismissed her concerns over patient hand hygiene. Determined to steep her work in solid data, she attended an open house at the nursing school and left inspired to seek a PhD.
Knighton's plan is for a bedside device that both dispenses a sanitizer and has a recorded message reminding patients to clean their hands before meals. Ditto for visitors coming within a certain radius of the patient. This year she won third place in the Brien Holden Vision Competition, a university contest for graduate students and their biomedical engineering business concepts. A prototype is in the works.
Knighton said the university's phrase, "think beyond the possible," has a particular resonance for her. "Before this I didn't even dream of pursuing my PhD," she said.
—KATIE HENDERSHOT