launch
think[box] Helps Foster Revival in Tinkering and Manufacturing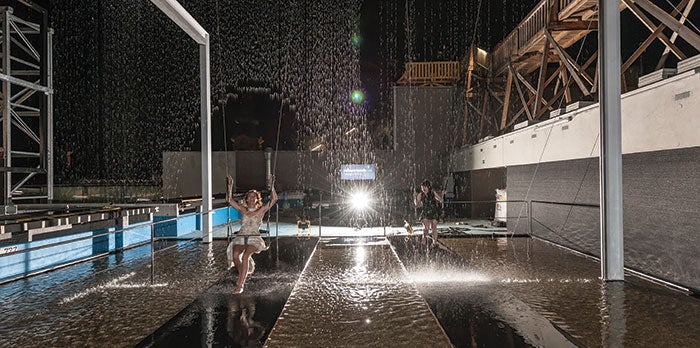 Photo: Russell Lee
Two years ago, Case Western Reserve opened a basement workshop designed to bring out the maker in everyone who entered.
think[box] 1.0, a pilot version of a far more ambitious innovation center, crammed all manner of equipment into the 4,500-square-foot space that includes 3-D printers and printed circuit board routers, laser cutters and a 32-square-foot ShopBot, which is a computer-controlled device that cuts, drills, carves and more.
Today, think[box] averages 3,000 visits a month during the academic year. Manager Ian Charnas (CWR '05) reported that a recent survey of users showed that, among incoming students who knew about think[box] before selecting a university, 34 percent said a major reason they chose Case Western Reserve was for the free access to this innovation center.
The center draws a wide range of students who tinker, as well as members of the broader community who have joined the growing Do It Yourself (DIY) maker movement across the country. think[box] creations range from a fuel-saving jet engine nozzle to a hand-held device that helps users strengthen their breathing muscles with targeted exercises.
The success of think[box] and related campus initiatives has drawn national attention, most recently from federal officials who invited Case School of Engineering Dean Jeff Duerk to the first White House Maker Faire held in June.
"We invited you here because today is 'DIY'," President Barack Obama told the crowd. "Today's DIY is tomorrow's 'Made in America.' Your projects are examples of a revolution that's taking place in American manufacturing—a revolution that can help us create new jobs and industries for decades to come."
Case Western Reserve's maker engagement extends beyond these hands-on projects to participation in a manufacturing project funded by a $70 million federal investment and involving nearly 100 companies, nonprofit organizations, academic institutions and government agencies. That project, the National Additive Manufacturing Innovation Institute, is now known as America Makes and aims to advance the nation's economy by revamping not only how plants make products—but also what they make.
"Case Western [Reserve] is playing an absolutely critical role not just regionally but nationally," said Tom Kalil, deputy director for technology and innovation at the White House Office of Science and Technology Policy. "It is one of the universities that led the creation of the additive manufacturing institute America Makes ... and it is playing a leadership role through its plans to expand think[box]."
This fall, the university launches the development of an expanded think[box], a seven-story, 50,000-square-foot space full of giant workshops, meeting rooms and even offices for in-house entrepreneurial advisers.
Meanwhile, Charnas is helping to raise awareness; he is part of the team that created the iconic Waterfall Swing. The group—Charnas, Michael O'Toole (CWR '06), Andrew Witte (CWR '09) and Cleveland Institute of Art graduate Andrew Ratcliff—designed and built the 18-foot-tall art piece that uses technology to make sheets of water form a variety of shapes, from giant letters to a hole in the shape of the swing's riders so they can move through the waterfall without getting wet. The swing is a featured installation at the OK Center for Contemporary Art in Linz, Austria, through mid-October (see photo above). Versions of the swing also have appeared at the 2011 World Maker Faire, on the Today show in New York City's Rockefeller Plaza and in a Honda Civic commercial.
Where did Charnas re-engineer the swing's electronics? At think[box], of course.
—KEVIN MAYHOOD