LENS
Distracting Dangers
Researcher developing monitoring systems for drivers using campus simulation lab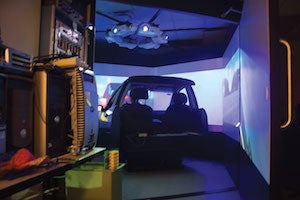 PHOTO: Mike Scott
Connor Mulcahy (CWR '18) said he doesn't text and drive, fighting the temptation that can lead to distraction, which studies show so many other drivers succumb to each day.
But the recent biomedical engineering graduate "texted all the time" in 2017. He did it for science and he did it safely —"driving" in a stationary but realistic vehicle in the Driving Simulation Lab on the second floor of the Bingham Building at Case Western Reserve.
Mulcahy and other undergraduates helped with ongoing research in a laboratory run by Xiong (Bill) Yu, PhD, a civil engineering professor who is using the resulting data to develop smart sensors for automobiles to monitor drivers' heart rates, blood pressure, eye movements and other vitals. He started the lab in 2010 with a $150,000 National Science Foundation grant and $125,000 from the Ohio Board of Regents.
That funding allowed Yu to buy a pair of machines, including what he's been told is the state's first immersive, 360-degree wraparound driving simulator. It includes a modified front half of a Ford Fusion and creates the illusion for "drivers" that they're actually traveling along a street.
Yu has developed measures that signal distracted or otherwise inhibited driving. And he is closing in on developing technology such as "smart seat belts" embedded with his sensors to monitor drivers' condition and warn them of imminent danger.
"We can use all of this data to create an alarm system that tells you when your vitals have changed because you're drowsy or if you are driving even slightly erratically for any reason," said Yu, who is discussing commercial options for his work with the university's Technology Transfer Office. "This can help us be safer drivers."
Mulcahy agrees. "I think everyone knows it's a bad idea to text and drive, but [you] really don't get the impact until you see what we see in the simulator," he said.