lens
An Airborne Mystery
New center on campus examines what happens to some pilots at high altitudes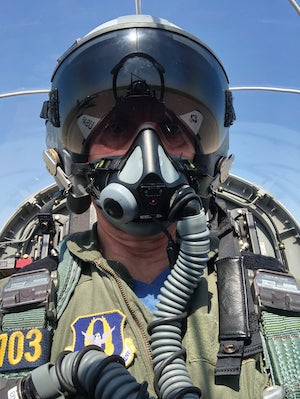 PHOTO: Courtesy of Michael Decker
It's a physiological event that military pilots have experienced for decades: An aviator in flight suddenly experiences a progression of symptoms—tingling hands and feet, headaches, disorientation—that on occasion have been followed by deadly crashes.
Two years ago, the U.S. Air Force temporarily grounded 55 F-35s because of concerns with the system that supplied oxygen to pilots. Around the same time, the U.S. Navy temporarily grounded T-45 jets and issued a report noting that four pilots had died in crashes in which one factor may have been hypoxia, a condition that can occur when insufficient oxygen reaches the bloodstream and tissues, and which can lead to cognitive dysfunction.
But a definitive explanation for what happens hasn't been determined. Could it be the result of oxygen deprivation? Something else?
A few years ago, the Air Force and, later, the Navy reached out to Michael Decker, PhD (CWR '94; GRS '99, anatomy), a longtime Case Western Reserve researcher who's an expert on the consequences of oxygen deprivation—induced by extreme high altitudes—on brain performance. Decker first studied the impact of high altitudes during a trip to Tibet as a CWRU undergraduate and is now an associate professor in the Department of Physiology and Biophysics at the School of Medicine.
After the military reached out, Decker recruited longtime colleague Elizabeth Damato, PhD, RN, an associate professor in the university's Frances Payne Bolton School of Nursing, to help build a research team.
While the Navy has its own experts—examining potential contributing factors such as cockpit pressure, contaminants and respiratory physiology—officials believed that partnering with Decker's team of academics allowed them "to better understand the issue of negative impacts experienced by pilots in the operational environment," said Richard Arnold, PhD, director of the Naval Aerospace Medical Research Laboratory at Naval Medical Research Unit Dayton.
This focus on pilot physiologic responses also became one of the first areas of focus at the new Center for Aerospace Physiology, which the medical school's physiology and biophysics department launched this year. Decker is the director and Damato is a faculty member.
But the two are doing more than traditional research. They each flew with Air Force pilots in two-person planes. "I was flying upside down, I was doing G-force maneuvers," said Decker of his first flight. "I experienced tingling hands and feet. I told pilots that flying with them has led to questions we never thought to ask."