lens
Expanding Our Entrepreneurial Ecosystem
Michael Goldberg leads new institute to connect and speed innovation on and off campus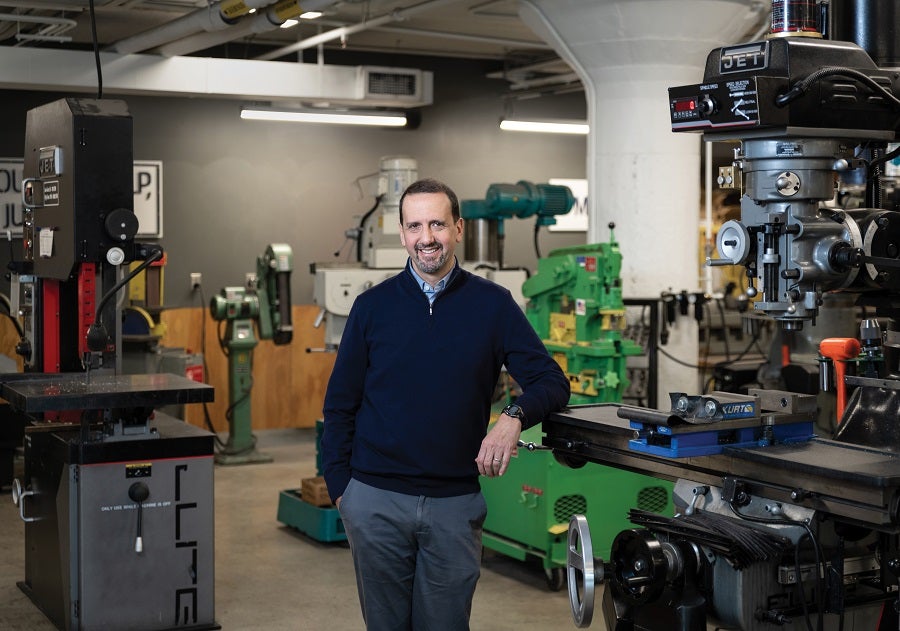 PHOTO: Matt Shiffler
Last January, Michael Goldberg became the inaugural executive director of Case Western Reserve's Veale Institute for Entrepreneurship. He came to the post steeped in academic and business experience. An associate professor of design and innovation at the Weatherhead School of Management, Goldberg also created a massive open online course (MOOC) about entrepreneurship outside of Silicon Valley. It has drawn 175,000 students worldwide in six years—and in the wake of the coronavirus outbreak was relaunched and updated. Goldberg also has turned his MOOC into a book.
An indispensable connector and trusted adviser to undergraduates, graduate students, faculty and alumni, Goldberg shared his aims for the Veale Institute.*
What does the Veale Institute add to the already lively entrepreneurial community?
We're really here to catalyze and accelerate activity on campus and increase connectivity in the entrepreneurial ecosystem in Northeast Ohio, the nation and even internationally.
How will you do that?
We have several areas of focus: One is 'new venture creation,' whether involving faculty research or student startups. How might we connect with alums who are starting companies and even connect them to other alums who might want to invest? The second bucket addresses entrepreneurial programming and curriculum. For example, we're actively conducting a series of alumni talks. And then the last piece is communicating and storytelling. We have some awesome stories to tell about what our alums are doing or what's happening on campus.
The Institute selected 10 members of campus to be inaugural Veale fellows for a year. Tell us more.
We created the program to seed new ideas and initiatives of faculty and staff to help create a stronger entrepreneurship culture at CWRU. By supporting these ideas at their infancy, we want to further instill the entrepreneurial spirit on campus, and hope that some ideas have a lasting impact.
The Institute and others at the university teamed up to create the Remote Entrepreneurship Program for students whose summer plans were delayed, disrupted or canceled because of the pandemic. How did it go?
We were able to place about 110 undergraduate students and 10 graduate students with entrepreneurs and startups to do projects based on a company's immediate need. Some of these projects include conducting market research, developing a prototype, creating [computer-aided design] models, coding webpages, and managing social media channels.
What's on your to-do list?
We want to experiment. We want to be ambitious in our work around new-company creation and access to capital. We're actively trying to figure out how to expand connections with alumni. [For example,] could we pay [an alumnus] to become an entrepreneur in residence and provide support to faculty? We need our alums and others [who] have had experience in the entrepreneurship space to come back and speak, engage with our startups, and give advice.We know that most startups will fail. But there is much to be learned from the process.We want to celebrate failure and hope that our entrepreneurs whose ventures fail, will dust themselves off and try again.
*The conversation was edited for length.