lens
Beyond Bitcoin
How the pandemic made blockchain technology even more relevant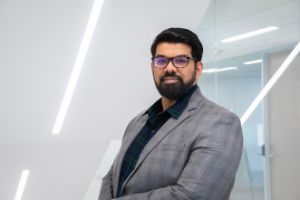 People used to routinely ask R. L. Shankar to explain blockchain technology. But, because of the pandemic, they're increasingly aware of its benefits.
"The COVID-19 crisis has put the spotlight on the relevance of blockchain,"said Shankar, PhD, an assistant professor of banking and finance at the Case Western Reserve University Weatherhead School of Management, who teaches a course on both blockchain technology and artificial intelligence.
Blockchain is a secure digital ledger system. All businesses, said Shankar, have at their core a series of contracts—with customers, vendors and suppliers. And blockchain makes verifying those contracts easier and cheaper.
Today, most transactions are verified by a central entity—say a financial institution or a credit bureau—that has outsized authority over transactions, can exclude people by invalidating their transactions and stores volumes of data vulnerable to theft or alterations by hackers.
But blockchain allows anyone who is engaged in a transaction or has a stake in it to audit the transaction, which makes it transparent, Shankar said. While blockchain gained initial fame as the underlying technology for the cryptocurrency bitcoin, it later spread to health-care records, residential deeds, digital voting and even corporate retailers.
Shankar offered Walmart as an example: After the nation saw food-borne disease outbreaks a few years ago, the retailer ran projects to determine if using blockchain would provide a better way to pinpoint the original source of selected foods. In the case of sliced mangoes sold in the United States, for example, it reduced tracking time to just seconds from about a week of combing through disparate records.
Now, Shankar said, more organizations see the technology as a tool to help rebuild trust and transparency in supply chains disrupted by the pandemic or to benefit public health. The U.S. Department of Health and Human Services, Shankar noted, is using a blockchain-based platform to track COVID-19 hospitalization data, while the World Health Organization has launched a blockchain-powered communication system for individuals, health care providers and governments to detect virus carriers and potential infection hotspots.