lens
When the University and Cleveland Clinic Hosted the First Presidential Debate of 2020…
The eyes of the world were on the Health Education Campus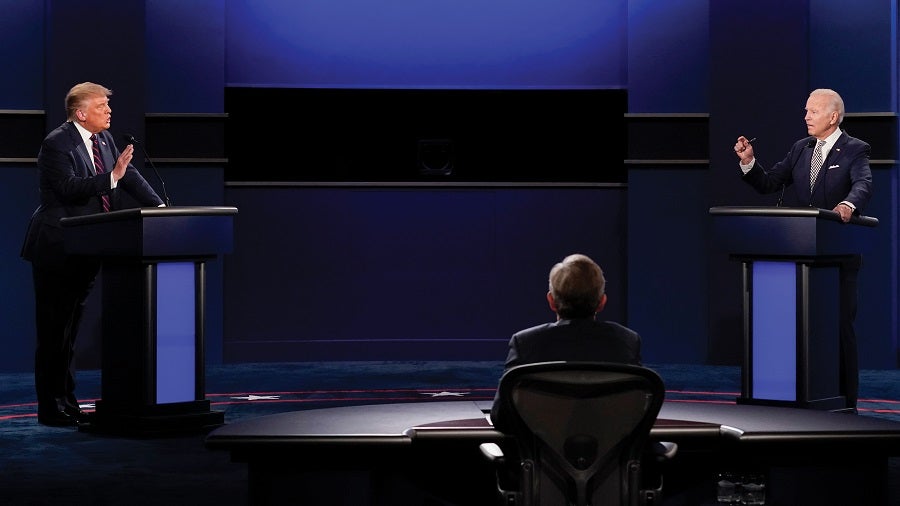 PHOTO: AP Images/Patrick Semansky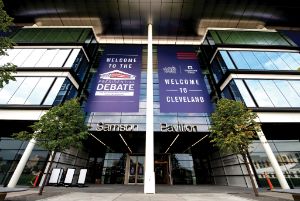 PHOTO: Matt Shiffler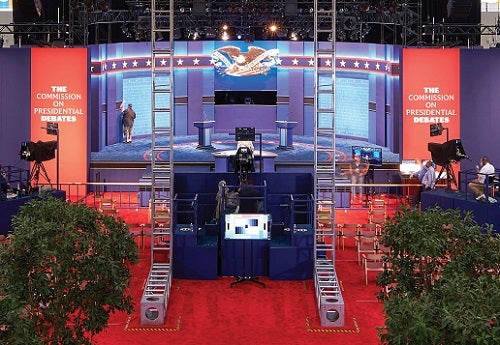 PHOTO: Roger Mastroianni
Observer

Editor Covered the Debate with Reporters from Major Media Outlets

Junior Nathan Lesch had a close-up seat to history in September, covering the first presidential debate from the media filing center at the InterContinental Cleveland hotel.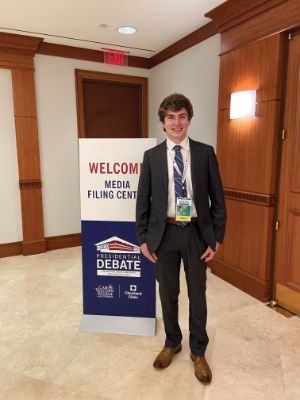 Typically, journalists would be in the debate hall, but pandemic restrictions severely limited media access.
Lesch, executive editor of The Observer student newspaper, joined reporters—including those from National Public Radio, The Washington Post and several foreign news organizations—at the filing center, where they sat physically distanced and watched the debate on large monitors. "It was pretty intense in there leading up to the debate, through the debate and after," said Lesch, who is majoring in economics, environmental studies and political science. "Everyone was working, steely and diligently."
Afterward, Lesch watched reporters quickly put on headsets or pull out small cameras—and immediately get on the air. "That was super cool," he said.
Lesch wrote one piece about his experience with the power and authority of a press pass "to go almost anywhere and talk to almost anyone," and he wrote a second about debate issues important to students—from the economy to climate change.
If it's true that journalists write the first draft of history, then Lesch has helped produce a chapter. "It's an amazing thought that I could contribute in that way," he said.
CWRU Co-Hosted Numerous Events to Inform and Spur Discussions
The university hosted or co-hosted a series of virtual events during the debate season, drawing more than 2,100 viewers and participants. Experts from campus and beyond offered insights and analysis during sessions such as: "Advancing a Culture of Health and Equity in Cuyahoga County," "What the President Should Know about DNA and Human Health" and "Our Common Purpose: Reinventing American Democracy for the 21st Century."
Helping Students Exercise Their Right to Vote
For many Case Western Reserve University students, 2020 brought their first opportunity to vote in a U.S. presidential election. The university's Center for Civic Engagement and Learning (CCEL) offered numerous nonpartisan resources to help them and others. Hundreds took advantage of CCEL programs and partnerships for voter registration and information.
The First Presidential Debate by the Numbers
73.1M*
People are estimated to have watched the debate on 16 networks
573.3M
People were potentially reached in media accounts that referenced the university
30,700+
The number of times the university was mentioned in the media from late July to early October
(*Nielsen estimate)