lens
University Offerings Explore the Pandemic and Cultivate Communal Activities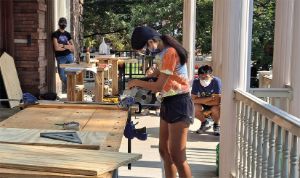 PHOTO: Gabrielle Parkin
Summer 2020 Courses
Classes that explored the pandemic included "The Philosophy of Medicine," taught by Christopher Haufe, PhD, an associate professor of philosophy. Students grappled with questions such as: At what point does research on COVID-19 become knowledge, and who decides? How should we weigh the need to slow the spread of the disease against the costs of shutting down large sectors of the economy?
In "Epidemics in History," taught by Jonathan Sadowsky, PhD, the Theodore J. Castele Professor in the Department of History, students examined the history of epidemics and pandemics, from the Black Death (bubonic plague) of the 14th century to cholera, influenza, AIDS and now COVID-19. "Microbes have a huge influence on the course of wars, governments and empires," Sadowsky said.
Fall 2020 Courses and Experiences
Amid the pandemic and national reckoning over structural racism, Case Western Reserve University offered nearly three dozen new courses and experiences to give the campus community purposeful activities and ways to connect. For example, students could delve into the causes and drivers of racial inequality, complete a project tied to advancing social and health equity or gain a deeper understanding of a Cleveland neighborhood that includes parts of campus.