lens
Tackling Critical Fall Needs Creatively and Together
Three weeks after COVID-19 forced Case Western Reserve University's abrupt transition to remote learning last spring, university leaders sent an email that would exemplify the next eight months: It covered Commencement, summer study abroad, summer on-campus housing—and, for good measure, plansforin-person and remote instruction for fall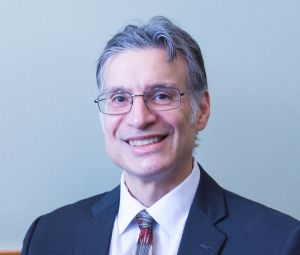 "No matter what we were working on right then," General Counsel Peter Poulos, JD (LAW '90), explained, "the pandemic demanded we simultaneously think several steps ahead of the current moment."
As the designated campus leader for all aspects of the institution's COVID-19 planning and preparation, Poulos orchestrated an almost unimaginably complex series of interdependent activities required for the Aug. 24 start of classes. From developing protocols for faculty and staff to return to campus, to adding acrylic barriers and other protections to offices and classrooms, to securing masks, disinfectant wipes, hand sanitizers and more, just being ready to contemplate fall required contributions from nearly every area of the university.
Meanwhile, faculty who weeks earlier had to figure out how to teach on Zoom now faced even greater challenges: first, deciding which of their courses would be in-person, all-remote and or in both modalities. Fortunately, the team at University Technology ([U]Tech) was ready to help—providing both new training and essential equipment. (read A Different Kind of Tech Sprint and Embracing Different Ways to Teach)
As essential as all of those efforts were, however, two stood above them all: first, identifying positive cases; and second, caring both for those who contracted COVID-19—and who may have been exposed.
Identifying cases involved testing—lots of testing—a measure that initially involved a vital partnership with Cleveland Clinic and then, when campus needs increased, engagement with a national vendor that could process thousands of tests per week.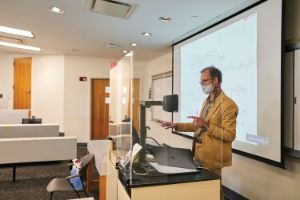 PHOTO: Roger Mastroianni
The caring part involved arrangements for those infected as well as determining with whom they had been in contact, where and for how long. Then came relocating individuals for quarantines, temporary closings for cleaning, meal deliveries, regular check-ins and ongoing assessments of how to do it all even better.
After on-campus classes ended Nov. 20, and those students who could do so headed home, pandemic planning barely paused.With the next semester starting Feb.1, undergraduates would begin moving back to campus in January. The next few weeks saw two dozen committees reflect on the previous four months to identify areas for improvement— even as other staff developed 2021 reorientation plans and commenced new rounds of inspections for classrooms and related spaces.
Meanwhile, Pfizer's COVID-19 vaccine secured emergency use authorization from the U.S. Food and Drug Administration, and Cleveland's frontline health workers began receiving doses Dec. 16. That same day, Case Western Reserve University leaders began formal planning for the university's own approach to vaccine availability. While widespread distribution of the offerings from Pfizer or Moderna was not anticipated until spring at the earliest, prior experience taught it was never too soon to start.
"We start the new year with deep appreciation for the exceptional dedication displayed during 2020," said Poulos, "and a commitment to do all we can to keep the campus healthy throughout the spring.
Developing New Safety Measures
861
Classroom or academic spaces inspected to ensure they follow all health guidelines
337
Administrative, lab and multi-use spaces inspected
9,000
Square feet of Plexiglass installed
185
New acrylic lectern shields provided protection for faculty and students