lens
Increased Fall Testing and Vigilance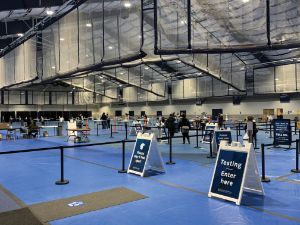 During late October, as COVID-19 cases began to climb rapidly in Cuyahoga County and around the country, Case Western Reserve University did not see comparable increases. But keeping the campus safe and healthy required increased vigilance and a willingness to adapt to new developments.
To quickly boost the volume of testing to include faculty and staff—and to test students more frequently— the university engaged Vault Health for saliva tests for the novel coronavirus. Separately, University Health Services continued using tests from local hospitals for symptomatic or exposed individuals.
When surging cases prompted Ohio Gov. Mike DeWine to declare a statewide curfew starting Nov. 19, the university dramatically reduced the number of staff and faculty on campus—and required weekly COVID-19 tests for everyone who was (including the roughly 300 students who remained after in-person courses ended Nov. 20). From Nov. 23-Dec. 13, the university administered 5,745 tests—more than twice the total for August's move-in testing period.
18,200
Total tests administered to students, faculty and staff from Aug. 8-Dec. 13, with 288 CUMULATIVE POSITIVE CASES (a 1.58% positivity rate)