lens
Securing Prestigious Placements
Law school helps match graduating students with federal judicial clerkships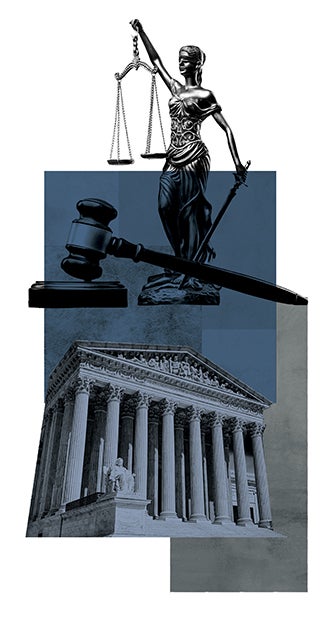 Image: Artisteer and Bill Chizek/Stock/Getty Images Plus
When Melanie King came to the Case Western Reserve School of Law nearly three years ago, she didn't have a set career path.
That changed during the summer after her first year, when King had an externship at the U.S. District Court in Cincinnati and saw judicial clerks at work. "I experienced a version of being a lawyer that I really connected with," she said.
King graduates in May and has accepted a clerkship at the U.S. District Court for the Northern District of Texas.
She's one of six members of this year's class launching legal careers working for federal judges in states that also include Ohio, Kentucky and Michigan. It's a "dream job," she said.
As the law school exercises its deliberate strategy to pair talented students with these prestigious opportunities, more students are seeking federal clerkships
And the number obtaining such positions this year is more than twice as many as in each of the last five years.
"These clerkships are invaluable experiences requiring the highest standard of academic excellence, opening doors for the most sought-after government and law firm jobs," said Michael Scharf, JD, the school's co-dean and the Joseph C. Hostetler - BakerHostetler Professor of Law.
Starting when students begin their legal studies, the school encourages them to think about federal and state judicial clerkships. So far, one student has secured a state clerkship and more placements are expected.
At the school's Career Development Office, five career advisers—all with law degrees— work to align students' goals with the steps necessary to achieve them. The school also hosts annual alumni judicial clerkship panel discussions, giving students an insider's preview of possible careers. Faculty, too, plant the seeds of clerkship opportunities with first-year law students.
But school leaders know that, ultimately, it's the students who must secure these highly coveted positions. This year's six federal clerkships represent "a testament to the students' hard work," said Mary Beth Moore, JD, assistant dean of career development. The students "are the reasons they obtain these clerkships."