lens
Solving Painful Mysteries
When Andres Pinto isn't busy sleuthing, he's leading the American Academy of Oral Medicine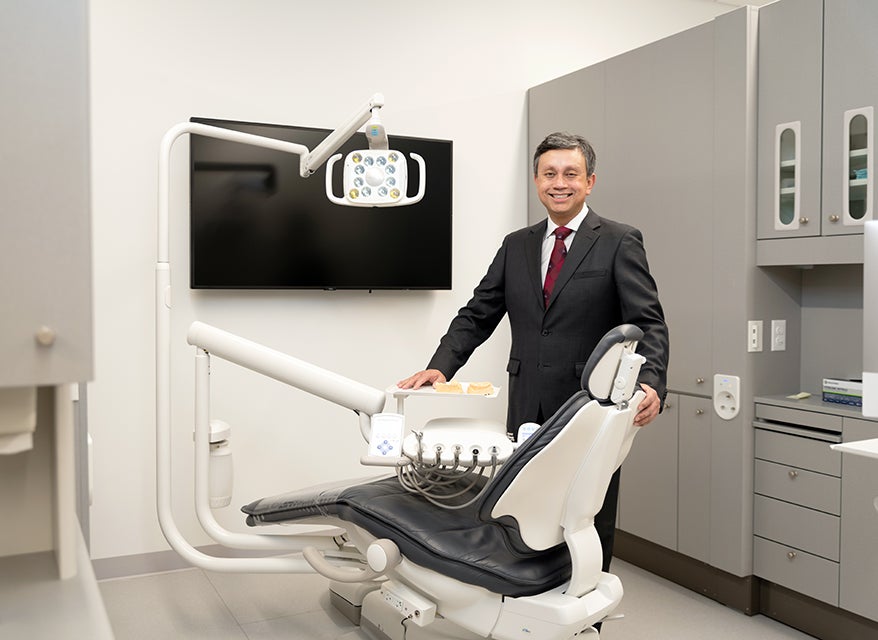 Image: Matt Shiffler
When the pain in their head or teeth is unbearable and unresolved by local clinicians, patients have come to Andres Pinto and Case Western Reserve's School of Dental Medicine from as far as Texas, or sought telemedicine consultations from their homes in Europe. Pinto, DMD (MGT '17), an oral medicine and orofacial pain specialist, is a professor, assistant dean and founding chair of the Department of Oral and Maxillofacial Medicine and Diagnostic Sciences at the dental school.
In April, he became president of the American Academy of Oral Medicine, whose members provide care to thousands of people with underlying medical conditions—such as autoimmune disorders and dermatologic diseases—that affect oral health and the delivery of dental care. Pinto spoke with Think about the impact of COVID-19 and the year ahead.*
What's on your academy to-do list?
We [oral pain specialists] are less than 800 in the United States, and probably between 3,000 and 4,000 in the world. It's an honor to get to this point, [and] it's an exciting time. We plan to expand the reach of our training programs and our relationships with professional groups, healthcare centers and medical centers, which realize the added value that we, as clinicians, bring to their patients.
What's that added benefit?
Our unique training in dental medicine, with the enhanced knowledge provided by formal residency and fellowship training, allows us to offer our medical colleagues novel approaches for patient care. One example is that we might take a medication that dermatologists use on the skin for pain and also use it in the mouth.
How has COVID-19 affected your work?
We are using telemedicine as part of our routine care. We're also seeing at least 10 patients who recovered from COVID-19 and are now suffering from pain and mucosal [membrane] changes in the mouth, face or jaws. They are described as long-hauler patients. We think the symptoms are caused by persistent inflammation in the body post-infection. But because we are still trying to understand the cause, it is quite challenging to treat.
*This conversation was edited for length.