features
UNIVERSITY'S INAMORI CENTER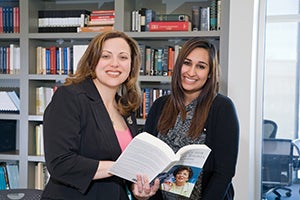 photo: John Quinn
Bumping through Bangalore, India, on a local bus during the summer of 2012, Sabina Kumar (CWR '14) was 8,440 miles from the university's Inamori International Center for Ethics and Excellence. But her journey began with the center's mission: to engage the entire university on questions of global ethical leadership.
As a member of the center's Global Ethical Leaders Society (GELS) for students, Kumar, then a rising junior from suburban Minneapolis, spent the first part of the summer volunteering in temporary medical-care stations in rural areas. But after seeing many ill children who knew little about preventive care practices, she launched a self-designed research project. She traveled to 10 primary schools in India, surveying the health knowledge of nearly 100 young rural students ages 13 to 18, then compared the responses with World Health Organization data. Her travel was funded by the Inamori Center.
"GELS provided proper mentorship and a foundation for research ethics," said Kumar, who has remained on campus for a master's degree program in biomedical engineering.
The Inamori Center has its roots in a conversation between Arthur H. Heuer, PhD, now a Distinguished University Professor and Kyocera Professor of Ceramics, and Kazuo Inamori, the Japanese founder of Kyocera, an advanced materials and semiconductor giant. Inamori sees ethics as the most essential component of business success.
"As they continued their discussions, Dr. Inamori stressed to Art and other [university] representatives that it isn't enough for institutions to just put money toward innovation—it must also ask if the innovation serves humankind," explained Shannon French, PhD, director of the center, Inamori Professor of Ethics and an associate professor in the Department of Philosophy.
As part of its mission to foster global ethical leadership, the center annually presents the Inamori Ethics Prize to an international leader who has used his or her influence and actions to greatly improve the condition of humankind. This year's winner is Martha C. Nussbaum, a renowned philosopher and the Ernst Freund Distinguished Service Professor of Law and Ethics at the University of Chicago. Her work often is at the forefront of global ethical and moral concerns.
Past recipients are Francis S. Collins, leader of the Human Genome Project; Mary Robinson, the first female president of Ireland; Stan Brock, who founded Remote Area Medical to provide free health care to underserved people around the world; Beatrice Mtetwa, a Zimbabwean human rights lawyer; David Suzuki, an environmentalist; Yvon Chouinard, founder of the clothing company Patagonia; and Denis Mukwege, a Congolese gynecologist and women's rights activist. The public ceremony and recipient lecture inspire discussions on the global impact of individual ethical leadership that extend well beyond the university.
On campus, the Inamori Center's work infuses all aspects of the university. It works with the university's Ethics Alliance Committee to promote ethics across academic programs, and has consulted with faculty members. The center also helps fund and advise the student Academic Integrity Board, which adjudicates the honor code and sponsors an annual Integrity Week event. And it has supported the Center for Civic Engagement and Learning's alternative spring break, helping defray some students' costs to volunteer overseas.
Since 2008, the GELS program that made it possible for Kumar to travel to India has had 122 members pursue projects such as studying climate justice and conflict resolution in Costa Rica and examining the restoration of communities in Bosnia.
Kumar's India experience didn't end with collecting information. Before leaving, she developed solutions to address gaps she had identified, and then presented her ideas—such as providing regular health-awareness talks to children—to local nonprofits that work on health-care issues in the communities where she traveled.
After completing her master's degree, Kumar plans to continue in the health-care field by either working as a consultant or pursuing another degree. Kumar believes the skills she began to develop in India will serve her well.
"I saw a problem," she said. "I created a solution. And I implemented that solution."
Read More
An Ethical University