features
SEALING IN PROFESSIONAL ETHICS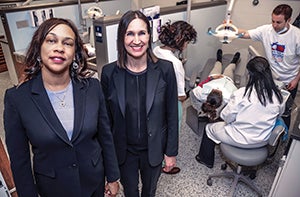 photo: Roadell Hickman
The woman in the chair is looking for a quick fix. She wants to extract a throbbing tooth. Her dentist knows it can be saved—and should be—but only with extensive intervention. Their conversation is limited by a language barrier and complicated by the woman's economic and cultural circumstances. She's a migrant worker and has no dental insurance.
Case Western Reserve School of Dental Medicine keeps patient treatment dilemmas front and center for students during their educations. By engaging students in the ethical considerations of patient care and practice management from their first days on campus, faculty seek to help prepare them to confront some of the most difficult questions ahead in their careers. Data show that many of them will open or join small practices where they will be responsible for providing ethical leadership and oversight.
"The biggest issue is not believing you'll encounter dilemmas," said Kristin Victoroff, DDS, PhD (GRS '07, organizational behavior), associate dean for education at the dental school and associate professor in the Department of Community Dentistry. That's why the program begins with a white-coat ceremony where new students take a professional oath, continues with yearly service in schools and clinics, and focuses on case studies that test students' ethical and treatment skills.
To Dean Kenneth B. Chance, DDS (DEN '79), dental ethics requires attention to all physical treatment and social aspects of care. He recalled one of his first experiences in community care as part of his own education.
"We arrived to treat a homebound senior," he said. "We spent much of the morning talking about [the patient's] circumstances—the problems of mobility, the financial situation and quality of life. I found that ethical care necessitated getting involved in individual lives."
While an ethical code is integral to all of the university's professional schools, the dental school deepened its ethics focus during a curriculum revamp in 2006.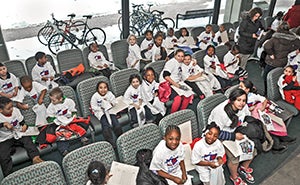 photo: Roadell Hickman
"Ethics became a thread through the four years of the program. The other thread was leadership," explained former longtime Dean Jerold Goldberg, DDS (ADL '68, DEN '70), now a professor of oral surgery. "Ethics hinges on caring, values, putting patient interests above personal interest and conducting oneself in a professional manner."
Students document that journey from their first semester. They begin with an essay describing what kind of professional they aim to be by graduation. During the first semester, they enter Cleveland schools to apply cavity-preventing sealants, spending a total of three weeks providing the free service. They return to community service again in the second, third and fourth years too. And at the end of the first year, a school exam poses a real-life problem—like that of the hypothetical immigrant patient with the painful incisor—that challenges students to write a step-by-step reasoned, ethical approach to resolving the case.
"They're asked to respond in a timed essay," explained Victoroff. "They must identify the ethical principles at stake, the different alternatives and their plan of action. Often, there isn't an easy right answer."
Victoroff added that the curriculum incorporates online ethics learning resources, including mini-courses created by the American College of Dentists. In the fourth-year jurisprudence class, students again write about the ethics of a real-life case.
Goldberg, who helped lead implementation of the new curriculum during his 17-year tenure as dean, also encouraged community service as an expression of professional ethics.
"With ethics and social responsibility at the center of who we are, we have become a very public-health-oriented school," he reflected in a farewell essay last year before he stepped down as dean and rejoined the faculty.
Statistics from the 2013-14 academic year underscore the point. Students and faculty treated 2,000 adult Medicaid patients at the on-campus dental clinic and 1,700 patients off-site. First- and second-year students also provided some 4,500 Cleveland students with sealant treatments.
A few months after starting her dental education, Margaret Richards Frankel, DMD (DEN '13), reported for her first community service experience: helping staff the sealant program in the Cleveland public schools. By January, she was performing basic teeth cleaning each Friday on adult patients in the school's on-campus clinic.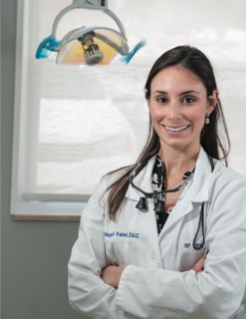 photo: Mike Sands
In her third and fourth years, she worked with the public five days a week in the school clinic. "The clinic attracted a diverse group—patients from all over the city, grad students, researchers and doctors," said the Cleveland-area resident. Before her final year, Frankel volunteered for a summer health-care mission to rural Nicaragua; today, she donates time screening for head and neck cancers through Medworks, a nonprofit that provides free mobile care throughout Greater Cleveland. She's also a lay leader of the Jewish Federation of Cleveland. "I try to stay very engaged, to give back—not just as a dentist but as a community member," she said.
Now in private practice with her father, Steven Richards, DDS (DEN '75), Frankel said she applies the school's stringent ethical standards daily in a field in which practitioners often work outside an institution in small businesses and must self-police.
"As dentists, we have an ethical responsibility to develop a thorough list of diagnostic possibilities—we must know the data, the numbers, and the research that applies to each patient's situation and current state of health," Frankel said. "Treatment comes down to a decision, and dentists make that call themselves."
Read More
An Ethical University