What students are saying about Hillel at CWRU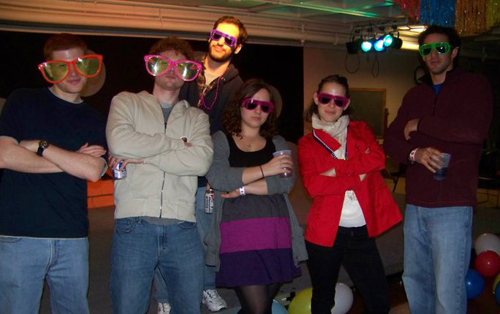 Hillel's student body, under the guidance of its full-time staff, actively participates and creates bustling Jewish activity, fostering the ever-growing Jewish community on campus. Our weekly Shabbat dinners, festive holiday ensembles, and co-sponsorships on campus are what identify Hillel as a multi-faceted, multi-lateral organization.
Gilad Salomon CWRU '10
I must admit that during my first two years here I never stepped into this building or attended events. Now I am a regular. What changed things for me was going on birthright with other students from Case Western, Cleveland State, Tri-C, and John Carroll last May. It was an unforgettable experience that has changed my life. I am involved in community service programs, Shabbat, Holiday celebrations, social programming and much else.
David Schindler CWRU '11
Hillel is a place on campus that I can go and feel at home. Since the Jewish population at Case is fairly small it is nice to have a place to go and meet other Jewish students. Whether I am there for a barbeque, Friday night services, or to make Matzah ball soup, everyone there is so warm and welcomes me in no matter how long it's been since I've last been there.
Thea Emmons CWRU '13
Not only has Hillel provided me a space for hanging out, studying, relaxing, and Shabbat dinners, but the graduate student programming has introduced me to other community members my own age. I've built lasting relationships throughout the year, and I've had unforgettable Jewish experiences. I love Cleveland even more, now"
Rayna Karoll, CWRU '09 Now CWRU Dental School
JLSA at both law schools has been instrumental in introducing Jewish law students to each other through a variety of programs. Cleveland Hillel has helped connect us with other Jewish graduate students and young professionals, as well as the Jewish community in Cleveland.
Being involved with JLSA has given me the opportunity to further develop my leadership skills, and work with other law student organizations. Hillel has provided a "home away from home" and enriched my life and experience during the stressful time as a law student
Jonah Grabelsky CWRU Law School '11
The opportunity for students to meet with professionals in our field of study is very important to us and enhances our experience while studying and training here in Cleveland. Attendance by professionals in the health field tonight, enables students to grow personally and professionally, by learning about the general community, the Jewish community, career paths and issues.
The Jewish Medical Student Association at CWRU plans educational, social and professional development programs for medical students, residents and fellows at CWRU's School of Medicine and Lerner College of Medicine. We work closely with the medical schools and Cleveland Hillel staff and student leaders, to plan events for our classmates as well with other professional and graduate students in Greater Cleveland.
Juliana Gildner-Leapman CWRU Medical School '13
Considering the intimate setting, I think the number of attorneys present was just the right amount. Obviously my goal is to meet as many attorneys as possible, but if there were even two or three more I don't think there would've been as much of an opportunity to hear the opinions of the attorneys as in depth as we did. Additionally, the variety of attorneys was solid too because we heard from young, middle-aged, and old attorneys (not in age, but experience levels!), and although they were all in "litigation," they really covered a significant gamut of the law. Hearing the stories of how they got to where they are was invaluable and it calmed me to know that everyone struggles at first to get their career going.
` Jeff Heller CWRU Law School '11