launch
First Humanities Festival Unites Area Cultural Organizations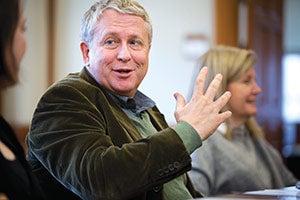 PHOTO: ANNIE O'NEILL
The potential for a humanities festival in Cleveland has always been strong, but it took a newcomer to make it happen.

That would be Peter Knox, PhD, a classicist who joined Case Western Reserve in January 2015. He's the Eric and Jane Nord Family Professor and director of the university's Baker-Nord Center for the Humanities. Knox said the idea for a Cleveland Humanities Festival developed from a conversation he had with Sari Feldman, executive director of the Cuyahoga County Public Library.

Knox took Feldman's idea about commemorating the 50th anniversary of American combat troops entering the Vietnam War and presented it to cultural organizations in University Circle and elsewhere.

"I quickly found out there was an interest in collaborating," Knox said.

That interest turned into more than 10 days of events—primarily in early April—built around the theme "Remembering War." The events—readings, concerts, lectures, exhibits, films and other programs about conflicts dating back to the Civil War—used the humanities as a lens into the nature and impact of war.

War touches on every aspect of what it means to be human, Knox said. "It seems to me to open a much larger conversation about what happens to people who go to war, and what happens when they return to society."

More than 20 organizations participated, including the county library, Cleveland Institute of Music, Cleveland Museum of Art, Louis Stokes Cleveland VA Medical Center, Maltz Museum of Jewish Heritage, University Circle Inc. and Museum of Contemporary Art Cleveland.

The festival was the first accomplishment toward Knox's goal of a more active Baker-Nord Center that promotes the humanities at the university and in the community. Making more people aware of the value of the humanities is the most important thing the center can achieve, he said.

"It's a marathon, not a sprint," said Knox, who adamantly believes that knowledge of the humanities is essential to becoming a complete person.

"As a university, we have a responsibility to help our students figure out who they are, in their lives as well as in the workplace," he said.

With the inaugural event behind them, Knox and others already are planning next year's event. Its theme: immigration.