launch
Greek Classics Help Injured Vets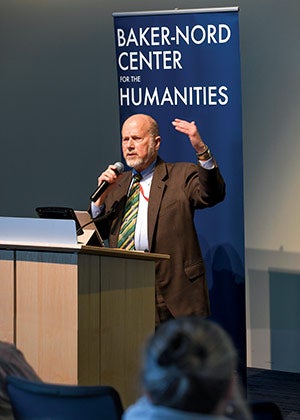 PHOTO: MIKE SANDS
Veterans traumatized by war can find common ground and healing in Homer's stories of legendary Greek warriors.

Jonathan Shay, MD, PhD, a psychiatrist who helped veterans see and learn from the parallels, gave the keynote address at April's Cleveland Humanities Festival, which was organized by Case Western Reserve's Baker-Nord Center for the Humanities around the theme "Remembering War."

Center Director Peter Knox, PhD, a classicist and the Eric and Jane Nord Family Professor, thought Shay's pioneering work in using classic Greek literature to help soldiers recover from psychological wounds would be a good fit and help connect the event with the Louis Stokes Cleveland VA Medical Center, a partner in the festival.

Now retired from the Boston VA's outpatient clinic, Shay first read the ancient Greek poet Homer more than 30 years ago while recovering from a stroke. He began counseling Vietnam vets at the clinic and saw the parallels between their experiences and those of Homeric heroes Achilles and Odysseus.

Homer's classic the Iliad is about Achilles' public humiliation by his commander and overwhelming grief after his battle buddy is killed, Shay said in an interview before the speech, while the Odyssey—though often associated with the Trojan Horse and Odysseus' 10-year journey home from the Trojan War—is about the challenges of returning from war.

Shay wove his insights and experiences into two books, Achilles in Vietnam: Combat Trauma and the Undoing of Character (1994) and Odysseus in America: Combat Trauma and the Trials of Homecoming (2002). He won a MacArthur Foundation "genius" fellowship in 2007.

Some of his VA patients read the books, and responded to the ancient stories of battle, rage and grief with relief that they were not unique in their suffering; that soldiers had experienced the same traumas thousands of years ago. That knowledge helped them heal, he said.

Shay coined the term "moral injury," which he said occurs when soldiers are "betrayed in war by self-serving leaders." Veterans who suffer moral injuries experience feelings of guilt, humiliation and anger, and the destruction of their capacity for trust—all of which make it even more difficult for them to reintegrate into society.

Shay has advised top military leaders on ways to reduce and prevent both moral injury and post-traumatic stress disorder, underscoring the importance of better leadership, better troop training and keeping fighting units intact so the deep bonds that form among soldiers are not disrupted.

And once soldiers with moral and psychological injuries return home, the humanities can play an important role in helping their recovery.

When the pain of war is explored and made communal through drama, song, literature and other art forms, veterans realize "they are not going through it alone," said Shay, "and that contributes to recovery from war trauma."