launch
Butterfly Project Helps a Community Heal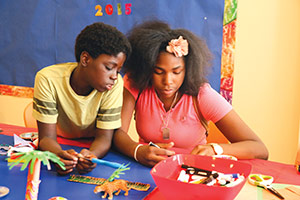 PHOTO: COURTESY OF LYNN ISCHAY, THE PLAIN DEALER
When Shelly Gracon learned that Tamir Rice, a 12-year-old Cleveland boy, had been fatally shot by police in November 2014 while carrying a pellet gun, her initial shock gave way to a powerful urge to help a community in pain.

The next day, Gracon, 40, who is pursuing a master's degree in social work at the Jack, Joseph and Morton Mandel School of Applied Social Sciences at Case Western Reserve, visited Cudell Commons on Cleveland's West Side where Tamir was shot, and informally talked with classmates who had gathered to share their grief.

She then approached Cleveland City Councilman Matt Zone, whose ward includes Cudell. At his suggestion, Gracon—who was interning for Zone at the time—brainstormed with Tamir's teachers about ways to help the children. They decided to create a memorial garden with public art and a summer camp for children who knew Tamir.

They called the initiative The Butterfly Project, a name that symbolizes metamorphosis for Gracon. "It's all about the healing and transformation of trauma and grief," she explained. Zone provided a $6,000 grant from his ward's discretionary funds to help pay for the project.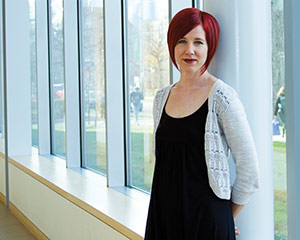 PHOTO: MARIA SHARRON
It all came together and "was the most beautiful demonstration of community love and healing I've ever experienced," said Latonya Goldsby, one of Tamir's cousins.

The camp ran two days a week in July at the Cudell Fine Arts Center and focused on giving the children—who included Tamir's friends and his sister, Tajai—tools to help cope with and express their emotions. The 12 children wrote poetry and learned yoga, meditation, drumming and art. They went on field trips and formed tight bonds.

They also helped plant and decorate the memorial garden next door at the Cudell Recreation Center, near the gazebo where Tamir was shot. Gracon said Tamir's mother, Samaria, who, with her family, was actively involved in the garden's design, chose the garden's predominantly blue and orange colors. "There's so much power in creating that sacred space in Tamir's memory," Gracon said.

Elisa Kazek, who was Tamir's art teacher, said that what started as Gracon's desire to help became a moving, healing experience for participants. "They appreciated the volunteer effort and the sense of bringing the community together for something good."

The Butterfly Project sent Gracon, the mother of an 8-year-old boy, on an emotional and educational journey that has shaped her social work aspirations. As she prepares to graduate this spring, Gracon is now working to bring both the camp and peace parks to more Cleveland communities. "I want to continue to expand the project as a model for helping to build peace citywide," she said.
For more information or to learn how to get involved, visit tbproject.org.
"The Butterfly Project became a real-world situation in which students could apply strategies for building community, in the midst of conflict and pain, that we were learning in the class. It provided all of us an opportunity to be agents of social change."
—MARK CHUPP, PHD (GRS '03, SOCIAL WELFARE), ASSISTANT PROFESSOR AT THE MANDEL SCHOOL