launch
A Global University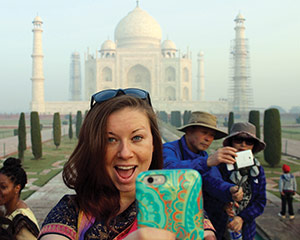 PHOTO: ALEENA ROSS
Case Western Reserve twice won recognition this academic year for its internationalization efforts. This spring, the university received the Andrew Heiskell Award for Innovation in International Education from the Institute of International Education. It was one of just nine schools recognized for "outstanding initiatives" in the field.

The university also made its first appearance on a list of the nation's top 40 doctorate-granting universities whose undergraduates study abroad. With nearly 45 percent of students traveling abroad in 2013-2014, Case Western Reserve tied for the 20th spot in the "Open Doors 2015 Report on International Educational Exchange."

Increasing the internationalization of the campus has been a key priority for the university since the adoption of its 2008 strategic plan. The total proportion of international students on campus has nearly doubled since 2009, with 86 countries now represented.

Meanwhile, undergraduate study abroad participation has more than doubled since 2011.

"Studying abroad provides students a window into a culture not their own and a new understanding of their own background and assumptions. Both are crucial as graduates enter an increasingly global workforce," said David Fleshler, JD, vice provost of international affairs.