launch
Revealing a Biblical History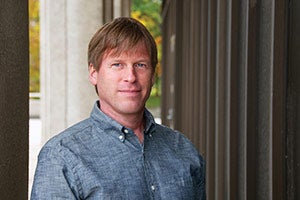 PHOTO: DANIEL MILNER
A Case Western Reserve religion professor is writing the cultural history of the biblical book of Revelation, one of the most popular, durable and controversial pieces of literature. The New Testament book's vivid, apocalyptic writings about the Seven Seals, the Beast and the Whore of Babylon have been interpreted to refer to everything from the fall of Rome to the end of the world.

Revelation is "probably the most simultaneously revered and reviled book ever, let alone among religious books," said Timothy Beal, PhD, the Florence Harkness Professor of Religion and chair of the Department of Religious Studies. "It fuels so many apocalyptic imaginations, and I'm interested in how that happens."

Beal examines the many lives of Revelation in religion, politics and popular culture in The Book of Revelation: A Biography, scheduled to be published next year by Princeton University Press. It's part of the publisher's Lives of Great Religious Books series, which tells the "life stories" of such works as the I Ching and The Book of Mormon.

Last year, Beal received a $29,400 grant to write the book from the National Endowment for the Humanities (NEH) Public Scholar Program, which supports well-researched nonfiction books intended to reach a broad audience.

Bringing religion scholarship to the masses is not new for Beal, who has published 12 books and is editor-in-chief of The Oxford Encyclopedia of the Bible and the Arts.

He also is on the editorial board of bibleodyssey.org, a site launched in 2014 with NEH funding, where Bible scholars share writings, explain the scripture for a non-academic audience and provide an authoritative, non-partisan source of information.

Visitors can search the site and submit questions. The site attracts about 3,000 views every day.

"I truly believe what I study and teach matters not just to other scholars but to all people," Beal said. "If I thought this was simply an insider conversation among a narrow group of academic specialists, I don't think I'd still be pursuing it."