launch
Leading, Learning and Living Together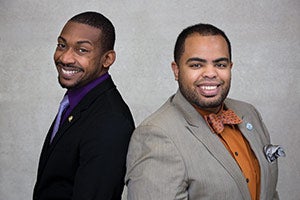 PHOTO: ANNIE O'NEILL
DaShawn Hickman and Abner Murray are a campus duo with such similar passions, impressive accomplishments and vibrant personalities, you almost wonder if they have the same DNA.

The two are fifth-year students at Case Western Reserve University School of Medicine, where they're pursuing dual MD-PhD degrees in a federally sponsored training program—a pursuit undertaken by just 1 percent of medical students nationwide. They each conduct nanoparticle research in different biomedical engineering labs on campus. They also work with administrators to attract more underrepresented minority (URM) students to the school.

In their "spare" time, they've attained national leadership roles: Hickman recently completed his term as board chair of the Student National Medical Association (SNMA), and Murray is president of the Latino Medical Student Association through June.

The two have been roommates since arriving for their eight-plus-year program. They're like family now—each quick to tease or praise the other. Murray touts Hickman's role in starting the medical school's Minority Mentor Match program, while Hickman applauds Murray for earning SNMA nearly $49,000 in research funding from Pfizer.

We recently sat down with Hickman, a South Carolinian, and Murray, a native of the Dominican Republic.

Why did you take on national leadership positions?
Abner Murray (AM): With medical school, you come in with the expectation that it's going to take it all out of you, so I wasn't looking for any leadership roles. But the environment here provides an opportunity for leadership development. That's something that the university is known for, and it actually is a real phenomenon.

As for DaShawn—that's just DaShawn. He can't be involved if he's not leading.

DaShawn Hickman (DH): That's true (laughs). I have to be a committed organization member and work really hard. I want to push the organization where it needs to go. I have vision. I like to lead.

How do you balance school with leading national organizations?
DH: Google Calendar is my friend. I have to schedule everything.

AM: Coffee is your friend, too.

DH: For some people, this would be draining. But for me, it's fun. When I get done with class or lab, it's like, "OK, cool! I get to go do SNMA stuff!" But then I do other things: I dance and I hang out with friends—although there is less time for that, as they regularly remind me.

AM: I've had to learn valuable leadership skills, like delegating, trusting people and not micromanaging. ... And sometimes you have to miss out on certain things. It takes support from your loved ones who understand your purpose.

Why is it important for underrepresented minorities to be involved in organizations like yours?
DH: It's important for both URM and non-URM people to be a part of these organizations. For URM students, we are full of great resources to help you get into medical school, then help you through your time in school and when you move on to your residency, internship, etc. But there is a lot of work to be done in serving underserved communities and ending health disparities. It's definitely a fight that underrepresented minorities cannot do alone.

AM: Advocating to ensure the health of the Latino community is part of our organization's mission, but it's not something we can do on our own. Health disparities are not for the marginalized to fix.
Student National Medical Association
The largest student-run organization focused on the needs of medical students of color.
Founded: 1964
Members: 6,000+
Mission: Supporting current and future underrepresented minority medical students, addressing the needs of underserved communities, and increasing the number of clinically excellent, culturally competent and socially conscious physicians.
Latino Medical Student Association
The oldest national organization representing Hispanic medical students prior to, during and after training.
Founded: 1987
Members: 4,000+
Mission: Uniting and empowering medical students through service, mentorship and education to advocate for the health of the Latino community.