CONNECT Venture
Reaching the Big Stage
Alumnus Co-Wrote Musical Mounted at Famed Apollo Theater
These photographs are from the 2016 production of alumnus Lelund Durond Thompson's musical, The First Noel.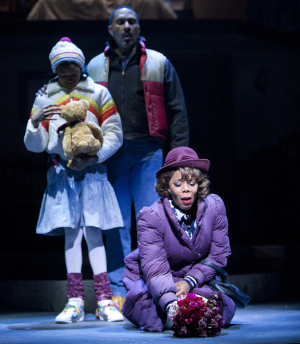 A glimmer of Lelund Durond Thompson, MFA (GRS '06, acting), shone through the character Noel as she strode across the Apollo Theater stage during The First Noel. It was there in the way she was ready to take on the world while simultaneously shouldering the burden of loss.
Perhaps that's natural given that Thompson co-wrote the script, music and lyrics for Noel, performed on the Apollo's main stage for the first time in December. (It premiered on the theater's smaller stage in 2015.)
The musical takes place at Christmastime. Noel returns to her childhood home, resolving to settle her mother's estate and lay to rest some ghosts—including that of her older sister (the first Noel), who died before she was born.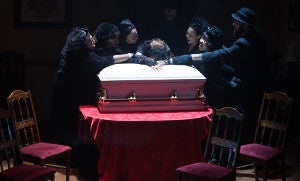 When Classical Theatre of Harlem's artistic director, Ty Jones, wanted an evergreen holiday show, he reached out to Thompson and Jason Michael Webb, music director for the recent Broadway production of The Color Purple. The two developed a musical that crosses genres, from pop to jazz to gospel.
The story turned autobiographical as Thompson explored his experiences with tragedy and healing. He lost his three siblings to similar liver conditions; his father died last year during the show's rehearsals.
"I have a desire to tell stories, to share experiences that help people somehow, especially after growing up in a family where loss happened so often," said Thompson, who also coaches actors, including Diane Guerrero of Orange is the New Black and Jane the Virgin.
Thompson said more productions of Noel are planned for this December and he'd love to someday see the musical mounted at Cleveland Play House, Case Western Reserve's partner in its immersive MFA program in acting, which left an indelible mark on Thompson.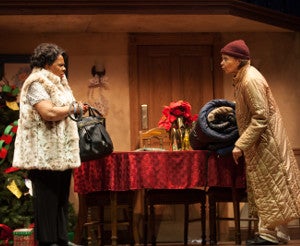 "I definitely think the tools that I use as an acting coach—the tools that I learned at the MFA program—are the tools that I share with the actors. The questions I ask them are the questions I learned to ask myself when I was at Case [Western Reserve]," he said.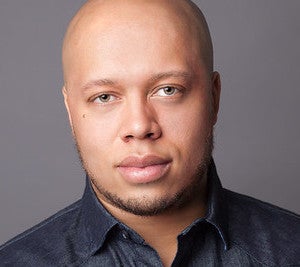 The First Noel is slated to return to the Apollo Theater in December, for what could become a holiday tradition. Thompson said theaters in Atlanta and Houston also are planning productions this year. Meanwhile, Thompson plans to divide his time between New York and Los Angeles, where he and two colleagues, including Jason Michael Webb (who co-wrote Noel), are launching a production company to create content for TV and film. "I'm excited," Thompson said.