CONNECT Converse
Examining Emotional Truths
Robert Oldshue Practices Two Healing Arts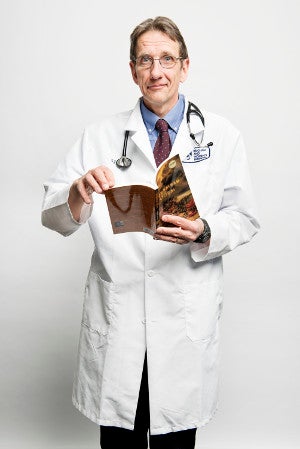 PHOTO: Webb Chappell
Robert Oldshue, MD (MED '86), is a family doctor at a community health center in Boston's ethnically diverse Jamaica Plain neighborhood. But for the last 25 years, he has retreated to his attic for hours every week to write about his fictional characters and their complicated lives. Oldshue, who also teaches part time at Harvard Medical School, won the 2016 Iowa Short Fiction Award for his debut collection of nine stories, November Storm (University of Iowa Press, 2016).
Medicine and literature seem like such converse pursuits. Are they similar in any way?
Many people are attracted to both medicine and writing for the same reasons—a curiosity about other lives and how they work. I think that's why there are so many examples of writers who are also doctors: W. Somerset Maugham, [Anton] Chekov, Arthur Conan Doyle.
For me, fiction is a way of altering the facts of a situation so that you can get at the emotional truth. That's the part that interests me.
Who's your favorite character in your collection and why?
All of them have pieces and parts that I really enjoy, but I particularly enjoyed the little girl [12-year-old Melanie Klein] in "The Woman on the Road." I liked her point of view, her vulnerability, her toughness, her sense of humor. I like the loving sarcasm she paid toward her parents.
Who or what helped you discover you had a real talent for writing?
The first person was my wife [Anne Calabresi, MD (MED '92), a psychiatrist]. I didn't come from an academic, book-ish family, but she did. Her mother would endlessly read to her important pieces of children's literature and also play recordings of the work. As a result, she developed an intense ear for writing. I was kind of embarrassed about my writing. And when we first started going out, I said, "I've got to tell you something about myself." She said she wanted to see something, so I showed her an early story. She said, "You have a voice and it's really nice." That's really been the thing that's kept me going.
How did you develop a passion for medicine

—

and especially community health?
In college, I struggled with the pre-med curriculum. So I traveled for a while and found my way to South Africa, where I worked with a doctor at a hospital. I was living with him in one of the black homelands under apartheid. One night, I was in my little hut and heard some footsteps. There had been some violence in the neighborhood, so I was concerned about safety. But it was the doctor running to deliver a baby at 3 in the morning. He was sprinting, breathless—even though the child would be born into poverty and the mother's circumstances weren't going to change. But he demonstrated to me that life is life; you save life. I thought, this is what you do. This is what a human being does. I'm going to do this.
What lasting memory do you have of Case Western Reserve?
It was full of the kind of person I met when I was in Africa—sprinting through the dark to try to do the right thing. What really struck me was that these people actually cared about the medical students and what they learned and what kind of human beings they became. The result was that other students who could have gone elsewhere came to Case [Western Reserve] to be part of this vision, this mission.
What's next?
A publisher is looking at a novel I started about two years ago. It's called Men at the Corners. I borrowed the baseball term to describe the unlikely meeting of two very different men. Aside from that, I'm back to some short stories. I work and I write. One informs the other.