CONNECT Profile
Changing the Beat
Geri Presti Trades Corporate Law for the Musical Arts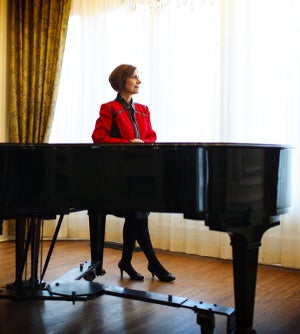 PHOTO: Michael F. McElroy
Geralyn "Geri" Presti, JD-MSSA (LAW '88, SAS '88) is playing her encore.
After more than 27 years in corporate law—most recently as general counsel for Forest City Realty Trust Inc.—Presti has returned to her roots, becoming president and CEO of The Music Settlement in University Circle, just blocks from where she first studied piano at age 6.
Trading the for-profit world for the non-profit rhythms of a 105-year-old music school may not seem like a conventional career move. But, for Presti, it was the perfect shift.
She had recently co-led the legal restructuring of Forest City to a real-estate investment trust, when The Music Settlement—which she knew well from her years on its board—asked if she could recommend anyone to become its next CEO. And then later: Would she be interested?
Presti relished her work at Forest City, but was ready to give back to the community full time. Where better than with an organization she adored that was all about music and education.
"Growing up, I wanted to be a concert pianist," said Presti, who studied piano at the Cleveland Institute of Music. But after learning about music therapy as a major, Presti changed tracks.
She graduated from Ohio University with a bachelor's degree in music, then worked as a music therapist at a New Jersey hospital and later at what's now The Music Settlement, which provides early childhood education as well as music therapy and music instruction to people of all ages.
"I loved it here," said Presti of the settlement, but she realized she wanted to be in a better position to advocate for clients, including teens struggling with addiction and people with developmental disabilities.
And that led her to Case Western Reserve's joint program providing a master's in social work and a law degree. The dual degrees "made me a lawyer with a heart," Presti said.
She applied for a temporary position at what was then Forest City Enterprises—an eight-week stint that lasted more than 27 years. Considered a wise, determined and well-organized lawyer, Presti rose to senior management and became the company's first female general counsel.
"Geri could always be counted on to bring the most thoughtful, disciplined and highly humane point of view to every project," said James A. Ratner, Forest City's non-executive chairman, who also is on the board of trustees of Case Western Reserve. "She ran a superb legal department and was a major positive influence throughout the company." Presti also has served on many boards, including the Sisters of Charity Foundation of Cleveland, Cuyahoga Community College and BVU: The Center for Nonprofit Excellence. She previously served on the board of The Music Settlement for 15 years and was board chair for two terms.
In her new role, Presti has a long to-do list and again is involved in real-estate: The settlement is financing and building a campus in Cleveland's Ohio City neighborhood. Returning to the settlement "is a dream come true," Presti said.
PERSONAL NOTES
Geri Presti's husband, John Sedor, MD, is a nephrologist at Cleveland's MetroHealth Medical Center and a professor in the Department of Physiology and Biophysics in Case Western Reserve's School of Medicine. They have two grown sons, Jonathan and Geoffrey.