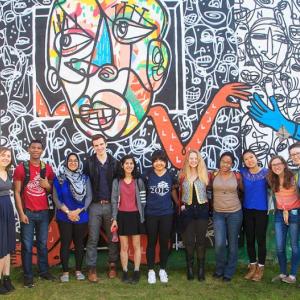 May 11 and 12, 2022 | 9:00 am - 4:00 pm
Clark Hall Room 206, 11130 Bellflower Road
The Community-Engaged Learning Workshop promotes faculty development and the scholarship of community engagement by integrating community outreach with teaching and learning. This two-day, hands-on, outcomes-driven workshop will cover the following:
- Foundations of community engagement / Principles of practice
- Developing effective community partnerships  
- Evaluation and Assessment in Community Engagement
- Intercultural Competence and Preparing students for service-learning
- Reflection and other classroom strategies
A significant amount of time will be dedicated to the development of potential course ideas and syllabi construction through individual work sessions and peer to peer reviews.
Dr. Ken Schneck is a Professor of Education and Director of the Leadership in Higher Education program at Baldwin Wallace University. He is the Editor of The Buckeye Flame, Ohio's statewide LGBTQ+ news and views platform, and is the author of several books on community-based LGBTQ+ history.
Registration is limited.  Register HERE.