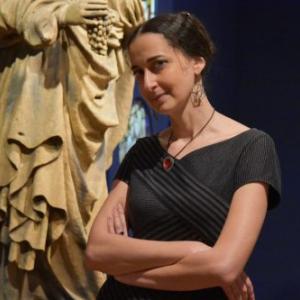 April 22, 2021 - 4:30 PM
Created in the middle of the thirteenth century, the Ambrosian Tanakh is the earliest extant Hebrew manuscript to feature zoocephalic, or animal-headed, figures. The book includes an extraordinary pair of scenes on its last pages: Ezekiel's Vision of the Chariot painted across the gutter from the Feast of the Righteous—an eschatological event discussed in a series of rabbinical texts and later medieval commentaries. In this talk, I will consider the Ambrosian beastly banquet as a nucleus of images and ideas that coalesce around medieval Jewish identity. To date, the manuscript has largely been positioned in terms of Christian imagery: viewed as either having been influenced by, or created in response to it. But the notion of "influence" is thorny at best, dangerous at worst, especially when it comes to the interactions between a majority and a minority culture. The zoocephalic idiom, as it is employed in medieval Hebrew manuscripts, is arresting precisely because it is exceptional, both visually and ontologically. In this talk, I shift the focus from intention to reception and consider these images on their own terms—as specifically Jewish images made for a specific Jewish audience within the context of a specifically Jewish community.
Gertsman is recipient of the 2021 Baker-Nord Center Award for Distinguished Scholarship in the Humanities, which recognizes the outstanding scholarship of Case Western Reserve University faculty in the Humanities and their contribution to the University's reputation.
THIS EVENT IS PART OF THE 2021 CLEVELAND HUMANITIES FESTIVAL: IDENTITY.
Due to social distancing requirements, this program will be presented virtually.  It will be posted at https://case.edu/livestream/s2.
Register HERE to receive an event reminder and link.
---
Click HERE for Professor Gertsman's faculty page.