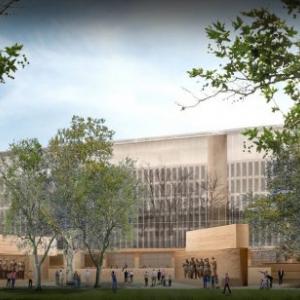 Authorized by Congress seventeen years ago, the Eisenhower Memorial is still on the drawing board. Its design by starchitect Frank Gehry for the National Mall remains unfunded by Congress and the target of a storm of criticism. As a presidentially appointed member of the Eisenhower Memorial Commission, Bruce Cole, Senior Fellow at the Ethics and Public Policy Center and a former Chairman of the National Endowment for the Humanities, had a ringside seat to this saga of power, protest, and politics. His talk will tell the story of the Eisenhower Memorial from its inception to today. It will discuss the history of presidential memorialization (including Cleveland's Garfield Memorial) and the long and convoluted process of building monuments in our nation's capitol. 
This program is co-sponsored with the Department of Art History & Art.
Free and open to the public.
---
About the Speaker:
Bruce Cole is a Senior Fellow at the Ethics and Public Policy Center. His areas of expertise include the teaching of American history and civics, and private and federal cultural policy.
Mr. Cole, the former Chairman of the National Endowment for the Humanities, is the author of fourteen books and numerous articles.
Before taking the NEH chairmanship, Mr. Cole was Distinguished Professor of Art History and Professor of Comparative Literature at Indiana University in Bloomington.
Born in Ohio, Mr. Cole earned his B.A. from Case Western Reserve University, a master's degree from Oberlin College, and a doctorate from Bryn Mawr College. He is a recipient of nine honorary doctorate degrees. For two years he was the William E. Suida Fellow at the Kunsthistorisches Institut in Florence. Mr. Cole has held fellowships and grants from the Guggenheim Foundation, the American Council of Learned Societies, the Kress Foundation, the American Philosophical Society, and the Center for Medieval and Renaissance Studies at the University of California, Los Angeles. He is a corresponding member of the Accademia Senese degli Intronati, the oldest learned society in Europe.
Mr. Cole served as a delegate on the U.S. National Commission for the United Nations Educational, Scientific, and Cultural Organization (UNESCO), on the boards of the Woodrow Wilson Center and the Norman Rockwell Museum, and as a Senate-appointed member of the National Advisory Committee on Institutional Quality and Integrity. He is currently a member of the boards of American Heritage and the Jack Miller Center. In 2010, Mr. Cole was appointed by Governor Mitch Daniels to a three-year term on Indiana University's Board of Trustees.
---
Bruce Cole's Ethics and Public Policy Center page