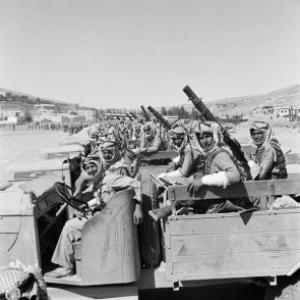 Location: Clark Hall Room 206, 11130 Bellflower Road, Cleveland, OH 44106
In spring 1941, the Iraqis and the Vichy French in Syria made agreements with the Axis powers that might have had disastrous consequences for the Allied war effort if the Allies hadn't improvised a jerrybuilt force to respond. In his talk, Professor Broich, Associate Professor in the Department of History, argues that this fight in Iraq and the Levant had outsized geopolitical importance in part because it was relatively small in scale compared to the titanic battles in North Africa and Russia in the same year. This magnified the importance of the choices made by relatively few people, from rulers to common soldiers from across the globe, and its on these people and choices that his book focuses. His talk centers on the difficulty he's encountered getting at the truth of affair when the historical sources have been obscured by wartime propaganda, colonial delusions, nationalist flimflam, and erasure.
An informal lunch will be served.
Free and open to the public.
---
About the Speaker:
John Broich, Associate Professor in the CWRU Department of History, is a British Empire historian. He has written on environmental history, the history of race and empire, Royal Navy history, and WWII history.