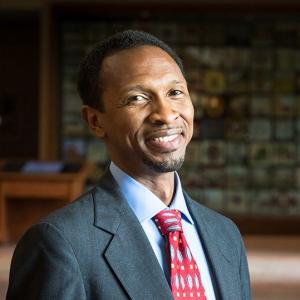 November 1, 2021 - 5:00 PM
The 2021 Strauss lectures are presented by Sylvester A. Johnson, founding director of the Virginia Tech Center for Humanities and a nationally recognized humanities scholar specializing in the study of technology, race, religion, and national security. He is assistant vice provost for the humanities at Virginia Tech and executive director of the university's Tech for Humanity initiative. This lecture series, in memory of Walter A. Strauss (1923-2008), who was the Elizabeth and William T. Treuhaft Professor of Humanities, is generously supported by funds provided by the Paul Wurzburger Endowment.
In this lecture, Johnson introduces the relationship between digital technology and the problem of so-called fetishism (or animistic religion) by interpreting the distinction between people and objects. He demonstrates how a classic problem of materiality has been reintroduced through recent technological innovations in such forms as Artificial Intelligence and cybernetics (human-machine combining).
---

Increasing COVID-19 cases within Northeast Ohio have prompted Case Western Reserve to resume its requirement that masks be worn indoors. In addition, only those who are fully vaccinated (two weeks past their final dose) should attend any campus event. Leaders continue to monitor pandemic developments and may need to adjust health protocols further as circumstances warrant. In-person is subject to change based on COVID-19 guidelines.