Without relinquishing their traditional function as information repositories, academic libraries are increasingly embracing the role of producers and publishers of knowledge. At Case, this change has been brought home with the creation of a state-of-the-art information technology center in Kelvin Smith Library—a facility where the production of digital materials supports interactive approaches to learning, teaching, and research.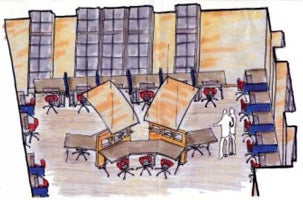 Perspective Sketch, Hasenstab Architects, The Samuel B. and Marian K. Freedman
Digital Library, Language Learning, and Multimedia Services Center
The Samuel B. and Marian K. Freedman Digital Library, Language Learning, and Multimedia Services Center owes its existence to the generosity of the two Case alumni for whom it is named. Mr. Freedman graduated from Adelbert College in 1937 with a bachelor's degree in economics; Mrs. Freedman graduated that same year from Flora Stone Mather College with a bachelor's degree in English. On September 8, the couple hosted the Center's dedication ceremony, which featured remarks by university leaders and tours of the facility.
The Freedman Center is also the result of an ongoing collaboration between KSL (the managing partner), Arts and Sciences, and the Instructional Technology and Academic Computing (ITAC) department of Case Information Technology Services. It was designed to provide users with the equipment and expertise they need to take their ideas "from inspiration to presentation"; to transform language learning at Case through multimedia tools; and to enhance adaptive technology services for people with visual impairments by equipping workstations with devices that magnify and read aloud from texts.
"Multimedia can be defined as the computer- delivered combination of a large range of communication modes—text, sound, graphics, images, animation, moving pictures, and so on," explained University Librarian Joanne Eustis. "Each element has advantages in a learning situation." With the opening of the Freedman Center, all members of the Case community will be able to gather materials (such as photographs, audio clips, and video footage), capture them digitally, and integrate them in DVDs or other formats
Even experienced users of information technology will be surprised and impressed by the Freedman Center's capabilities. Alongside traditional 8.5" x 14" scanners, for instance, the Center boasts a medium-format scanner that can handle maps, atlas pages, and posters; thanks to an adapter that lights images from above, it can also digitize x-rays, CAT scans, and transparencies. Film, slide, and high-speed document scanners are also part of the technological mix.
On tours of the Freedman Center, staff introduce visitors to the "multimedia monolith," a console of equipment that can capture any form of media output— including the sound produced by records (all speeds), cassette tapes, 1/4-inch reel-to-reel tapes, and the audio tracks of videos and DVDs—and incorporate it into curricular materials or course projects.
When Arts and Sciences first became involved in planning for the Freedman Center, the goal was to upgrade its Language Resource Center, located in Guilford House and operated by the department of modern languages and literatures. Peter Yang, associate professor of German and Chinese, received a Provost Opportunity Grant to fund the upgrade. Former dean Samuel M. Savin then approved the creation of an advisory committee, led by associate dean Stephen Haynesworth and former department chair Marie Lathers, to develop a detailed plan.
As it happened, Joanne Eustis, also a member of that committee, had just received a Provost Opportunity Grant of her own, to develop what would become the Freedman Center. At her suggestion, Arts and Sciences combined its efforts (and grant) with the library's, making the language learning facility an integral part of the KSL project. William Siebenschuh, interim chair of modern languages and literatures, worked with the library to bring the project to completion.
Thanks to the partnership between KSL and the College, the Freedman Center includes a Language Learning area with online access to self-study courses as well as departmental course tools. Instead of just listening to traditional instructional tapes, students can play CD-ROMs at any one of 22 workstations, record assignments online, or even conduct videoconferences with people in other countries—a way of practicing their language skills in authentic, real-time contexts.
According to Thomas Knab, chief information officer in Arts and Sciences, "Language learning will be galvanized when faculty members in modern languages and literatures, library staff, Arts and Sciences personnel trained in language acquisition, and ITAC staff work together to use and create digital multimedia materials for education and scholarship." In the short term, Justin Locsei, acting manager of the Language Learning area, has collaborated with faculty and staff to prepare the new facility and online features for classes this fall.
"The Freedman Center will serve as a platform for global communication and presentation from Case," Knab said. "By merging equipment, collections, and personnel, it will provide a range of new services with the capability of connecting students, educators, and scholars around the world. It is critical to the College's plans to offer advanced instructional and communications technology integrated with support services for all of our faculty and students."
The Freedman Center, located on the first floor of KSL, is open to all faculty, students, and staff with a valid Case ID. For more information, visit http://library.case.edu/ksl/admin/ multimedia/.
THREE A&S FACULTY NAMED INAUGURAL FREEDMAN CENTER FELLOWS
The Freedman Center Fellows Program was established by KSL, ITAC, and the University Center for Innovation in Teaching and Education (UCITE) to showcase the Freedman Center's potential and encourage faculty to use its facilities. Three Freedman Center Fellows will be named annually. They will receive a summer stipend to assist them in redesigning undergraduate academic courses, incorporating technologies and building teaching tools that support the development of information and research skills.
The inaugural Freedman Center Fellows are three professors from Arts and Sciences:
Kimberly Emmons, assistant professor, English — Emmons has revised ENGL 310: "The History of the English Language." As a Freedman Center Fellow, she developed a series of course modules that introduce students to many of the library and electronic resources available for the study of English.
Kelly McMann, assistant professor, political science — With her Freedman Center Fellowship, McMann has revised her course POSC 362: "Politics of Central Asia." She has prepared guidelines for Internet research for course projects and designed multiple research exercises that incorporate the resources of the Freedman Center.
Catherine Scallen, associate professor, art history and art — Scallen will incorporate extensive research-based, collaborative, and multimedia-based learning into her SAGES University Seminar, "Art the Mirror of Art 1400- 1789." She will use the Freedman Center Fellowship funds to assist students with the development of multimedia class presentations and to improve their thinking, research, writing, and oral presentation skills.