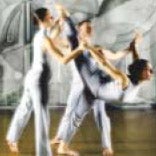 Friends of Dance, founded in the late 1970s by Kathryn Karipides and Henry Kurth, was established to support productions of the dance program in the College's department of theater and dance. Revitalized in 2000 by Karen Potter, the program's current director, Friends of Dance now provides financial support for guest artists, productions, seminars, and special events. Friends of Dance also sponsors the creative endeavors and educational pursuits of emerging student artists at Mather Dance Center.
In support of the dance program's mission to provide international experiences for students, Friends of Dance matches funds awarded from the Baker-Nord Center for the Humanities and the School of Graduate Studies for dance training and performance abroad. Most recently, graduating seniors Sarah McCalister and Paloma McGregor received funding to attend dance programs in Turkey and Greece, respectively. Each summer, selected students receive funding to study with Case faculty in Milan, Italy.
In the past, Friends of Dance has contributed major support to host such noted artists as Susan McGuire, a native Clevelander who has had a distinguished career with the Martha Graham and Paul Taylor dance companies, and Joyce Herring of the Pascal Rioult Dance Theater, as part of the Visiting Collaborators program.
Friends of Dance continues to grow, thanks to the active participation of alumni and Cleveland-area dance enthusiasts. The members' names are listed in every concert program, and they are invited to all special events at Mather Dance Center, including post-concert receptions to meet the artists. Please consider joining today!
For more information on becoming a Friends of Dance member, or to learn about upcoming events, please contact the Office of Development and Alumni Affairs, College of Arts and Sciences, at 216-368-0097 or 800-360-5308, or via email at collegesupport@case.edu.