UNDERGRADUATE STUDIES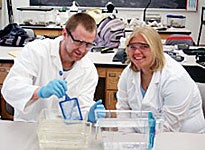 The undergraduate programs in biology provide excellent preparation for graduate or professional school programs and for careers in industry and governmental agencies. Students who graduate from these programs are well prepared for medical, dental, or veterinary schools, or to enter the many specialized graduate programs in the biological sciences.
Increasingly, career opportunities are opening up in the developing fields of biotechnology, both in industry and government. Elective sequences of courses in areas of biotechnology within the Bachelor of Arts and Bachelor of Science degrees in biology are an excellent preparation for such careers.
Research Opportunities
Funded PhD Studentship at the University of Manchester
HHMI Summer Program in Undergraduate Research (SPUR), Department of Biology
Research at the Interface of the Biological and Mathematical Sciences (RIBMS)
Support of Undergraduate Research & Creative Endeavors (SOURCE)
Summer Undergraduate Research in Pharmacology, Department of Pharmacology
Summer Undergraduate Research Program, Department of Physiology and Biophysics
Other opportunities...
Apply
For online or paper application and detailed application instructions:
Case Western Reserve University Office of Undergraduate Admission
More information
For more information about undergraduate studies in biology, please contact:
Katie Bingman

Department of Biology
Case Western Reserve University
10900 Euclid Avenue
Cleveland, OH 44106-7080

phone: (216) 368-4301
fax: (216) 368-4672
krb28@case.edu