CWRU takes the stage at Microsoft's Build conference to show how HoloLens can transform learning
Last spring, Professor Mark Griswold told a global audience about the potential of Microsoft HoloLens to transform learning.
Twelve months later, Griswold showed the world exactly how—or at least his hologram did.
Speaking at Microsoft's annual Build conference for the second consecutive year, Griswold was joined by School of Medicine Dean Pamela Davis and two university developers, Jeff Mlakar and Henry Eastman—all three of whom were actually on stage in person at San Francisco's Moscone Center.
The group's task? To demonstrate the immense advantage that three-dimensional images can give to students learning anatomy.
Six months ago, Case Western Reserve and Cleveland Clinic broke ground on a 485,000-square-foot Health Education Campus, a space designed to support interprofessional learning and offer the most advanced technology available.
As part of creating what Davis called a "state-of-the-future" building, the new space will not include any of the traditional cadaver-filled laboratories that for decades have housed anatomy classes. Instead, just as Mlakar and Eastman did Wednesday, medical students will don HoloLens headsets to see the body's organs and systems.
The pair began with a hologram of the digestive system, with labels on organs including the stomach, gall bladder and liver. Davis asked them about the pancreas, which, nestled behind the stomach, cannot be seen from the front of the body.
"Thankfully with HoloLens," Mlakar said, making a small hand gesture that caused the holographic body to rotate 180 degrees to reveal the organ, "it's really easy to get the best view of things."
It's also easy to engage with an instructor hundreds of miles away, as Professor Griswold demonstrated when a simple 3-D head and arm representing him entered the sold-out auditorium.
"This is our new system," he said, "which allows me to teach and interact with you, even though I'm not there. … This is really changing what it means to be 'in class.'"
Based on an actual patient MRI from Case Western Reserve Professor Cameron McIntyre's lab, Griswold guided Eastman and Mlakar through an examination of the white-matter tracts of the brain, fibers that allows messages to travel from one area to another. Based on an actual patient's MRI, the hologram color-coded the fibers by direction, and included a bright red mass that Griswold identified as a tumor.
"Hey Jeff and Henry," Griswold's hologram called out as his "face" drew closer to the brain and his "finger" pointed to the red orb and other areas, "Can you see how this tumor intersects the light blue track, but not the green track or the yellow one?"
Indeed they could, illuminating the two lobes whose fibers the tumor crossed. One, the occipital, is responsible for visual processing, while the other controls the sense of touch.
Griswold, a world-renowned radiology researcher, explained that he had worked with datasets of brain MRIs for more than a decade, "and I never fully understood their 3-D structure until I saw them in HoloLens."
And Davis added that students who had used the HoloLens devices reported that 15 minutes with the three-dimensional images "could have saved them dozens of hours" in their traditional anatomy labs.
"The quicker our students learn facts like these," Davis said, "the more time they have to think with them. We are teaching them to think like a doctor."
Case Western Reserve was the only university among 30 organizations that partnered with the company for initial pilot testing of the HoloLens' potential. Others include NASA, Japan Airlines, Volvo and the Dubai Electricity and Water Authority. Case Western Reserve also was the only organization to give a HoloLens demonstration on the Build stage.
The university's team was introduced by Microsoft's Alex Kipman, the lead creator of the HoloLens device. Shortly before Case Western Reserve's presentation, Kipman and HoloLens co-creator Kudo Tsunoda announced that the first HoloLens holographic computer kits would ship to developers and enterprise clients that very day.
"Today, today is the day, where we leap from dreaming about mixed worlds to having Microsoft HoloLens become a reality," Kipman said just before Tsunoda joined him on stage and the two embraced.
As Tsunoda left the stage, an emotional Kipman wiped his eye.
"I have waited for this moment," he said, "for a very long time."
Case Western Reserve, Cleveland Clinic Collaborate with Microsoft on 'Earth-Shattering' Mixed-Reality Technology for Education
Microsoft HoloLens Opens 'Limitless' Opportunities to Reimagine Learning; Professor Highlights Anatomy Application at Microsoft's Developers' Conference
FOR MORE INFORMATION:
Case Western Reserve, Bill Lubinger, 216.368.4443, william.lubinger@case.edu
Cleveland Clinic, Janice Guhl Hammer, 216.445.7542 guhlj@ccf.org

CLEVELAND, April 29, 2015 - Case Western Reserve University Radiology Professor Mark Griswold knew his world had changed the moment he first used a prototype of Microsoft's HoloLens headset. Two months later, one of the university's medical students illustrated exactly why.
"There's the aortic valve," Satyam Ghodasara exclaimed as he used Microsoft's device to examine a holographic heart. "Now I understand."
Today, Griswold told tens of thousands of people how HoloLens can transform learning across countless subjects, including those as complex as the human body. Speaking to an in-person and online audience at Microsoft's annual Build conference, he highlighted disciplines as disparate as art history and engineering—but started with a holographic heart. In traditional anatomy, after all, students like Ghodasara cut into cadavers to understand the body's intricacies.
With HoloLens, Griswold explained, "you see it truly in 3D. You can take parts in and out. You can turn it around. You can see the blood pumping—the entire system."
In other words, technology not only can match existing educational methods—it can actually improve upon them. Which, in many ways, is why Cleveland Clinic CEO Toby Cosgrove contacted then-Microsoft executive Craig Mundie in 2013, after the hospital and university first agreed to partner on a new education building.
"We launched this collaboration to prepare students for a health care future that is still being imagined," Cleveland Clinic CEO Delos "Toby" Cosgrove said of what has become a 485,000-square-foot Health Education Campus project. "By combining a state-of-the-art structure, pioneering technology, and cutting-edge teaching techniques, we will provide them the innovative education required to lead in this new era."

As Cosgrove, Case Western Reserve President Barbara R. Snyder and other academic leaders engaged more extensively with Microsoft, the more potential everyone saw.
"For more than a century, our medical school has been renowned for inventing and reinventing approaches to teaching and learning that take root nationwide," President Snyder said. "When we match that expertise with the interdisciplinary knowledge of our faculty, we create a rich environment to explore the educational potential of Microsoft's extraordinary technology."
After a small group including Griswold, engineering professor Marc Buchner and Cleveland Clinic education technology leader Neil Mehta first experienced HoloLens in December, the faculty returned to Cleveland to create a core team dedicated to exploring the technology's academic potential. In February, 10 members of the team—including Ghodasara—returned to Microsoft for a HoloLens programming deep dive.
Ghodasara already had taken the traditional anatomy class at Case Western Reserve, but it wasn't until he used the HoloLens headset that he first visualized the aortic valve in its entirety—unobstructed by other elements of the cardiac system and undamaged by earlier dissection efforts. Members of the Microsoft team were in the room when Ghodasara had his "aha" moment; a few weeks later, the heart demonstration became part of the Build conference agenda.
Case Western Reserve is the only university represented during the three-day event, a distinction Griswold attributes in part to the core team's breadth of expertise and collegial approach.
"Without all of those people coming together," Griswold said, "this would not have happened."
When Griswold took the stage as part of Microsoft's opening keynote at the Build conference, Ghodasara, Buchner and Chief Information Officer Sue Workman also were in the audience. Back in Cleveland, three of Professor Buchner's undergraduates—John Billingsley, Henry Eastman and Tim Sesler—demonstrated some of the potential of the HoloLens technology live in the Tinkham Veale University Center.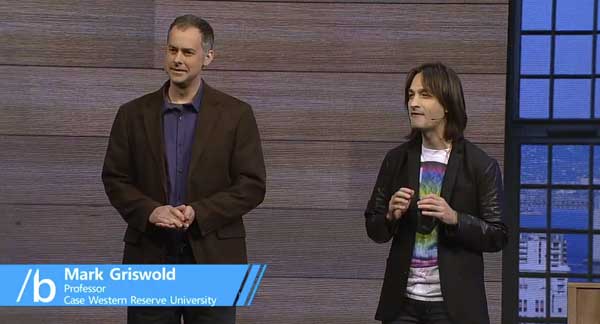 Buchner, whose specialties include simulation and game design, believes Microsoft's innovation "has the capability to transform engineering education."
Because the technology is relatively easy to use, students will be able to build, operate and analyze all manner of devices and systems. "[It will] encourage experimentation," Buchner said, "leading to deeper understanding and improved product design."
In truth, HoloLens ultimately could have applications for dozens of Case Western Reserve's academic programs. NASA's Jet Propulsion Laboratory already has worked with Microsoft to develop software that will allow Earth-based scientists to work on Mars with a specially designed rover vehicle. A similar collaboration could enable students here to take part in archeological digs around the world. Or astronomy students could stand in the midst of colliding galaxies, securing a front-row view of the unfolding chaos. Art history professors could present masterpieces in their original settings—a centuries-old castle, or even the Sistine Chapel.
"The whole campus has the potential to use this," Griswold said. "Our ability to use this for education is almost limitless."
For now, however, the top priority is creating a full digital anatomy curriculum, a process launched with the advent of the Health Education Campus, and now experiencing even greater momentum. Among the key collaborators are a team of medical students and anatomy and radiology faculty who are already investigating the use of these kinds of technology. This team, led by Amy Wilson-Delfosse, the medical school's associate dean for curriculum, and Suzanne Wish-Baratz, an assistant professor who is one of the primary leaders of anatomy education, fully expects to have a digital curriculum ready for the new Health Education Campus.
Also essential, Griswold said, has been the advice and assistance of Microsoft's HoloLens team and executives.
"It's been a joy to work with them. They have been so friendly, so collaborative, so willing to work with us on this," Griswold said. "We're going to do incredible things together."
About Case Western Reserve University
Case Western Reserve University is one of the country's leading private research institutions. Located in Cleveland, we offer a unique combination of forward-thinking educational opportunities in an inspiring cultural setting. Our leading-edge faculty engage in teaching and research in a collaborative, hands-on environment. Our nationally recognized programs include arts and sciences, dental medicine, engineering, law, management, medicine, nursing and social work. About 4,200 undergraduate and 5,600 graduate students comprise our student body. Visit case.edu to see how Case Western Reserve thinks beyond the possible.

About Cleveland Clinic
Cleveland Clinic is a nonprofit multispecialty academic medical center that integrates clinical and hospital care with research and education. Located in Cleveland, Ohio, it was founded in 1921 by four renowned physicians with a vision of providing outstanding patient care based upon the principles of cooperation, compassion and innovation. Cleveland Clinic has pioneered many medical breakthroughs, including coronary artery bypass surgery and the first face transplant in the United States. U.S.News & World Report consistently names Cleveland Clinic as one of the nation's best hospitals in its annual "America's Best Hospitals" survey. More than 3,000 full-time salaried physicians and researchers and 11,000 nurses represent 120 medical specialties and subspecialties. The Cleveland Clinic health system includes a main campus near downtown Cleveland, eight community hospitals, more than 75 Northern Ohio outpatient locations, including 16 full-service Family Health Centers, Cleveland Clinic Florida, the Lou Ruvo Center for Brain Health in Las Vegas, Cleveland Clinic Canada, and, scheduled to begin seeing patients in 2015, Cleveland Clinic Abu Dhabi. In 2012, there were 5.1 million outpatient visits throughout the Cleveland Clinic health system and 157,000 hospital admissions. Patients came for treatment from every state and from more than 130 countries. Visit us at clevelandclinic.org. Follow us at twitter.com/ClevelandClinic.