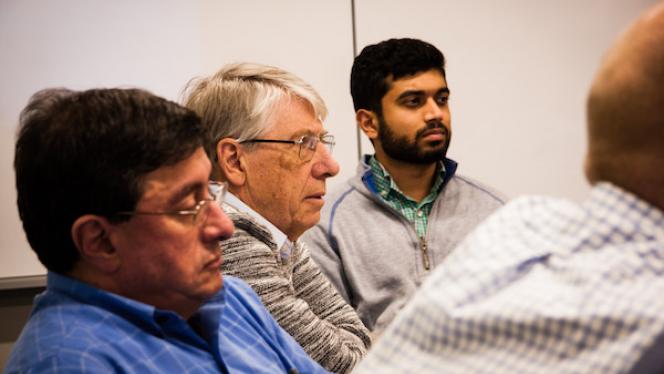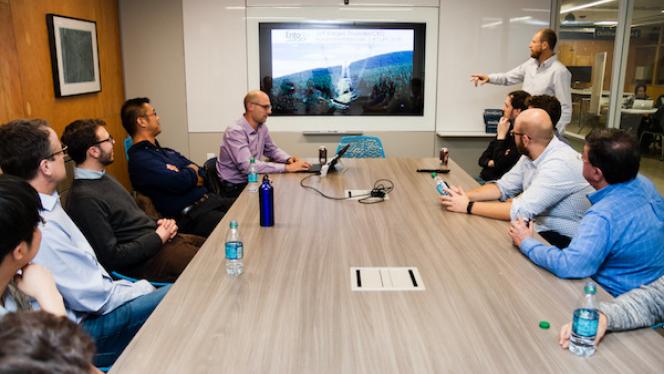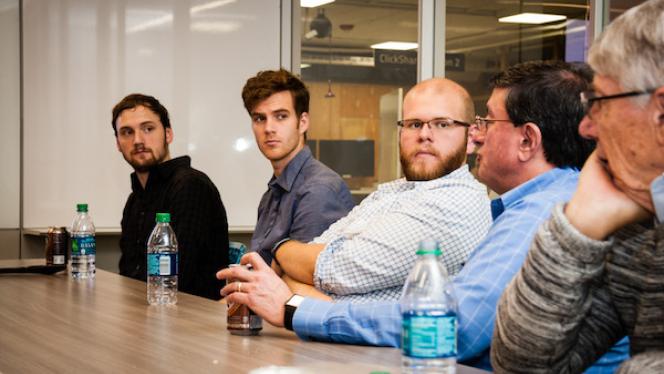 Robert Brown, PhD, Faculty Co-Director, Physics Entrepreneurship Program
The truly fulfilling nature of a physics career in teaching and research certainly stems not only from its depth and variety, but also from the close collaboration of students. In my case, a beginning devotion to basic astroparticle physics has been extended to industrial (especially MRI) research where techniques honed in basic physics are applied to other problems. We have added a focus on physics education research where even very young students are helping us study ways to improve their own curriculum! A spin-off from this is a book 'What your fifth-grader needs to know about college physics!', we are preparing in a K-12 venture. A spin-off in the opposite direction is the creation of GRE flashcards. As separate and major efforts, the writing of a 900-page MRI textbook and a recent co-founding with a former student of an MRI manufacturing company are outgrowths of many years in industrial design, applied research, and entrepreneurial physics education.
Edward M. Caner, Director, STEP and Faculty, Dept. of Physics
Edward Caner has served as a faculty member in the Department of Physics and STEP Director at Case Western Reserve University since 2006. Under his leadership, STEP has become one of the preeminent entrepreneurship programs in the world in terms of capital directly raised by students and recent graduates for technology commercialization (over $30M since 2006). In the classroom, Mr. Caner teaches the graduate course sequence "Modern Physics/Chemistry for Innovation" and the undergraduate courses "Physics for World Leaders" and "Energy & Society". He has also served as thesis advisor to more than 20 MS, Physics awardees since 2007. Outside of the classroom, Ed has played a key role in the development (and survival) of several start-ups and small companies and is an active advisory board member for a variety of organizations and corporations. Mr. Caner has a Master of Science in Physics, Entrepreneurship Track from CWRU, a Master of Arts in violin performance from Cleveland State University, and both BS and BA degrees in Engineering and Physics from Miami University.
Joseph Jankowski, MBA, PhD is CWRU's Chief Innovation Officer and Director, Neuros Medical, Inc.
Dr. Jankowski is a Trustee of BioEnterprise, a member of the Veterans Affairs Advanced Platform Technology Executive Steering Committee, and Director, BioInvision, Inc. He was formerly CWRU's Associate Vice President for Technology Management where he led the University's commercialization efforts that stem from the more than $300 million of research activity taking place at the CWRU and its affiliate institutions annually. Dr. Jankowski holds a Ph.D. in Chemistry from the State University of New York's College of Environmental Sciences, an M.B.A. from the Weatherhead School of Management and a dual B.S. in Chemical and Environmental Engineering Technologies from the University of Dayton.
Craig A. Nard, Galen J. Roush Professor of Law and Director, FUSION Certificate Program in Design, Innovation & IP Management
Craig A. Nard is the Galen J. Roush Professor of Law, Director of the Spangenberg Center for Law, Technology & the Arts, and Director of the FUSION Certificate Program in Design, Innovation & IP Management. He is also a Senior Lecturer at the World Intellectual Property Organization Academy at the University of Torino, Italy, and Principal Advisor to the Center for Studies and Research in Intellectual Property in Calcutta, India. Nard practiced intellectual property law in Dallas, Texas prior to becoming the Julius Silver Fellow in Law, Science, and Technology at Columbia University School of Law. After his fellowship, he clerked on the United States Court of Appeals for the Federal Circuit in Washington, D.C. for the Honorable Helen W. Nies, and then the Honorable Giles S. Rich. Nard has published in various law reviews and is the author of the patent law casebook, The Law of Patents (Aspen Publishers 3d Ed. 2014), and The Law of Intellectual Property (Aspen Publishing – 4th Ed. (2014) (with Madison and McKenna).
Theodore C. Theofrastous Managing Director of Fusion, Distinguished Practitioner in Residence, Managing Attorney – CWRU IP Venture Clinic
Ted Theofrastous has extensive experience in the field of high technology development and commercialization, both as a business architect/manager and as a legal professional. Prior to founding his corporate legal practice and ThetaSquared, a strategic technology commercialization firm, Ted served as managing director and fund counsel for a small family venture fund, where he created and managed a portfolio of new and existing technology startup investments. Before the fund, Ted managed a diverse IP portfolio and launched startup companies for the Cleveland Clinic Foundation designed to commercialize products based on CCF intellectual property. Ted's roles related to the tech startups he works with typically include business structuring and operational planning, developing an intellectual property strategy, negotiating financial investment and playing an active role as a manager and/or director.
Cyrus C. Taylor Albert A. Michelson Professor of Physics and Dean, College of Arts & Sciences
Prof. Taylor is the author of more than 60 scientific papers and has given more than 70 invited talks in recent years. As a physicist, he has worked in both theoretical and experimental high energy physics, serving as co-spokesman of the MiniMax collaboration (FNAL T-864) at Fermilab (1993 – present) and as co-spokesman of the FELIX collaboration at CERN (1996-present). Prof. Taylor has also been a leader in creating new programs aimed at empowering scientists as entrepreneurs. He is Director of the Physics Entrepreneurship Program at Case Western Reserve University, Coordinator of Case's Science Entrepreneurship Programs and Co-Director of InTICE, the Institute for Technology Innovation, Commercialization and Entrepreneurship. Prof. Taylor was named a Fellow of the American Physical Society for providing a new paradigm for graduate education in Physics through the creation of an innovative Physics Entrepreneurship Master's Program, and was awarded the prestigious 2003 Price Institute Innovative Entrepreneurship Educators Award for pioneering the innovative Physics Entrepreneurship Program
Bruce E. Terry, Angel Investor-In-Residence, STEP Advisory Board, and Student Mentor
Bruce E. Terry was President and CEO of Mayfran International, Inc. in Mayfield, Ohio from 1987 to 2004. Prior to this appointment, he served for ten years in the positions of Executive Vice President and General Manager; and Vice President of Sales. During his tenure at Mayfran, he won dozens of multi-million dollar contracts, and drove the company's market penetration in Japan and Europe; and negotiated numerous successful global license and technology agreements, joint ventures, partnerships, and acquisitions. Mr. Terry spent the first 11 years of his career as a sales leader in the overhead crane industry. He is particularly talented in the field of sales and marketing and application engineering. He holds an MBA from Drexel University in Philadelphia, a Bachelor of Business Administration, from the Wharton School of the University of Pennsylvania, and has partially completed a Doctor of Business Administration at Cleveland State University. From 1962 through 1966 he served as a Sergeant, Intelligence Operations Specialist, in the United States Air Force stationed in Texas, Nebraska and Korea. Mr. Terry is an expert in the area of innovation methods, including the teaching of related disciplines. He has been on the faculty of Case Western Reserve University in the Physics Department since January 2009, teaching Feasibility of Technology and Venture Creation, core courses in Case's Science and Technology Program. He is also the faculty advisor to the Case Entrepreneurs' Club. He is active member of the North Coast Angel Fund, serving on its screening committee and performing due diligence; he is also a member of TIE and the Ohio Venture Association; and is a mentor to and an investor in a number of regional start-ups.